CertainTeed Roofing Shingles Prices, Reviews, Complaints & Company Overview
Summary: Average Cost of CertainTeed Shingles
Certainteed lower-end traditional shingles cost between $250 and $300 per square (100 feet) installed. Their mid-range designer shingles cost between $400 and $450 per square installed and their luxury brand shingles cost between $400 and $600 per square installed.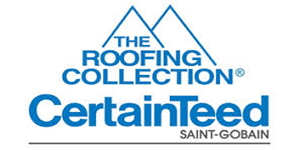 Article Contents
Originally known as General Roofing Manufacturing Company, CertainTeed was founded in 1904. This Saint-Gobain subsidiary changed its name to CertainTeed in 1917, taking the name from its slogan: "Quality made certain, satisfaction guaranteed." The company is one of North America's leading brands in the field of roofing materials and building products. CertainTeed made a name for itself with durable, quality products and has only continued to grow as a manufacturer of premier asphalt shingles.
Products
CertainTeed offers a wide variety of roofing solutions. Whether you're looking for designer, luxury, or traditional shingles, CertainTeed has everything you might need. They also offer metal roofing solutions.
Request Roof Installation Price Quotes Using Our Free Tool
Get connected to the top rated roofing contractors in your area and get free competitive estimates. No obligations to hire, ever!
Designer
Highland Slate: These shingles have the look and feel of natural slate, letting you achieve that natural look while providing a durable product that helps boost the curbside appeal of your home.
Landmark: These shingles are designed to look like cedar shakes, allowing you to get a rustic or natural look while providing greater durability. Available in a variety of colors, Landmark shingles can compliment any style of home.
NorthGate: Unmatched by any other standard asphalt shingle, CertainTeed's NorthGate SBS modified shingles provide superior protection in the face of the elements. The rubberized aspect of SBS provides incredible flexibility that increases crack resistance, even in extreme weather.
Luxury
Arcadia Shake: These shingles are designed with the appearance of split-wood shakes, but made out of high-grade roofing asphalt that allows them to outperform their wooden counterparts. The Arcadia line boasts a superior class of fire and weather resistance and is maintenance-free.
Belmont: Manufactured from high-grade roofing asphalt reinforced with a fiberglass base, this line of shingles brings the look of natural slate with high durability backed by a lifetime-limited warranty.
Presidential Shake: Made to replicate the look of hand-split wood shakes, these shingles are made from fiberglass and provide a strength that outweighs their true wood counterparts.
Traditional
Patriot: The Patriot is a single-layered asphalt shingle that utilizes CertainTeed's advanced color technology to provide the appearance and depth of a multi-layered shingle.
SwiftStart: Designed to be used with CertainTeed's Landmark series of shingles, the SwiftStart metric starter shingle lets you get around cutting expensive field shingles to use as starters.
Metal Roofing Solutions
Matterhorn Metal: Designed with the appearance of clay, slate, or wood this metal roofing solution offers far greater durability than natural shakes or tile and can last three times longer than asphalt shingles. Matterhorn Metal roofing is made from high-grade steel and is completely recyclable.
Presidio Metal: Manufactured from deep draw steel, Presidio Metal roofing offers incredibly high weather and wind resistance. Available in slate, tile, and wood replicate designs, this line offers excellent durability and protection without sacrificing style.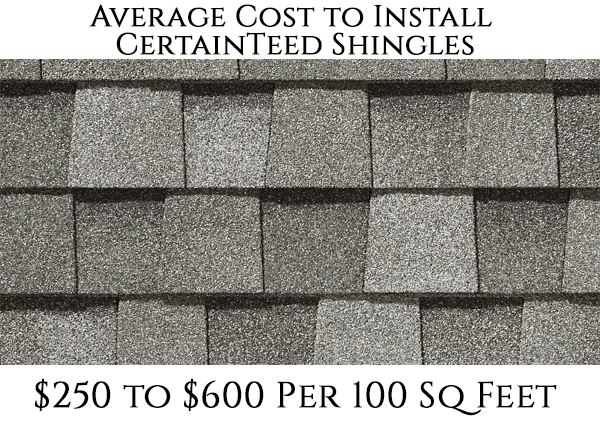 CertainTeed Shingles Pricing
While labor and material costs will be important factors in the total cost of your CertainTeed roofing solution, you also need to consider the design and pitch of your roof, as well as the height of your house and the complexity of the installation. The below prices include installation.
CertainTeed Landmark designer roof shingles average between $250 and $300 per 100 square feet
CertainTeed Landmark Premium designer roof shingles average between $400 and $450 per 100 square feet
CertainTeed Carriage House luxury roof shingles average between $575 and $600 per 100 square feet
CertainTeed Presidential Shake TL luxury roof shingles average between $450 and $500 per 100 square feet
CertainTeed Patriot traditional roof shingles average between $250 and $300 per 100 square feet
CertainTeed Grand Manor luxury roof shingles average between $600 and $650 per 100 square feet
CertainTeed Northgate luxury roof shingles average between $400 and $450 per 100 square feet
CertainTeed Shingles Reviews
Common reviews for CertainTeed's roofing solutions are that you might pay more than you would for comparable products from other brands, but that you do get what you pay for. Customers have found that CertainTeed offers quality roofing products in visually appealing styles and colors, and they return to the brand for that reason. But it should also be noted that some customers have complained of issues with getting CertainTeed to replace or repair faulty shingles, even when the issue was caused by a certified installer. It is incredibly important to look at multiple reviews before making any final purchasing decisions.
CertainTeed has also been named in a class action lawsuit.
The following websites also provide in-depth reviews of CertainTeed Shingles:
Author: Angela Escobar
Find Roofing Companies Who Will Compete for Your Business