IKO Roofing Shingles Prices, Reviews, Complaints & Company Overview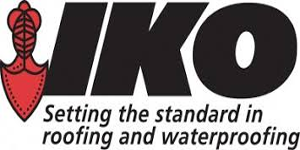 Founded in 1951, IKO got its start manufacturing building paper before expanding to include coated roll roofing. The company produced its first asphalt shingle in 1954 and has since built a name as a leading brand in commercial roofing and roofing products across the world. IKO is committed to providing their customers with cutting-edge, reliable products to suit any and all needs.
Roofing Expertise with IKO
No matter what features or style (be it of the home or the homeowner) you might be looking for, IKO has the products and expertise to make sure you get the perfect match. And, with some of the heaviest fiberglass mats in the business, IKO offers asphalt roofing shingles with superior weather protection.
IKO manufactures three classes of asphalt shingles in North America and Europe: architectural laminated shingles, premium designer shingles, and traditional three-tab shingles. In Europe, they produce a fourth type called a shield shingle, which is self-adhesive and engineered for maximum wind resistance. The company also has a complete line of high-quality accessories, such as ice/water protectors, insulation board, and underlayments.
Request Roof Installation Price Quotes Using Our Free Tool
Get connected to the top rated roofing contractors in your area and get free competitive estimates. No obligations to hire, ever!
IKO Roofing Shingle Products
Your roof can make or break both the safety and the style of your home. Choosing the right shingles ensures better energy usage and protection while also improving the curbside appeal of your house. IKO has three different collections to help you put together a roof that has the exact aesthetics and features you're looking for.
Architectural
Cambridge: One of IKO's most durable and popular shingles, Cambridge has a dimensional profile paired with deep shadow bands that create the appearance of a designer wood shingle at an affordable cost. This line of shingles is engineered to withstand the elements for years.
Premium Designer
Armourshake: These premium laminated shingles feature the aesthetic of hand-cut wooden shingles but with a Class A fire resistance rating. This line offers a wide variety of colors, providing shingles that look as good as new for years to come.
Cambridge IR: Perfect for any style of home, this shingle features one of the heaviest mats in its class. It also has built in algae-resistant granules to prevent any discoloration or streaks that can occur with heavy rain.
Crowne Slate: A premium shingle designed to match the look of natural slate to create a beautiful, elegant roof for any home. Precision cut to perfectly match that slate look, these shingles are built to endure extreme temperatures, heavy snow or rain, and high winds.
Dynasty: With eleven available colors and "ArmourZone" technology, this shingle is one of IKO's most diverse and wind-resistant lines. They are produced in IKO's "advantage" size, making them larger than most comparable shingles.
Royal Estate: Though these shingles look like natural slate, they are one of IKO's easiest product lines to install. They are available in multiple colors and feature granules throughout to help guard against algae damage and reflect ultraviolet rays.
Traditional
Marathon Ultra AR: These three-tab shingles are highly dependable and weather resistant. IKO also offers simple installation roof accessories of the PRO4 roofing system, letting these shingles go up faster and last longer.
How Much Do IKO Roof Shingles Cost?
While labor and material costs will need to be factored in, also consider the design, height, and roof pitch of your home when calculating the total for your IKO shingles.
IKO Cambridge AR Laminate Fiberglass Asphalt Architectural Shingles, price range: $27.99 to $29.99 per bundle, three bundles per 100 square feet
IKO Marathon 25 AR 3-Tab Fiberglass Asphalt Shingles, price range: $25.99 to $26.99 per bundle, three bundles per 100 square feet
IKO Marathon Ultra AR 3-Tab Fiberglass Asphalt Shingles, price range: $23.19 to $25.99 per bundle, three bundles per 100 square feet
IKO Armourshake premium laminated architectural shingles, price range: $57.00 to $67.00 per bundle, four bundles per 100 square feet
IKO Reviews
Some of the most common reviews you find of the IKO brand boast of the quality and durability of their shingles. No matter which style or color you choose, the majority of customers have found themselves deeply satisfied with the aesthetic, price, and protection that IKO products offer. However, there are also those that have had issues with warranty claims, stating that getting claims approved is a difficult and lengthy process. It is important to consider all customer reviews before making a final decision on your purchase.
Author: Angela Escobar
Find Roofing Companies Who Will Compete for Your Business