Stearns Equipment Leasing Rates, Reviews, Complaints & Company Overview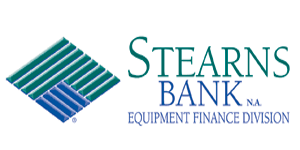 With more than a century in business, Stearns Financial Services, Inc. is one of the United States' oldest equipment leasing and financing providers. The lender specializes in helping smaller organizations finance the equipment they need to keep their business going strong. Although Stearns only has locations in a few states, they work with companies across the country.
About Stearns Equipment Leasing
Midwest-based Stearns Financial Services, Inc. was founded in 1912. The company has physical locations in three states: Arizona, Florida, and Minnesota. However, it offers its financial services throughout the country.
Building lasting customer relationships is Stearns' number one goal. The lender works hard to ensure every client feels the personal touch that makes them think of Stearns as an extension of their business. In turn, the lender considers every customer a member of the Stearns family.
The company earned kudos from the equipment finance industry in 2017 when "Monitor Daily" ranked Stearns Bank in two separate categories: number 26 in net assets and number 47 in the magazine's Top 100 issue of largest equipment financing companies.
Stearns works with a diverse portfolio of industries, building its success on a combination of customized terms, speedy service, and excellent customer care.
Free Equipment Leasing Quotes From Top Companies!
Stearns Equipment Leasing and Financing Services
Stearns promises clients a one-hour response time and aggressive credit decisions. The company's goal is working with you to get you the equipment you need. Benefits include competitive interest rates, flexible terms, and a financial company that stays with you from start to finish.
The company provides leasing and financing services to organizations in a wide variety of industries, including:
Agricultural: Stearns has a long history of working with farmers as well as the companies manufacturing and selling agricultural equipment. Their speciality is short-line agricultural equipment.
Healthcare: Includes leasing equipment for urgent care centers, dental offices, imaging laboratories, veterinary clinics, and optical providers.
Manufacturing: Stearns understands the fast paced, constantly-changing world of the manufacturing industry. There's no delineated credit box and the company offers flexible terms with a quick turnaround on applications by a dedicated construction finance department.
Vendor Programs: Stearns works with vendors and dealers to develop a program for equipment financing to help them make the sale. Options include low down payments, interest buy-downs, seasonal or delayed payment plans, dealer incentives, and payment reduction plans.
What Are the Leasing Rates for Stearns?
With so many variables affecting rates, it's nearly impossible to estimate what you'll pay for an equipment lease from Stearns. Financial companies consider a wide variety of factors, including:
Your company's credit rating and payment history
The dollar amount you want to finance or lease
Your industry
Your location
In addition to information specific to your business, national interest rates play a role in determining your lease terms. The following is a very general guideline. Click Request a Quote at the top of this page to get a more accurate estimate from multiple leasing companies.
Leasing $100,000 worth of equipment has an average rate of 8 percent.
Leasing $50,000 worth of equipment has an average rate of 14 percent.
Leasing $10,000 worth of equipment has an average rate of 20 percent.
Leasing equipment worth more than $100,000 has an average rate between 6 and 8 percent.
Monthly lease payments average around $50 for every $1,000 you finance, e.g. $250 per month for a $5,000 lease, $500 for $10,000 leased, and so on.
You can use a lease calculator to help estimate your monthly payment. It's important to note that the percentage decreases as the amount leased increases.
Stearns Financial Services Reviews
Stearns Financial Services, Inc. has a solid reputation as a reliable source for equipment leasing and financing. Clients also appreciate the company's customer service, particularly their employees' industry knowledge.
The most common complaint about dealing with Stearns is a lack of transparency between what customers were told, what the contract included, and what happened when the lease ended. As with any financial product, review your contact thoroughly before signing anything. Make sure that you know exactly what your monthly payment will be, what your buyout is at the end of the term (if applicable), and what you can expect as regards interest rate and taxes. Finally, never sign a contract with the first vendor you talk to. Obtain multiple quotes so you can be sure you're getting the best deal and rate possible.
Author: Angela Escobar
Compare Competing Prices From The Best Equipment Leasing Pros