Genie Aerial Lift Prices, Reviews, Complaints & Company Overview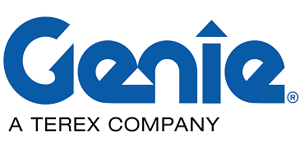 Genie manufactures a wide variety of aerial lifts, work platforms, and telehandlers. Founded in 1966, the company grew quickly to fill the demand for materials handling products. Today, their line includes slab and rough terrain scissor lifts along with telescopic and articulated boom lifts, accessories, and more.
Although the company was acquired by the Terex Corporation in 2002, the manufacturer's products had such a strong reputation in the industry that they continue to be sold under the Genie brand.
The Benefits of Genie Aerial Lifts
One factor that helps Genie remain such a strong competitor is the company's dedication to listening to customer input when it's time to design new products. This is how the manufacturer is able to stay on top of the changing needs and challenges in their industry. And create machines that meet those changing needs.
From the beginning, customers have been Genie's top focus. Their number one goal continues to be using the latest technology and strict manufacturing standards to create the highest quality equipment at the best cost. And, their global presence helps spur the company to minimize waste for a greener product. Industries across the spectrum rely on Genie aerial lifts, including aviation, construction, entertainment, industrial, government, rental, retail, and warehouse. This is because Genie lifts are designed for maximum safety when working at extreme heights.
The manufacturer credits teamwork, including their practice of listening to customer input, for its success. That teamwork is why the Genie scissor lift exists today. It is the result of the company's biggest customer base - rental companies - asking Genie to create a scissor lift. That was in 1997, over three decades after the company's launch. Today, Genie offers a full line of scissor lifts, including accessories designed with worker safety in mind.
Free Aerial Lift Quotes From Top Dealers!
Genie Aerial Lift Products
The Genie aerial lift product line includes:
Xtra Capacity (XC): Designed in response to customer demand for work platforms with greater capacity, Genie XC boom platforms feature a 1,000-pound restricted capacity and 660-pound unrestricted. Greater capacity reduces the lift cycle number as well as the equipment necessary to transport materials and tools to the work area for increased productivity.
Electric and bi-energy: The emission-free operation of these lifts makes them ideal for sensitive environments. If your lift also needs the power to drive over significant distances, the bi-energy system features a diesel-powered generator that acts as a 100 amp charger for the 48V lift.
Telescopic boom lift: Designed for areas with limited access, these machines maximize horizontal reach as well as work efficiency.
Articulated boom lift: When you need to move up, over, and out, these lifts give you access, even in those hard-to-reach areas. They also feature precision positioning for even better obstacle navigation.
Trailer-mounted boom lifts: The operating envelope of these machines helps operators reach both low and high jobs to give you the best of both worlds. They also tow easily behind your vehicle.
Slab scissor lifts: These highly mobile machines offer excellent maneuverability in tight workspaces. They feature a large work platform, high capacity, and low noise levels.
Rough terrain scissor lifts: If you're looking for improved efficiency, you'll like the large work platform and competitive lift speed of these machines. This lift's traction, speed, and gradeability makes it ideal for outdoor jobs.
Vertical mast lifts: Available in a number of models and styles, each featuring lightweight yet durable construction for enhanced maneuverability and easy transportation. You can customize each unit with a variety of accessories and options.
Aerial work platforms: User-friendly, cost-effective, and ideal for use across a number of industries and applications. Genie work platforms set up in only a few minutes and are designed for use everywhere from warehouses to construction sites to churches.
How Much Do Genie Aerial Lifts Cost?
When it comes to an aerial lift, your main cost contributors are height and weight capacity. However, motor or engine type also play a role, as do self-propelled versus towed, vendor, and the lift type.
Genie GS-3369-RT Series Rough Terrain Scissor Lift, 32'8" lift height, 1,000 lb capacity, diesel/dual fuel, price range: $11,000 to $22,700
Genie AWP AC 20 Super Series Aerial Work Platform, 20'1" lift height, 350 lb capacity, 110V/50-60 Hz motor, price range: $21,900 to $22,700
Genie GR12 Runabout Lift, with 20" extension platform with gate, 17'4" lift height, 500 lb capacity, 24V, non-marking solid rubber tires, price range: $21,900 to $22,700
Genie Z-45/25 4WD Articulating Boom Lift, self-propelled , 45'6"lift, 500 lb capacity, diesel, price range: $29,000 to $32,000
Genie GS-3232 Scissor Lift Aerial Work Platform, self-propelled , 32' lift, 500 lb capacity, 24V, price range: $31,700 to $32,900
You may also consider purchasing a used aerial lift, which typically sell for around half the cost of a new model (depending on the unit's age and hours of use). Never buy used equipment without testing it first. If you cannot perform an in-person test, request a live video demonstration.
Genie Aerial Lift Reviews
Genie earns high marks from reviewers and customers alike. The most common feedback includes:
Product durability: Users praise the durable construction and high-quality steel components.
Product design: A lot of positive feedback on a variety of design features, including:

Compact to fit easily in narrow spaces or those with many obstacles (particularly true of the scissor lifts)
Swing out battery box for easy servicing
Operator-friendly, intuitive controls
Emergency stop button
Battery life readout
Non-marking tires

Customer support: Great feedback on the support you get throughout the purchase process as well as customer service after the sale is final. And, the company offers a wealth of online resources, including training and safety information.
Safety features: This is one of the areas where Genie earns the highest marks, particularly for its work platforms, which include a number of features and accessories designed to promote greater worker safety. These include:

Descent alarm and electronic horn
Flashing beacons for greater visibility
Disc brakes for smooth slowing and stopping
Emergency stop controls at both platform and base
Pothole guards
Slip-resistant platforms with folding rails
Tilt level sensor with alarm

Lift capabilities: With various types and models, reviewers appreciate that there's a Genie lift that fits their budget and needs. The only negative item listed was related to price, as Genie lifts cost a bit more than some competitors. However, even these reviewers state that "you get what you pay for" and that Genie's reputation and five decades in the business justify their slightly higher pricing.
Author: Angela Escobar
Compare Competing Prices From The Best Aerial Lift Pros