Skyjack Aerial Lift Prices, Reviews, Complaints & Company Overview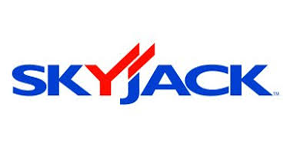 Skyjack offers a full range of aerial lifts, including telehandlers, scissor lifts, rough terrain scissor lifts, vertical mast lifts, telescopic booms, and articulating booms. The company designs its equipment to be reliable, long-lasting, and retain its value. With more than 30 years in the industry, Skyjack has earned a worldwide reputation for producing high-quality, low-maintenance machinery.
About Skyjack Lifts
Skyjack manufactures material handling equipment for a global clientele with a focus on rental organizations. The company's goal is to design reliable aerial lifts that feature simple controls, proven technology, and that are easy to service. They want all customers to receive a maximum return on their investment.
To ensure easy troubleshooting and repair, the company employs a color-coded, numbered wiring system known as SKYCODED. In addition, their relay-based electrical systems help reduce service costs. They also make servicing simple by using common components and off-the-shelf parts.
All engine-powered boom models use an axel-based 4WD system, as do most of the manufacturer's rough terrain scissor lifts. This gives these machines excellent traction with reduced maintenance needs. They also employ direction sensing drives and steer controls - known as EASYDRIVE - on boom lifts, ensuring controls are always oriented to the operator's position.
Skyjack protects your investment with a 2-year, bumper to bumper warranty on aerial work platforms and a 5-year warranty on structural components.
Free Aerial Lift Quotes From Top Dealers!
Skyjack Aerial Lift Products
Skyjack offers a full line of aerial lift products, available in varying capabilities so you can find the ideal machine for your needs and budget.
Articulating boom lifts: Ideal for both industrial and construction applications, Skyjack's articulating booms offer superior reach both horizontally and vertically. Available in compact, mid-size, and full-size models, with varying traction and drive capabilities.
DC electric scissor lifts: This is the world's top-selling electric scissor lift, accounting for one-third of all sales worldwide. These compact lifts feature steel swing out trays and the ability to drive when fully elevated. Operable on firm, level ground whether indoors or outdoors. Smart battery chargers with multi-voltage, dual frequency capacity prolongs battery life and prevents overload.
Rough terrain scissor lifts: These units are specified as class-leading, rough terrain performers that operate indoors or outdoors. These are the first electric scissor lifts in this size category to feature 45 percent gradeability and standard crossover, symmetrical 4WD. The elimination of filters (air, fuel, and oil), belts, coolant, and oil changes reduces maintenance time and cost.
Telescopic boom lifts: Ideal for both industrial and construction, with an axel-based drive system for superior traction on the job site. The design offers the best possible reach horizontally and vertically.
Vertical mast lifts: These compact machines are ideal in close spaces where maneuverability is key. They offer zero emissions and low floor loading so they're safe to use on finished and delicate flooring.
How Much Do Skyjack Aerial Lifts Cost?
Aerial lift pricing varies according to the lift type, height and weight limits, engine type, special features, vendor, and more. The following price estimates do not include taxes or delivery.
Skyjack SJ12 Vertical Mast Lift, 12' max height, 500 pounds max weight, 24V DC motor, front wheel hydraulic drive with 90-degree steering, drivable at full height, price range: $11,000 to $17,500
Skyjack SJ16 Vertical Mast Lift, 16' max height, 500 pounds max weight, 24V DC motor, front wheel hydraulic drive with 90-degree steering, 20" traversing platform, price range: $12,000 to $17,800
Skyjack SJ4626 Electric Scissor Lift, 26' max height, 1,000 pounds max weight, 24V DC motor, variable speed, rear two wheel hydraulic drive, 4' roll out extension deck, self deploying pothole protection, price range: $16,000 to $26,500
Skyjack SJ4740S Electric Scissor Lift, 40' max height, 500 pounds max weight, 24V DC motor, self deploying pothole protection, drivable at full height, 3' roll out extension deck, price range: $29,000 to $44,000
Skyjack Aerial Lift Reviews
Skyjack aerial lifts earn high marks from customers, particularly rental companies. Reviewer praise includes:
Easy to service and maintain: This is especially popular with rental companies, but also with contractors whose aerial lifts withstand a lot of wear and tear.
Simple designs: Another big hit with rental companies, who appreciate the fact that walking renters through controls is quick and easy.
Basic maintenance tools: Another area earning high praise is the fact that service and maintenance require no special tools.
Replacement parts: Rental companies and contractors alike report that finding and ordering replacement parts is quick and simple.
Long lifecycle: This is a big plus for rental companies who are always looking to maximize their investment.
Handles rough terrain: The Skyjack brand earns high marks from consumers here thanks to the 4WD.
Customer support: Rental companies in particular point out that the company offers an exceptional online library of training materials.
All in all, Skyjack aerial lifts are particularly popular with rental companies, which says a lot about their durability.
Author: Angela Escobar
Compare Competing Prices From The Best Aerial Lift Pros