Teupen Aerial Lift Prices, Reviews, Complaints & Company Overview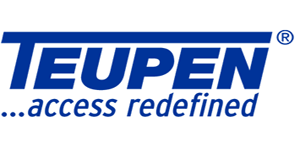 Although Teupen originated in Germany over 35 years ago, the company is now a global powerhouse in the aerial lift industry, with its North American headquarters in North Carolina. Their goal is helping customers overcome access challenges on the jobsite to remain competitive and save operational costs.
The company is famous for innovation and outside of the box thinking, particularly when it comes to ensuring worker safety. Teupen has a history of technical innovation that improves operator safety and comfort. Today, the manufacturer's research and development team continues to focus on creating products that benefit the customer.
Teupen Aerial Lift Products
The manufacturer's product line includes two main series of aerial lifts: Leo and Canopy.
The Leo series includes:
TL35A-G: This compact unit is designed for interior use yet offers excellent durability and robust features, with optional automatic, self-leveling outriggers. The maximum working height is 42' with a max outreach of 19'.
TL54AJ: This single-door compact lift includes a Kubota diesel engine standard as well as an electric motor so you can use it indoors or outdoors. For tough interior projects, choose the lithium ion battery option.
TL63A: This quick, agile unit offers nearly 40' in horizontal reach with a corner-mounted basket that holds two people and up to 550 pounds. This unit is ideal for projects where scaffolding or traditional lifts just don't do the job. With its compact size and low weight, it's appropriate for both interior and exterior work.

Free Aerial Lift Quotes From Top Dealers!

TL76S: Also known as the LEO 25T Plus, this has a 59' side reach and a straight boom design with a maximum work height of 82'7".
TL92SJ: Also known as the LEO 30T, this is Teupen's flagship model thanks to a 98' telescopic boom and rapid point-to-point access. It features a geometric boom design with angled roller support for superior boom operation and stability.
TL123AX: Also known as the LEO 40GTX, this is a large yet somehow compact boom with a 129' max working height that can still enter through a standard double door. When working at an 82' height, outreach measures approximately 50'.
The Canopy series includes two models:
TC69A: The tree care industry loves this model, which is easily towed behind a full-size pickup truck. It features a tracked chassis and low machine weight so it won't damage lawns or other sensitive surfaces such as pavers. It has an articulated boom design with user-friendly controls and smooth operation.
TC92SJ: This model offers a 92' telescoping boom with rapid point-to-point access and an advanced geometric design and angled roller support. The jib offers independent operation for greater flexibility while working up in the canopy.
How Much Does a Teupen Aerial Lift Cost?
Aerial lift pricing varies widely based on the type of lift, height and reach capabilities, maximum weight, engine type, vendor, and more. The following estimates do not include delivery or taxes.
Teupen TL35A-G (LEO 13T), 42' max height, 441 pounds max weight, 115V/20 amp electric power or 5 HP gas engine, automatic self leveling outriggers, price range: $30,000 to $31,000
Teupen TL92SJ (LEO 30T), 98' max height, 441 pounds max weight, Kubota Diesel engine & AC electric plug-in, automatic self leveling outriggers, price range: $120,000 to $122,700
Teupen TL69A (LEO 23GT), 75' max height, 441 pounds max weight, Kubota Diesel engine & AC electric plug-in, automatic self leveling outriggers, 180-degree rotating basket, price range: $125,000 to $158,600
Teupen TL156AX (LEO 50GTX), 156'6" max height at 441 pounds, 120'3-3/4" max height at 882 pounds, Kubota Diesel engine and AC electric plug-in, automatic self leveling outriggers, 180-degree rotating basket, price range: $140,000 to $166,000
Teupen Aerial Lift Reviews
Tree surgeons and other professionals love the Teupen aerial lifts, raving about them as being far superior to bucket trucks and ideal for making their jobs easier. Many state that they landed on the Teupen after talking to other tree care companies, so these models definitely get the insider recommendation. By the way, we always advise talking to others in your industry when considering any purchase, since they're the people who are best equipped to understand your particular needs.
Reviewers talk about how well these units maneuver through trees and other landscaping obstacles, a big plus in the tree surgeon world. However, they do recommend working with your vendor to ensure you fully understand the unit's controls. First, it saves you time - no sense taking an afternoon to teach yourself what your dealer can show you in 10 minutes. Second, it ensures you understand and take advantage of your new lift's full capabilities.
Users describe these machines as:
Having stretch
Slim and nimble
Steady and stable
Packed with technology and features
Agile and flexible
Easy to operate
They also love the way the tracked chassis spreads the machine load over a larger area to prevent ground damage while still providing traction over uneven, rough terrain. They also really like the stability offered by the self-leveling function, as well as the abundant sensors that inform you when something is "off" with the unit.
Operators also appreciate the pivoting basket, since it allows you to work in truly tight spaces.
One common complaint is the unit's speed, or lack thereof, since tracking means you only get around 1 to 2 miles per hour. Essentially, you're trading speed for the chassis' ability to spread the load. Overall, though, reviewers say that the pros far outweigh this single con.
Author: Angela Escobar
Compare Competing Prices From The Best Aerial Lift Pros