Aluminum Gutter Prices, Reviews, and Pros vs Cons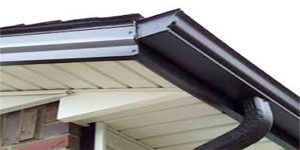 Although you find gutters made of a variety materials, aluminum is the most popular material in America, accounting for nearly 80 percent of all gutter sales. The reasons are clear. Aluminum gutters are easy to work with, don't rust, are long-lasting, and are relatively inexpensive. About the only negative you can find is that aluminum dents a little easier than some other gutter materials.
Request Gutter Installation Price Quotes Using Our Free Tool
Get connected to the top rated gutter contractors in your area and get free competitive estimates. No obligations to hire, ever!
About Aluminum Gutters
Homeowners and builders alike prefer aluminum gutters thanks to their lower price point and excellent rust resistance in any type of climate. Available in a variety of colors, these gutters last 20 years or more and effectively divert water from your home's foundation and siding.
To manufacture seamless aluminum gutters, sheet metal specialists feed aluminum into a rolling machine. They then cut the gutter to its required length. Once they have each part of the gutter system, they seal the corner joints. Typically, this occurs right at the job site.
Seamless gutters are usually more expensive, but they do have less risk of leaks.
Aluminum gutter gauge
Aluminum is rated by thickness or gauge; the thicker the material, the sturdier it is. Heavyweight aluminum measures 0.032" thick and is recommended for areas that receive heavy snow and ice.
Medium weight aluminum is 0.027" thick and it works well in mild climates while still meeting the standards for "seamless" gutters. This gauge holds up well against heavy rainfall, but it is more likely to dent than the heavyweight gauge.
Anything below 0.027" thickness is rated lightweight. Aluminum this thin does not withstand constant sunlight very well. It's also likely to collapse after a heavy snowfall. Even a heavy rainfall may cause lightweight aluminum gutters to bow or wrinkle, especially over time.
Aluminum gutter size and finish
The most common size for aluminum gutters is 5". This size can handle pretty much anything. And, unless your builder planned on installing 6" gutters and made the appropriate accommodations to the fascia, 5" gutters are the "default" setting for most homes. If you want to install 6" gutters, you need a gutter board that measures 1 x 8 instead of the 1 x 6 that comes standard on most homes.
Your final choice is finish. Options include the natural shine of aluminum, factory enamel, and a thin vinyl coating. Much depends on climate, so talk to your vendor about which option is best for your area.
How Much Do Aluminum Gutters Cost?
The cost of aluminum gutters varies according to the gauge of the aluminum, size of the home, the area where you live, and whether you choose professional installation. If you want seamless gutters, professional installation is your only option.
Aluminum gutters, including hangers and fittings, cost between $3 and $10 per linear foot on average
Aluminum gutter downspout extensions average between $6 and $15 each
Professional installation for 140' of aluminum gutters, including four downspouts and four corners, costs between $5.50 and $5.75 per square foot
DIY installation of 140' of aluminum gutters, including downspouts and corners, averages between $3.00 and $3.25 per square foot
Installing 140' of seamless aluminum gutters, including downspouts and corners, costs between $5.75 and $6 per square foot on average
Aluminum Gutters Pros vs. Cons
Pros of aluminum gutters include:
Available in a wide range of colors
Can be customized to any length
Can be painted in nearly any color (but do not have to be painted at all)
Cost less than most other metal gutter systems
Can be outfitted with protective screens that keep out debris such as leaves and branches while still allowing rain to pass through
Can be used on fascia boards made of any material
Low maintenance requirements, just clean them out a few times a year or as needed
Lightweight structure that requires no additional supports
Resists harsh climates, both hot and cold
Will not rust even with regular moisture exposure
Will outlast most roofs assuming proper installation and regular maintenance

Cons of aluminum gutters include:

Aluminum may corrode if it comes into contact with concrete, copper, mortar, steel, stucco, tin, or treated lumber
Clog quickly when leaves and other debris fill the system, leading to water spilling over the gutters
If cracks form and aren't sealed, leaks may occur
Ice dams are more common, which may cause water to back up
More prone to denting than other metal gutters, particularly at lower gauges
May expand and contract quickly after rapid temperature changes, leading to cracks
Seamless gutters require professional installation
Weigh the pros and cons carefully when deciding which type of gutter system is right for your home.
Author: Angela Escobar