Vinyl/PVC Gutter Prices, Pros vs. Cons, & Product Overview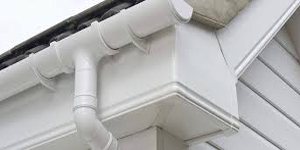 You know your home needs gutters, a system to divert rainwater and melted snow away from the foundation and siding. The only real questions are what style and what's the best gutter material. Even though aluminum gutters are the most common – you find them on around 80 percent of all homes – there are other options. One, vinyl gutters, is naturally corrosion-resistant, will never rust (since the gutters are made of PVC plastic), and lightweight enough that DIY installation is a breeze. You'll also save quite a bit of money. So, what's the downside? Keep reading to find out.
Request Gutter Installation Price Quotes Using Our Free Tool
Get connected to the top rated gutter contractors in your area and get free competitive estimates. No obligations to hire, ever!
About Vinyl/PVC Gutters
Installing vinyl/PVC gutters requires nothing more than some basic tools. You join pieces using either neoprene gaskets or, if you prefer a permanent fixture, PVC cement. You attach the gutters to the fascia using hidden brackets.
Compared to metal gutters, vinyl experiences the most contraction and expansion, which can lead to leaks. That's why manufacturers include temperature markings on the downspout connector. During installation, just cut the downspout connector to the length that matches the current temperature. This should help control changes due contraction and retraction.
Vinyl gutters come in varying thicknesses, which determine how well the material holds up against wind and falling debris. As a plastic, vinyl will not corrode or rust in any type of weather. It is also flexible by nature, so it can bend and twist without permanent warping. Vinyl is also lightweight, making it the easiest choice for DIY installation, even for those who've never installed gutters.
The material is also low-maintenance. Since vinyl gutters are naturally non-corrosive, you never have to paint them (although you can if you want to). The screws used to install them are shorter than those of metal gutter systems, so they don't hold up as well against the weight of snow. But, if you live in a mild climate, one without heavy snow and ice, vinyl gutters are ideal.
As with any other product, you get better, longer-lasting results with higher quality. In other words, thicker, heavier vinyl holds up better against the elements than cheaper, thinner models.
How Much Do Vinyl Gutters Cost?
The price of vinyl gutters varies depending on the style (such as K or half round), size, and length required. Gutters are sold by the linear foot. If you decide on professional installation, labor rates vary depending on your location.
4" PVC gutters, including fittings and mounting materials, average around $3.50 per linear foot
140' of 4" vinyl gutters, including corner fittings, four downspouts, and mounting materials costs between $470 and $570 on average
5" vinyl gutters average around $4 per linear foot
140' of 5" vinyl gutters, including all fittings, downspouts, and mounting materials, costs between $500 and $600 on average
DIY installation takes around one day to complete with two people working on the project, or two days for a one-person job
Add between $300 and $500 for professional installation
Vinyl Gutters Pros and Cons
The main benefit of vinyl/PVC gutters is their low cost. Mid-level vinyl is usually less expensive per linear foot than the lowest quality metal. Even if you hire a contractor, you'll probably pay less than you would for self-installed aluminum or galvanized steel gutters. Vinyl gutters are a popular choice with the DIY homeowner because they're lightweight and easy to install.
Vinyl is also low maintenance, since the material won't corrode, dent, or ding. The gutters don't have to be painted, either, which means that even if they do scratch, it's hardly noticeable, since the gutter is the same color all the way through.
All gutter materials have cons, and vinyl's is the material itself. You have to be extremely careful not to buy the thinner varieties, which do not hold up well against extreme heat or extreme cold. Over time, the plastic develops cracks, which means leaks. The cheapest brands have extremely short life expectancies, only a few years. For reference, aluminum gutters last 20 years or more with proper maintenance.
Finally, the greater degree of expansion and contraction increases the likelihood of crack and leaks in your gutters. If you choose vinyl gutters, buy the highest quality you can afford. Either that or the cheapest and start saving to replace them in a few years with a more durable gutter type.
Author: Angela Escobar