Stainless Steel Gutter Prices, Pros vs. Cons, & Product Overview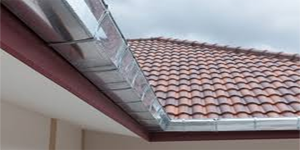 If you want gutters that resist corrosion, last for decades, and hold up against dents and dings, stainless steel gutters may be exactly what you're looking for. Although long a popular choice for commercial properties, more and more homeowners are turning to stainless steel. Keep reading to learn why.
About Stainless Steel Gutters
All gutter systems perform the same basic function: they direct water away from your building. A number of factors determine how efficiently your gutters perform this task, namely gutter size and shape. The material mainly determines the gutters' lifespan and maintenance needs.
Request Gutter Installation Price Quotes Using Our Free Tool
Get connected to the top rated gutter contractors in your area and get free competitive estimates. No obligations to hire, ever!
The non-corrosive nature of stainless steel makes it one of the lower maintenance options. As the name implies, stainless steel does not stain, no matter what material it comes into contact with. Even saltwater. If your home or business is near salt water or high-traffic areas, go with stainless steel - particularly if your goal is low maintenance.
Stainless steel gutters are also incredibly strong, with an expected lifespan of 50 years or more. The material is suitable for all gutter types, including K style, box, and half round. The steel stands up against ladder dings, fallen branches, hail, and harsh weather conditions that crack and warp softer metals like aluminum.
Although not rust-proof, stainless steel is rust-resistant, especially compared to galvanized steel. Although it costs more, stainless steel lasts longer, maintains its shine with minimum upkeep, and does not change color over time.
How Much Do Stainless Steel Gutters Cost?
Stainless steel gutters are sold by the linear foot, which means cost varies widely based on the size of your home or building. The style of gutter also plays a role in determining price. In addition, installation costs vary according to local labor rates. Installing stainless steel gutters typically costs significantly more than aluminum gutter installation, simply because the material is so much heavier.
Stainless steel gutters, including hangers and fittings, average between $11 and $33 per linear foot
Stainless steel downspout extensions cost between $12 and $30 each, on average
140' of stainless steel gutters, installed, including four downspouts and four corners, costs an average of $20 to $25 per linear foot
Stainless Steel Gutters Pros vs. Cons
There are pros and cons to every choice we make. The challenge is deciding whether the pros outweigh the cons for your unique situation.
Stainless steel gutter pros:
Low maintenance: Stainless steel gutters are naturally non-corrosive. That means you don't have to paint them to protect them from the elements and keep them looking great.
Strong: Thanks to the strength of stainless steel, these gutters stand up well against falling branches, bangs with the ladder, hail, and more.
Stable: The weight of stainless steel helps ensure they don't warp or come loose in strong winds.
Temperature resistance: Rapid temperature fluctuations cause some metal gutters to expand and contract, leading to cracks and eventual leaks. Stainless steel doesn't have this issue.
Beautiful shine: Stainless steel has a naturally gorgeous shine that requires very little cleaning.
Rust resistant: Although some stainless steel will rust (it depends on the amount of chromium it contains), it is rust resistant. And, the rust is fairly simple to remove. Just mix a little baking soda in some water, brush it on, and wipe it off.
Stainless steel gutter cons:
Cost: Compared to other metals, such as aluminum and galvanized steel, stainless steel gutters cost significantly more.
Weight: The same heft that makes them durable and sturdy also makes them more difficult to handle than lighter materials, particularly aluminum and vinyl. You almost always need to pay for professional installation for stainless steel gutters.
Rust: Although rust-resistant, stainless steel will rust without proper care. You can guard against this by preventing blockages with leaf and debris guards. In addition, regular cleaning helps remove build-up and maintain that famous stainless steel shine.
Again, whether the pros outweigh the cons is up to you. Keep comparing gutter materials to find the perfect solution for your home or building.
Author: Angela Escobar