Steel and Copper Gutter Prices, Pros vs. Cons, & Product Overview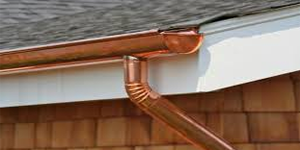 When it comes to gutters, the question isn't whether to install them but which gutter material best fulfills your needs. With around 80 percent of the market locked down, aluminum gutters seem to be the default choice, at least as far as new home builds. But for custom builds and replacements, many homeowners are looking for longer-lasting or more attractive alternatives. That's where steel and copper gutters enter the picture.
About Steel and Copper Gutters
Homeowners looking for a more unique look or gutters with a longer lifespan – or both – may want to consider galvanized steel or copper.
Request Gutter Installation Price Quotes Using Our Free Tool
Get connected to the top rated gutter contractors in your area and get free competitive estimates. No obligations to hire, ever!
Galvanized steel gutters
If strength and stability are important, take a closer look at galvanized steel gutters. The material includes a zinc coating, which protects the steel against inclement weather as well as the dings and dents often caused by falling branches and errant ladders. A layer of paint offers further protection against the weather as well as ensures your gutters match your home's color palette.
Galvanized steel also holds up well against the weather, including the rapid temperature changes that cause some gutter materials to warp or crack. Cleaning is simple, as is installation. And the unique finish of galvanized steel complements a variety of home styles.
Copper gutters
Copper gutters are particularly prized for their decorative appearance and longevity. Over time, copper's appearance changes, developing a distinctive patina in response to prolonged exposure to the elements. Copper gutters will also last 100 years or more with proper care.
Typically, copper gutters are a custom order, producing a seamless gutter that helps reduce the chance of leaks. This customization, and the cost of the metal itself, are why copper gutters are significantly more expensive than most other types.
How Much Do Galvanized Steel and Copper Gutters Cost?
Gutters are sold by the linear foot. Overall cost depends on the size of your home, the number of stories, and local labor rates in your area. Another factor is the quality and gauge of the metal. With so many cost variables, it's always a good idea to obtain quotes from multiple vendors.
Galvanized steel gutters with DIY installation cost between $2.50 and $9 per linear foot, on average
Galvanized steel gutters, including professional installation, start at around $4.50 per linear foot
The average price to install galvanized steel gutters is around $7.50 per linear foot
5" copper half round or K-style gutters start at around $15 per linear foot
Hi-quality copper gutters measuring around 8mm thick cost around $30 per linear foot
The average cost to install 200 linear feet of copper gutters, which is about standard for a 2,000 square foot house, is around $5,000 for the gutters
Copper gutter installation on a 2,000 square foot house averages between $20 and $35 per hour, depending on local labor rates
Steel and Copper Gutters, Pros vs. Cons
Each type of gutter has its own list of pros and cons. The best choice greatly depends on your location. Climate affects different types of metals in different ways. For example, if you live near the ocean, the salt air leads to greater corrosion for most types of gutters.
Galvanized steel gutter pros
Long lasting, these gutter systems typically last for decades
Cost effective, particularly compared to stainless steel and copper
Protective coating to help resist effects of inclement weather
Strength protects against bowing, dents, and cracks
Galvanized steel gutter cons
Not rust-resistant once zinc coating wears off, which it will eventually
Requires heavier maintenance than stainless steel to guard against corrosion and rust
The same weight that helps galvanized steel withstand dings and dents makes these gutters heavy and cumbersome to install
Copper gutter pros
Naturally rust resistant, which is why it's the traditional choice for plumbing and electrical wiring
With proper maintenance, copper gutters last 100 years or more
A sustainable material, copper is recyclable, with around 40 percent of today's copper gutters being recycled material
A unique, attractive finish, which is the main reason homeowners choose copper gutters despite the cost
Copper gutter cons
The biggest con is price, with top quality copper gutters reaching $30 per linear foot without paying for installation
Some people don't like the greenish patina copper takes on with age (for reference, see the Statue of Liberty)
Copper is a target for thieves due to its value when recycled
High maintenance needs, such as cleaning the gutters with a copper polishing solution once per year, to keep copper looking shiny and new
Copper takes surface damage easily, so you must wear gloves to protect the surface from the oils in your skin, and use plastic tools to guard against scratching
Author: Angela Escobar