Wood Gutter Prices, Pros vs. Cons, & Product Overview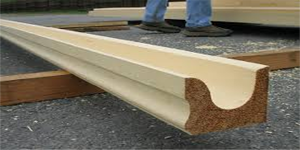 Before the days of modern manufacturing, wood gutters were the norm. Wood is still a popular gutter material, mostly for aesthetic reasons. You also find new wood gutters on historic buildings and in renovations. Even though wood is susceptible to damage due to moisture, it's still a popular choice for gutters.
About Wood Gutters
Although wood is susceptible to water damage, some types have greater resistance. Popular choices for gutters include cedar, Douglas fir, and redwood. When properly maintained, wood gutters last for decades. For example, fir gutters last up to 50 years and redwood up to 100.
The weight of wood gutters is substantial, so care is required for installation. They also tend to cost more to ship, which is one of the reasons wood gutters are not used as often in modern construction.
Request Gutter Installation Price Quotes Using Our Free Tool
Get connected to the top rated gutter contractors in your area and get free competitive estimates. No obligations to hire, ever!
You find wood gutters most often in restoration projects. However, you also see wood gutters in custom homes because they can double as crown molding for your roof.
The manufacturing process is time-consuming, as the manufacturer must allow the gutters to "rest" for at least one week after cutting the pieces. This is the wood's breathing time, which is necessary to ensure proper installation. That's because the gutters usually expand and contract during this period.
Installation must include a slight slope for the gutters. This keeps rain and melted snow runoff from pooling, reducing risk of rot. Wood gutter systems may also include additional downspouts to keep water levels low.
Many wood gutters use leaders made from a different material, typically iron, PVC, or copper. This different material can be disguised in a wood box or even painted to resemble wood.
How Much Do Wood Gutters Cost?
Costs depend largely on the type of wood used to make the gutters, size, and labor rates in your area. Gutter prices are per linear foot.
4" fir wood gutters cost between $10 and $12 per linear foot
6" fir wood gutters cost between $16 and $18 per linear foot
Cedar gutters start at around $11.50 per linear foot for 4" and around $18.50 for 6" gutters
Redwood gutters start at around $13.25 for 4" and around $21 for 6" gutters
Installation ranges between $1,600 and $2,600 on average
Pros and Cons of Wood Gutters
The main pros of wood gutters are their appearance. They're a great choice if you want a traditional aesthetic or the look of crown molding for a more modern style home.
Beyond looks, wood gutters are also highly effective, doing a great job directing water away from the building. If price is an issue, cedar wood is a good choice for withstanding moisture with a decent lifespan (assuming proper maintenance and care). Wood also holds up well against harsh weather. Wind won't knock these gutters around, the occasional ding with a ladder won't damage them, and falling branches don't make a dent.
As for cons, the main issues are cost and the level of maintenance required. Compared to aluminum (the most popular material), vinyl, and steel, wood comes with a much higher price point (similar to copper). Unlike copper, these gutters rarely last a century or more.
You also need to stay on top of maintenance. Without it, expect your gutters to split, crack, and eventually leak. You can help extend their lifespan by painting the outside of the gutters and regularly brushing the inside of them with shingle oil. This helps keep them from drying out and cracking.
Another concern is clogs. If you allow leaves and other debris to sit, water seeps into the wood, leading to more rot. You really need to clean out your wood gutters at least every six months.
Installation is also more difficult and if it isn't done correctly, you get pooling water and higher risk of rot and damage.
Wood also isn't a sustainable material. You have to destroy a lot of trees to manufacture a wood gutter system.
Finally, it can be difficult to find wood gutters. There aren't a lot of manufacturers left, which contributes to their high cost.
Author: Angela Escobar