Zinc Gutter Prices, Pros vs. Cons, & Product Overview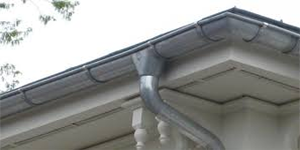 To protect its foundation and siding, your home needs gutters. You have a variety of material options available, even though the vast majority – around 80 percent – of homes come with aluminum gutters. For custom builds and gutter replacement, the choice mainly comes down to cost, aesthetics, maintenance needs, and ease of installation for those looking to DIY the project. Zinc gutters are relatively rare in America but growing in popularity due to their attractive appearance and low maintenance requirements.
Request Gutter Installation Price Quotes Using Our Free Tool
Get connected to the top rated gutter contractors in your area and get free competitive estimates. No obligations to hire, ever!
About Zinc Gutters
Although a popular option in Europe, zinc gutters are less common in America. While the material is called zinc, it nearly always contains trace amounts of copper and titanium. This alloy is part of what gives zinc its distinctive blue-gray, pewter appearance. The other factor that causes this patina to form is exposure to the elements.
Typically, zinc gutters are not painted, as the main reason people choose them is for the patina that forms over time. In addition to looking attractive, this patina is what protects zinc from corrosion and gives the gutters a long lifespan - at least double that of aluminum. These gutter systems are typically seamless, as well, making them less likely to develop leaks.
How Much Do Zinc Gutters Cost?
The main price determinant for zinc gutters is the size of your home, as all gutters are sold by the linear foot. The per-foot pricing varies according to the quality and thickness of the metal. In addition, local labor rates play a large role in installation costs.
Zinc gutters range between $3 and $10 per linear foot, with an average price of $8 including hangers and fittings
Zinc downspout extensions range between $60 and $160, with most installations requiring at least four downspout extensions
Installation rates range between $50 and $150 per hour, depending on local labor rates
Including installation, the average cost to install 150' of zinc gutters ranges between $1,800 and $2,300
A set of five leaf guards for your gutters averages around $20
Pros and Cons of Zinc Gutters
Choosing the right gutter material requires weighing the pros and cons of each option carefully. Although it often comes down to cost, many homeowners are also interested in the average lifespan of the material, how much maintenance it requires, and its aesthetic value.
The pros of zinc gutters include:
Long lifespan: With proper care, zinc gutters last at least 40 years and 80 is more common. The patina that forms due to prolonged exposure to carbon dioxide and moisture helps protect the metal against corrosion and rust.
Color variety: Although mainly known for the matte blue-gray color, most zinc gutter manufacturers offer multiple color options. This allows you to match your gutter color to your home's exterior paint scheme.
Affordable: If you want the long life and durability of metal, zinc gutters are one of the more affordable options, and are definitely less expensive than copper.
Recyclable: If sustainability is important to you, you'll like that zinc is completely recyclable.
Aesthetics: Zinc has a distinctive patina that both protects it against the elements and gives your home an attractive, unique appearance. However, if you like the metal but aren't fond of the matte gray look of zinc, you can paint the metal and still maintain zinc's beautiful shine.

As with any item, there are cons as well as pros. The cons of zinc gutters include:

Temperature restrictions: Zinc is difficult to work with when temperatures drop below 45 degrees. This limits installation options to warmer months so you can solder the material and guard against excessive expansion and contraction.
Sensitive to certain elements: Although the patina protects zinc against many corrosive elements, the metal does not do as well in coastal areas. Cedar shingles also create an acidic runoff that is not well-tolerated by zinc.
Cost: Although less expensive than most other metals, zinc gutters are still more expensive than the traditional aluminum. However, the material's greater durability and longer lifespan are why many people consider the extra cost totally justified.
If you're looking for a more unique look and want a gutter system that lasts decades longer than aluminum, zinc makes a great choice. Just be sure to install your gutters when temperatures are a bit warmer.
Author: Angela Escobar