CertainTeed Insulation Prices, Reviews, Complaints & Company Overview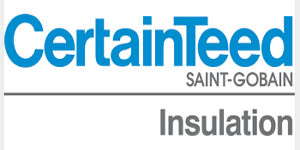 Originally founded in 1904 as the General Roofing Manufacturing company, CertainTeed has helped shape the building industry for over 110 years, building a name as a leading brand of exterior and interior building products in North America. The Saint-Gobain subsidiary has garnered a reputation for innovative and quality products, and their insulation materials are no different.
About CertainTeed
In 1917, the now 13 year old General Roofing Manufacturing Company changed its name to CertainTeed after its slogan, "Quality made certain, Satisfaction guaranteed." The company only continued to grow as a premier manufacturer of asphalt shingles, then acquired a fiberglass insulation business and a PVC pipe business in the 1960s, leading CertainTeed to introduce solid vinyl siding to their list of products. In 2007, the addition of ceilings and gypsum rounded out the building materials the company manufactures.
Request Insulation Installation Price Quotes Using Our Free Tool
Get connected to the top rated insulation contractors in your area and get free competitive estimates. No obligations to hire, ever!
An important part of CertainTeed's value system and corporate culture is sustainability. They strive to maintain resource conservation while still providing high quality products. CertainTeed prides themselves on manufacturing affordable, high-performance products while reducing environmental impacts.
Types of Insulation Offered
CertainTeed has multiple types and styles of insulation available for whatever your needs may be. Here are a few of the insulation options offered by CertainTeed.
Fiberglass Batts
EasyTouch rolls: EasyTouch fiberglass insulation is cost-effective and helps conserve energy. Perfect for commercial or residential purposes, this insulation offers a range of different R-values allowing you to choose the perfect set up for your needs.
High-performance batts: Whether it be new construction or a remodel/reinsulation job, installing high-performance fiberglass batts is easy, cost-effective, and works well in either commercial or residential markets. It is available in multiple sizes, R-values, and facings.
SmartBatts: Homes gather and retain moisture; it's inevitable. But if not properly addressed, moisture buildup in your home can be dangerous. Luckily, CertainTeed's SMARTBATT insulation has MoistureSense technology to help manage moisture and keep your home healthy.
Sustainable insulation: Sustainability is one of the primary goals CertainTeed has set forth as a company, and their sustainable fiberglass insulation has helped them achieve that. The insulation has a plant-based binder with no added acrylics, dyes, or formaldehyde. It also has a high amount of recycled glass and renewable content.
Blowing
Northern white fiberglass blowing insulation: Used in both commercial and residential construction as acoustic and thermal insulation, Northern White is designed for pneumatic installation in attics or ceilings. It is made from a minimum of 65 percent pre- and post-consumer recycled content and is non-combustible and odor-free. It also does not absorb moisture, contains no asbestos, and does not settle.
OPTIMA premium blowing wool: Designed only for closed-cavity applications, OPTIMA premium blowing wool insulation is blown behind a special OPTIMA fabric (or similar equivalent) and is typically used in new construction, but can be used for retrofitting as well. Sound reducing and thermally efficient, no product installs better or more completely than OPTIMA.
TrueComfort blown-in fiberglass insulation: The TrueComfort insulation system is comprised of both the fiberglass blown-in insulation and the machine used for installation. The machine itself is easy to operate and highly portable, while the insulation expands and requires fewer bags than comparable products, but can still perform at the same R-values. It is perfect for remodeling and DIY homeowners looking to save up to 20 percent on energy costs.
Sprayfoam
CertaSpray closed cell foam: The newest addition to CertainTeed's line of insulation products, CertaSpray closed cell foam is an all-in-one insulation sealing system designed for extreme requirements.
CertaSpray open cell foam: This insulation improves air quality and reduces energy loss while providing best-in-class performance. It can also add to your home's resale value.
CertaSpray X open cell spray foam: While not the newest insulation product CertainTeed offers, CertaSpray X open cell spray foam is the newest high-performance product in the insulation line. It meets AC377 Appendix X requirements and can be installed without the need for an ignition barrier.
How Much Does CertainTeed Insulation Cost?
The following prices are a general guideline to give you an idea of the cost of CertainTeed insulation products. The costs will vary depending on materials, R-value, size, type of insulation, and the vendor.
CertainTeed Insulsafe SP fiberglass blowing insulation, R30, 67.1 sq. ft. per package, non-combustible per ASTM, price range: $22.50 to $30.90
CertainTeed Fiberglass Kraft Faced insulation roll, 15"x32", R13, price range: $48.00 to $51.00
CertainTeed Paperfaced Batt, R19, 6-1/4"x16"x 96", 9 batts per pack, price range: $53.50 to $54.42
CertainTeed Paperfaced Batt, R19, 6-1/4"x24"x 48", 18 batts per pack, price range: $77.50 to $81.91
These are the prices for individual units. The amount of insulation that is required for a job is dependent on the necessary R-value and the type of insulation itself.
CertainTeed Insulation Reviews
Many customers find that there is no beating the quality or the price of CertainTeed insulation. Consumers are impressed not just by the quality of the insulation, but also by the sustainability and eco-friendliness of CertainTeed's products. However, some customers have complained about the smell of the insulation itself. A portion of people have likened the smell to burnt coffee, but have also stated that after a week or two (usually within less time) the smell goes away. Always make sure to carefully research each style and type of insulation in addition to reading consumer reports before making any final decisions.
Author: Angela Escobar