Owens Corning Insulation Prices, Reviews, Complaints & Company Overview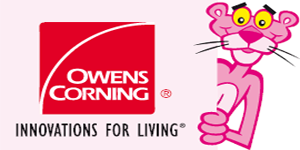 As a developer and manufacturer of fiberglass composites, insulation, and roofing materials, Owens Corning is a leader in energy efficient and innovative products that are used for both commercial and residential applications.
About Owens Corning
A global company, Owens Corning was formed as a partnership in 1935 between two glass works companies, Corning Glass Works and Owens-Illinois. They have been listed as a Fortune 500 company every year since the list was first created in 1955. Owens Corning prides themselves on adapting to and understanding customer needs, as well as providing solutions to any problems clients might have. The company strives to provide the same level of commitment to each and every customer, all while providing high quality products at a great value.
Request Insulation Installation Price Quotes Using Our Free Tool
Get connected to the top rated insulation contractors in your area and get free competitive estimates. No obligations to hire, ever!
Owens Corning Insulation Products
Owens Corning offers a broad range of insulation styles and types. No matter the area or type of building you need insulation for, Owens Corning has everything you need. Here are a few of the insulation solutions the company has to offer:
FOAMULAR 150 Rigid Extruded Polystyrene Foam Insulation: This insulation contains millions of densely packed air cells in order to provide an amazing thermal performance. The rigidity of the product makes it easy to be cut or snapped with common tools and it weighs less than non-insulation materials that might be used, which makes it easier and faster to install. It is also boasts incredible moisture resistance, which helps to prevent any loss of R-value that can happen with moisture penetration.
Owens Corning EcoTouch PINK Fiberglas Insulation: A flexible, preformed blanket insulation that is made with PureFiber Technology that is available in faced (foil vapor retarder or kraft) and unfaced. R-values range from 11 to 49 and thickness ranges from 3-1/2 to 14 inches.
PROPINK L77: This high-performance loose fill insulation is perfect for nearly any area; use it in attics, ceiling, floors, and walls for a solution that provides the highest R-value per inch. It installs easily, quickly, and comes at a great value.
PROPINK Rigid Extruded Polystyrene: Used to construct the exterior walls of a home, Owens Corning PROPINK rigid extruded polystyrene insulation has an extremely tough laminated skin on both sides. It can be used with a variety of exterior finishes and its high durability and damage resistance make it a perfect choice for new construction.
QuietZone: These acoustic batts are specifically designed to help control the transmission of noise and sounds between rooms. They are easy to install and perfect for bedrooms, home theaters, and offices.
TruWrap Housewrap: Ideal for both commercial and residential applications, TruWrap Housewrap insulation from Owens Corning is a woven polyolefin fabric that is engineered for weather resistance. Its micro-perforations allow moisture to escape to the exterior of the building and it has high tensile strength that allows for longevity and wind resistance.
How Much Does Owens Corning Insulation Cost?
While the cost of your Owens Corning insulation depends on the material, R-value, size, style, and even the vendor you purchase from, here are some general pricing guidelines:
FOAMULAR 150 rigid extruded polystyrene foam insulation, R5, kraft faced, 1" x 48" x 96", 32 sq. ft., price range: $19.99 to $23.79
EcoTouch PINK fiberglas insulation roll, R19, kraft faced, 15" x 470.4", 48.96 sq. ft., price range: $20.15 to $28.79
Quiet Zone fiberglass insulation batts, 16" x 93", 130.33 sq. ft., unfaced, price range: $60.95 to $62.26
EcoTouch PINK fiberglas insulation batts, R30, kraft faced, 15" x 48", 88 sq. ft., price range: $56.64 to $80.92
AttiCat Expanding Blown-In PINK Fiberglas Insulation, R49, 8.75" x 18.5" Xx 32", 109 sq. ft., price range: $24.14 to $34.49 per bag (machine sold separately)
Note that these prices are for individual units. The amount of insulation that is needed for any job is based on the R-value and type of material you choose.
Owens Corning Insulation Reviews
Consumers find that Owens Corning insulation provides excellent service at a wonderful value. Common reviews tout the ease of installation and nearly immediate notice of the difference once it has been installed. Clients do note that it can be somewhat difficult to transport and handle, but also state that buying bundles as opposed to individual units makes transportation easier. While it might be stated that dust masks or other protective gear isn't a necessity, always make sure to wear the proper protection before installing any insulation. It is important to do your research on both the product and any customer reviews before making a final decision.
Author: Angela Escobar
Find Insulation Companies Who Will Compete for Your Business