Asphalt Shingle Roof Prices, Reviews and Pros vs Cons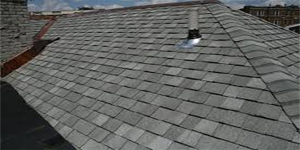 Sometimes called composite shingles, asphalt shingles are probably the most common roofing material in 2019. Two factors influence this popularity: price and familiarity. In other words, asphalt shingles are both the most well-known and least expensive roofing material available today.
What Are Asphalt Shingles?
As the name implies, the base material of asphalt shingles is asphalt. However, these roofing shingles also contain a number of other materials, including fiberglass and organic substances such as ceramic, mica, slate, quartz, sand, talc, and stone. These other materials aid in binding, strength, moisture resistance, and more.
The composition of an asphalt shingle includes:
Mat: The shingle's core is a fiberglass mat that holds asphalt well and resists tearing while still being lightweight.
Asphalt: The mat goes through a saturation process that coats every fiber with hot asphalt, chosen for its toughness and excellent resistance against impacts, wind, and more.
Granule coating: The top layer (i.e. the exposed part) receives a granular, mineral coating that both protects the shingle and gives it a more attractive appearance. Ceramic coating is popular, since these granules help reflect UV rays, which present the greatest threat to your roof shingles.
Sealant strips: Where the shingles meet lies a strip of raw asphalt. Once installed and covered by the next layer, the sun heats the sealant strip and bonds the shingles together.
Styles of Asphalt Shingles
For decades, three-tab asphalt shingles were basically the only game in town. Beginning the 1970s, though, manufacturers began offering new styles, thicknesses, and sizes.
Request Roof Installation Price Quotes Using Our Free Tool
Get connected to the top rated roofing contractors in your area and get free competitive estimates. No obligations to hire, ever!
Strip shingles: This is the traditional three-tab variety. Strips include three "tabs" that look like individual shingles once installed. Installation is relatively simple and the shingles are available in a wide array of pattern options.
Individual shingles: As the name implies, these are individual shingles available in rectangular and hexagonal patterns. You get a lot of flexibility with this style but at a higher price and a more difficult installation.
Interlocking shingles: Again, the name pretty much says it all. These shingles interlock and are popular in areas with high winds.
Laminated shingles: Also known as architectural shingles, these are very similar to the traditional three-tab style but with variations in spacing, thickness, and even number to create a more dynamic looking roof.
How Much Do Asphalt Shingle Roofs Cost?
The cost to replace or repair your roof varies widely depending on its size and pitch, average labor costs in your area, and much more. The following should help you estimate the materials cost for your roofing job.
IKO Marathon Ultra AR 3-Tab Fiberglass Asphalt Shingles, price range: $23 to $26 per bundle, three bundles per 100 square feet
Owens Corning Supreme, basic 3-Tab, 25-year shingles, price range: $27 to $28 per bundle, three bundles per square
IKO Cambridge AR Laminate Fiberglass Asphalt Architectural Shingles, price range: $28 to $30 per bundle, three bundles per 100 square feet
GAF Royal Sovereign 33.33-sq ft 3-Tab roof shingles, price range: $27 to $32 per bundle, three bundles per 100 square feet
Owens Corning Duration COOL, Laminated/Architectural limited lifetime shingles, price range: $38 to $39 per bundle, three bundles per 100 square feet
GAF Marquis Weathermax 33.33-sq ft Laminated Traditional 3-Tab roof shingles, price range: $43 to $44 per bundle, three bundles per 100 square feet
Pros and Cons of Asphalt Shingles
Asphalt roof shingles have two big pros: lower cost and easier installation compared to other roofing materials. They're also easy to remove, and some styles even let you install new shingles over existing ones, saving you both time and money.
The coating of the shingles themselves contains granules that help deflect UV rays, which not only damage your roof but may also heat the inside of your home. You can choose shingle colors that help deflect UV rays even more, or focus solely on matching your home's paint scheme.
Asphalt shingles are resilient, resist algae, and typically last around 20 years. They are a popular choice when homeowners need a new roof but don't intend to hold onto the home for an extended period of time.
There are also a few disadvantages to asphalt shingle roofs. Impacts, such as falling tree limbs or hail stones, may break one or more shingles. The granules used to coat them are also susceptible to becoming dislodged during inclement weather, which weakens the roof over time. The shingles may also trap moisture or excess UV rays, which may cause premature breakdown and curling. All of these may cause your roof to leak.
Finally, although an asphalt shingle roof costs less, if you plan to be in your home for 20 years or more, it may not be the best choice. The weather in your area plays a large role in how long these roofs last, but 20 years is about the average.
Author: Angela Escobar