Metal Roof Prices, Reviews and Pros vs Cons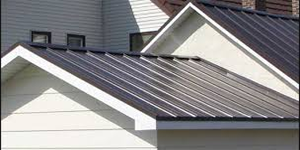 Thanks to a variety of benefits, metal roofs have experienced incredible popularity growth in recent years. They are a sustainable, attractive option that helps lower utility costs and matches any architectural style.
When they picture metal roofs, many people still imagine the traditional corrugated metal roof on a barn. You can, of course, choose that style, but you can also choose metal shakes, tiles, shingles, and more.
What Kind of Metal Is Used for Roofing?
The two most common metal roofing materials are steel and aluminum. In addition, you find copper, stainless steel, and alloys, but usually only on higher end homes, as these materials are much more expensive.
Steel: The most popular choice thanks to its durability and strength, steel roofs include finishes and coatings that protect the material against rust and corrosion. Typically, the steel receives a zinc coating and then a protective sealant. For color, expect to find an epoxy primer under the acrylic top coat in the finish of your choice.
Aluminum: This is the second most common metal roof material. It is extremely lightweight and does not rust. However, it is also much softer than steel, so it dents more easily. Add environmentalist concerns that aluminum lacks the sustainability of steel and you see why it isn't as common a choice for metal roofs.
Stainless steel: Extremely expensive but also extremely strong, stainless steel does not rust or corrode. With a terne coating, you get stainless steel's natural, matte gray finish.
Copper: There's a reason people have used copper roofing for centuries: it doesn't rust and weathers beautifully (think of the Statue of Liberty's verdigris patina). However, it's also very expensive so is not commonly used as a roofing material.
Alloys: The metals in alloys are chosen for their strength, durability, and how well they weather. The cost varies according to the metals used, but as a general rule, alloys are more expensive than steel or aluminum.
Request Roof Installation Price Quotes Using Our Free Tool
Get connected to the top rated roofing contractors in your area and get free competitive estimates. No obligations to hire, ever!
Metal Roof Styles
Many people are surprised by the myriad styles available for metal roofs. Basically, you can find your favorite traditional roofing styles in your favorite metal.
Metal shakes: If you love the look of wood shakes but not the short lifespan, metal shakes are your investment-grade alternative. They have an authentic wood appearance with a wider variety of colors available.
Metal shingle and slate: If you like the uniform look of slate tiles, you'll appreciate the improved durability and performance of metal shingles.
Metal tiles: Traditional ceramic, barrel tile roofs look beautiful but the tiles themselves are usually both heavy and fragile - not a fun combination. Metal tiles give you the same graceful curves with steel's lightweight strength. Stone coating gives these the look of tile.
Vertical metal panels: The vertical lines of these roofs modernize the classic, corrugated look most people think of when they think "metal roof." This is one of the more economical metal roofs and comes in a wide variety of colors.
How Much Do Metal Roofs Cost?
Estimating the cost of your roof is impossible without knowing its size, design, and pitch. Other cost factors include vendor, installer, and location. However, the following should help you at least estimate the materials' cost.
Terrabella Znap Stone Coated Steel Shingles, 53" x 15.25" panel coverage, 26-gauge, Znap interlocking panels, will not crack, break, curl, split, or rot, price range: $8.49 to $12.62
Hardy Rib Metal Roofing Panels, 144" x 36" panel coverage, 29-gauge, 16 standard colors, grade 80 steel, 40-year paint and lifetime steel warranty, price range: $26.40 to $31.25
Metal Sales Steel Classic Rib, 144" x 36" panel coverage, 26-gauge, red, MS Colorfast45 coating system to guard against corrosion, fading, chalking, and chipping, price range: $33.56 to $36.27
Metal Sales Steel Classic Rib, 192" x 36" panel coverage, 3/4" rib height, 29-gauge, ocean blue, MS Colorfast45 coating system to guard against corrosion, fading, chalking, and chipping, price range: $47.46 to $51.27
Pros and Cons of Metal Roofs
As with nearly any purchase, there are both advantages and disadvantages with metal roofs.
Metal Roof Advantages
Longevity is probably the greatest advantage to metal roofs, which have a life expectancy ranging from 40 to 70 years. Traditional materials, such as asphalt shingles, usually max out at 20 years.
Metal roofs also offer incredible durability, withstanding wind gusts up to an amazing 140 mph. Most are also impact resistant and, with the proper coatings, all resist rust and corrosion. And, although you should check them periodically, most require very little maintenance.
You also enjoy greater energy efficiency with a metal roof, as they reflect radiant heat, reducing your cooling costs by as much a 25 percent. They also offer greater protection against fire.
Finally, metal roofs are environmentally friendly, being made of both recycled content (the amount depends on the material) as well as 100 percent recyclable when the time finally comes to replace the roof.
Metal Roof Disadvantages
There are, of course, a few disadvantages to metal roofs, the chief being cost. Expect to pay two to three times what you would for traditional materials. The investment doesn't usually pay off unless you plan to be in your home for 20 years or more.
It is also very difficult to color match your roof if you need to expand or repair in the future. And, if the roof is not installed properly, and it includes large panels, these may loosen over time because the panels tend to expand and contract.
You may also find your metal roof to be noisy, especially during rain and hail storms. Extra insulation helps combat this, but it does add to the cost. Finally, if that noisy rain accumulates due to less-than-stellar installation, you may wind up with a damaged roof. Or, if you choose a softer metal, such as aluminum, you may find the roof damages more easily.
Author: Angela Escobar
Find Roof Companies Who Will Compete for Your Business