Clay Tile Roof Prices, Reviews and Pros vs Cons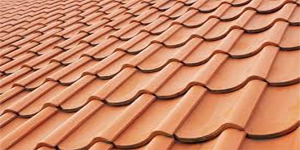 One of the most decorative and durable roofing materials, clay tile is often the go-to solution when building or renovating a roof. With a variety of colors, patterns, and shapes available, as well as resistance to extreme weather and pests, it is easy to see why people choose clay tiles as a roofing solution.
What Are Clay Tiles?
Clay tiles are made by baking molded clay, with the density of the tile being determined by the temperature and the amount of time it is heated. The tiles are typically available in various shades of brown, orange, white, and yellow. An alternative to these natural earth tones, should you want a specific shade or color for your roof, is to coat the tiles with an enamel prior to baking them, which is known as ceramic. The high temperatures of the kiln (the oven in which the clay is baked) bond the color of the enamel to the tile permanently, so it does not fade or peel.
These tiles are unable to be destroyed by fire and are incredibly resistant to extreme temperatures and winds. Their shape allows them to create air pockets that provide extra insulation and isolation of unwanted cold or heat, all while protecting the underlayment of the roof.
Styles and Costs of Clay Tiles
The main styles of clay tiles are double Roman, Spanish, and flat shakes; most other styles are a variation on one or more of these.
Request Roof Installation Price Quotes Using Our Free Tool
Get connected to the top rated roofing contractors in your area and get free competitive estimates. No obligations to hire, ever!
Barrel Tile: The term "barrel" may be used to describe any semi-cylindrical tile. True barrel tiles are tapered, with one end being wider than the other. This shape comes from the traditional shaping method, which was done over the clay worker's leg, though today these tiles are mass produced. The average cost ranges between $3.00 and $6.50 per square foot.
Double Roman: Roman tiles may look like Spanish tiles, but closer inspection shows that Roman tiles have very distinct, pronounced ribs as opposed to the wavy appearance of Spanish tile. They are typically made from concrete, but are also available in clay and terracotta. The average cost ranges between $2.25 and $4.80 per square foot.
Flat Shake: Generally made from concrete, these tiles are designed to look like just about any shingle style, be it asphalt, clay, or wood. Their adaptability and versatility make them a popular choice for most roofing setups and styles. The average cost ranges between $2.29 and $2.49 per square foot.
French Tile: Also known as profile tiles, the French tile looks like a reversed double Roman tile, with indents instead of ridges, which is great for shedding water during storms. The average cost ranges between $3.20 and $3.90 per square foot.
Pantile: Lighter than most other tiles, pantile tiles look like a flattened "S," which gives off a rippling visual effect. The average cost is $2.50 per square foot.
Riviera: The Riviera tile is another riff on the double Roman tile, with flattened ridges instead of rounded ones. Water still courses off the same way, but these tiles can provide a more dramatic shading pattern. The average cost is between $3.00 and $5.00 per square foot.
Scandia: Basically an upside down Spanish tile, Scandia tiles have sharp ridges that offer smooth, wide water courses. The average cost is between $2.00 and $4.00 per square foot.
Spanish: With the appearance of undulating waves and wide water courses, Spanish tiles are usually found in places that receive heavy rains. The average cost is between $2.00 and $4.00 per square foot.
Keep in mind that these prices do not include the cost of labor. You also need to consider the height of your house and the design and pitch of your roof, as the complexity of the installation also factors into the total cost.
Maintaining Clay Tile Roofs
While clay tiles are highly durable, it is still important to regularly inspect your roof and replace any damaged tiles as soon as possible. Remember that clay tile roofs should never be pressure washed; rather, they should be washed by hand. It is a good idea to consult or hire a professional who has experience in moving around on a clay tile roof.
Pros and Cons of Clay Tile Roofs
As with any roofing solution, there are both advantages and disadvantages to using clay tiles. One of the biggest advantages of clay tiles is their durability. They hold up against extreme temperatures, are fire- and pest-resistant, and don't rot, so they can last for decades longer than many other roofing materials. In addition, clay tiles offer an appealing aesthetic, including an ability to mimic the appearance of other roofing materials. Clay tiles also have insulation properties since air can circulate under the tiles.
It is important to note, however, that while clay tiles have many positive attributes, they are also heavy enough that you may need extra roof support before installation. Some newer homes are engineered or designed with heavier roofing materials in mind. If your roof cannot support the weight, you likely have the extra expense of installing additional roofing support. And, although clay tiles are durable in the face of weather and pests, someone on the roof making a wrong step can break these tiles.
It is important to do your research before deciding whether clay tiles are the right choice for you. Always weigh the pros and cons and consider which roofing solution truly works best for you.
Author: Angela Escobar
Find Roof Companies Who Will Compete for Your Business