Slate Roof Prices, Reviews and Pros vs Cons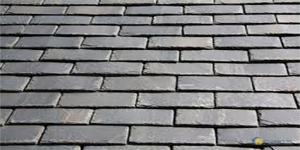 Manufactured from natural stone, slate is a durable, eco-friendly, and visually appealing roofing material. It boasts high fire, water, and weather resistance while still being thin enough to not look chunky or out of place on a building. Because of its high durability in the face of even the harshest elements, slate roofs can last for decades.
Types of Slate Roofs
Slate roofing provides more than just shelter; it is protection from the elements and an added layer of safety that can ensure comfortability for anyone under the roof. There are various types of slate roofs, with each one lending itself to the particular requirements or style of the building.
Hang-down (staggered butt) slate roofs: A variation of the basic slate roof installation, hang-down slate roofs utilize linger slate tiles. The longer tiles are laid to the same course line and protrude past the butt line of the other slate tiles creating a "hang-down" appearance.
Multicolored or blended slate roofs: When various colors are available, it is common to mix them together in order to achieve a multicolored slate roof. Though usually paired with random width installation, blended slate roofs can also be done with standard, or uniform, installation.
Random width slate roofs: These slate roofs are similar to standard slate roofs, but while the slates they utilize are of the same length and thickness, the width of each one varies. They are laid in a way that provides an adequate joint offset, but do not maintain joint alignment.
Standard (uniform) slate roofs: Comprising of 1/4" to 3/8" slates of a standard length and width with square-cut butts, standard slate roofs are carefully aligned and uniformly spaced.
Textural slate roofs: Textural slate roofs are made by using slates of varying textures and thicknesses that create a rough appearance.
Request Roof Installation Price Quotes Using Our Free Tool
Get connected to the top rated roofing contractors in your area and get free competitive estimates. No obligations to hire, ever!
How Much Do Slate Roofs Cost?
Slate tends to be a higher priced material, but there are price discrepancies depending on the type of slate being used. The cost of a slate roof is also impacted by the cost of installation (which itself can vary depending on the complexity of the job) as well as any additional work that might need to be done for support before the slate is laid.
The cost of a slate roof can be anywhere from around $10 to $40 per square foot installed and as much as $75 per square foot or more. For a 1,500 square foot roof, that works out to approximately $15,000 to $112,500.
Synthetic roofing slate costs roughly $6 to $12 per square foot installed. The total cost for a 1,500 square foot rough might be $9,000 to $18,000.
Some homes may not be able to support a heavy slate roof without structural reinforcement. The cost of additional framework could cost roughly $2,000 to $12,000 or more.
Maintaining a Slate Roof
When properly installed, a slate roof does not require much maintenance. The material is highly durable and even in the harshest of climates has been known to last for upwards of 50 years. The high durability offered by slate can make it an incredibly cost effective solution, since over time, you will not be spending as much on maintenance or repair costs. That being said, any time a slate is broken, cracked, or goes missing, it should be replaced as soon as possible. A damaged or missing slate does not offer proper protection and, if not replaced in time, can lead to structural damage.
Pros and Cons of Slate Roofs
Slate has its advantages and disadvantages, just like anything else. On the upside, slate roofs are aesthetically pleasing, offering an elegant appearance and the ability to customize colors and designs. In addition to appearance, they also boast extreme durability, which makes slate a long-lasting choice that requires very little maintenance or repairs. The longevity of the material also makes it a more environmentally friendly roofing choice, as a large portion of roofing waste comes from replacing shingles and tiles. And, while it does have a higher upfront cost than other roofing materials, the fact that it lasts for decades can offset that cost.
However, slate is not without its downsides. There is that higher cost which, while it might save you money in the long run, long-term savings won't mean much if you can't afford the initial cost. And, you must remain in the home long enough to recognize those long-term savings, which usually mean 20 year or more.
Slate is also heavy, very heavy. Commercial buildings and larger buildings can usually withstand the weight of a slate roof, but homeowners will need to have their roof evaluated and inspected to see if it can handle the weight. If not, some supports will have to be added (which will also add to the cost). And, although slate is durable in the face of the elements, it isn't quite as durable when it comes to footsteps. Moving around on a slate roof can be expensive if you don't know what you're doing, so it is best to consult a professional that has experience with this particular roofing material.
Author: Angela Escobar
Find Roof Companies Who Will Compete for Your Business