Wood Roof Prices, Reviews and Pros vs Cons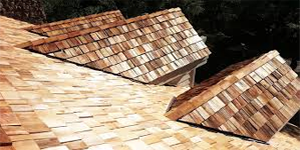 The two types of wood roofing are shakes and shingles. Though neither have the durability or practicality of other roofing materials, such as asphalt shingles, they offer a visual appeal that other roofing materials do not. Wood shakes and shingles work well for homes looking to achieve a historical aesthetic or older homes.
Wood Shakes and Shingles
Wood shakes and shingles can be a beautiful addition to your home for an affordable price. While they do not offer quite the same durability or resistance to the elements that other roofing materials do, they can be treated to be fire and water resistant. Generally, wood shakes and shingles do not have the same longevity as some of their competing materials, but their lifespan is highly variable depending on certain factors; namely, the climate the home is in, thickness of the cut, type of wood used, and any treatments or protective coatings that have been applied. Wooden roofing is also incredibly lightweight, making it safe and suitable to install over any home.
Difference Between Shingles and Shakes
Shakes and shingles are often used as interchangeable terms, but they are actually different.
Wood Shingles
Wood shingles are thinner than wood shakes, with a tapered cut and smooth texture on both sides. There are four grades of wood shingle:
Request Roof Installation Price Quotes Using Our Free Tool
Get connected to the top rated roofing contractors in your area and get free competitive estimates. No obligations to hire, ever!
1. Often referred to as premium grade, this is comprised of 100 percent edge grain and is taken from the tree's heartwood. There are no defects.
2. Comprised of flat grain with a limited amount of sapwood allowed. There are also limited knots and defects allowed.
3. Includes sapwood and flat grain. This grade also allows for limited defects.
4. Undercoursing is the fourth grade and is meant purely for side walls and should not be used as a roofing material.
Wood Shakes
Wood shakes are thicker than wood shingles and come in two main types: hand-split, also known as resawn, and tapersawn. Both hand-split and resawn shakes have a rustic appearance, with the back being sawn and the split face exposed. Tapersawn shakes, on the other hand, have a textured appearance with strong shadow lines and are sawn on both sides. Both types of wood shake are cut from heartwood and have no defects.
How Much Do Wood Shingles and Shakes Cost?
The cost of wood shakes and shingles varies depending on factors such as the amount of shingles purchased (i.e. the square footage), grade, style, and vendor you choose. Generally, having a wood shake roof installed costs around $6 to $9 per square foot. Wood shingles cost slightly less, at around $4 to $7 per square foot.
Installation costs vary a great deal depending on the design of your roof, including pitch, architectural features, and square footage to be covered. An average one-story, ranch style home has a roof square footage that ranges between 1,700 and 2,100 square feet. Hiring a professional installer (i.e. a licensed contractor with the proper insurance, credentials, and training) averages between $6,800 and $14,700 for wood shingles. Wood shakes, which cost a bit more for materials, cost between $10,000 and $20,000 to install.
Pros and Cons of Wood Shakes and Shingles
Wooden roofs come with both advantages and disadvantages. A properly maintained wood roof can last for decades and offers incredible energy efficiency, since wood shakes and shingles retain warmth in the winter and reflect heat in the summer. They can also increase the value of your home as well as its curb appeal. But, while they can increase the value of your home, you will also spend more on wood roofing than on many other roofing materials. And, although they can last for years when properly maintained, you really do need to stay on top of that maintenance, as a poorly maintained wooden roof can cause serious issues and lead to structural damage.
However, many of the issues that come with a wood roof can be dealt with by hiring a contractor or installer that has experience with wood shakes and shingles. Always make sure to consult a professional before deciding to go with wood shakes or shingles. And never hire an unlicensed contractor. Your state government's website should offer information on contractor's licenses and whether your chosen installer is in good standing.
Author: Angela Escobar
Find Roof Companies Who Will Compete for Your Business