Synthetic Roof (rubber, plastic, and polymer roofing) Prices, Reviews and Pros vs Cons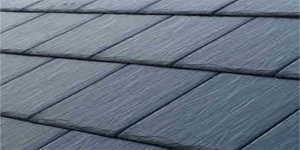 More and more roofing material manufacturers are developing and selling synthetic roofing materials in addition to (and sometimes instead of) traditional roofing materials. Synthetic roofs reflect heat, helping to keep homes cool and reducing the heat island effect that can occur in highly populated areas. For those who prefer the look of more traditional roofing materials, there are synthetic products available that have the appearance and texture of other roofing setups. Plus, the majority of synthetic roofs are designed to meet Cool Roof Rating Council requirements, as well as many other building codes and energy standards.
Types of Synthetic Roofs
Synthetic roofs are typically made of some sort of polymer. The primary polymers used in synthetic roofing are typically plastic or rubber. Both are popular for their low cost, but each one offers different strengths and weaknesses.
Plastic polymers are lightweight, easy to install, and can be made to resemble other roofing types such as slate or wood. Roofing shingles made with plastic polymers typically have an interlocking system, which makes them ideal for DIY installations or renovations. While plastic polymers have a long shelf life, it should be noted that they do begin to break down into smaller pieces after several years. Eventually, the pieces are small enough that they don't break down any further, but they can be gathered and recycled into new materials, making them an eco-friendly roofing option.
Request Roof Installation Price Quotes Using Our Free Tool
Get connected to the top rated roofing contractors in your area and get free competitive estimates. No obligations to hire, ever!
Rubber polymer shingles are similar to plastic shingles, as they are available in a range of colors and designs, easy to install, and lightweight. Rubber shingles are resistant to cracks, discoloration, moisture, and mold. They are usually made of recycled materials and can help cut down on energy expenses, as rubber is an excellent insulator. Rubber roofs are fairly durable and resilient, but if it does start to leak or require repairs, maintenance is simple, usually requiring nothing more than applying more sealant or replacing a few shingles. Many manufacturers also provide a warranty covering 30 years or more.
How Much Do Synthetic Roofs Cost?
The cost of synthetic roofing materials varies depending on the size of the roof and brand of shingle you decide to go with. In general, the installation of synthetic shingles for an average (around 2,300 square feet) roof costs between $4.50 and $7.00 per square foot. This would bring the total cost of a 2,300 square foot roof to around $10,350 to $16,100.
Certainteed Symphony Synthetic Slate Shingles, 12" x 18", Colonial Gray, 1/2" profile, Class 4 impact resistance, ASTM D3161 wind resistance, price range: $4.99 to $5.25 per tile, 25 to a bundle
Inspire Aledorea Slate Polymer Roof Tiles, 12" x 18", Slate Gray, Class 4 impact resistance, 110 mph wind tested, fade resistant, price range: $3.12 to $4.17 per tile, 24 to a bundle
Quarrix Composite Mission Roofing FIELD Tiles, 16.3" x 13", multiple colors available, barrel style, Class 4 impact resistance, 110 mph wind tested, fade resistant, price range: $7.95 to $10.00 per tile, 24 to a bundle
The more complex the installation, the greater the cost. And if the current roof needs to be torn down as well, that can add another $2,250 to $3,500 to your bill. It is a good idea to get multiple quotes and consult professional contractors and installers to see what exactly you need.
Pros and Cons of Synthetic Roofs
There are both advantages and disadvantages when it comes to installing a synthetic roof.
Synthetic shingles are easy to work with, highly durable, and often made from entirely recycled materials. As far as environmental impact is concerned, synthetic roofing is more eco-friendly than just about any other form of roofing material. They also cost less than most other materials and require very little maintenance. And, if there is maintenance or repair work to be done, it is simple and can be done easily; even if shingles need to be replaced the cost is low.
However, synthetic roofing is not without its downsides. While it can be made to replicate the appearance of other roofing materials, it never looks quite right. You won't ever get the true appearance of sleek slate tiles or rustic wood shakes with a synthetic roof. And, although rubber shingles offer decent insulation, plastic does not have the same perk, meaning that if you installed plastic shingles you would end up spending a little bit more on your cooling and heating.
It is important that you weigh all of your options and consider what will best suit your needs before making any final purchasing decisions. Read through any available customer reviews and consult a professional as well, to ensure that you have all the information necessary.
Author: Angela Escobar