Haworth Office Cubicle Prices, Reviews, Complaints & Company Overview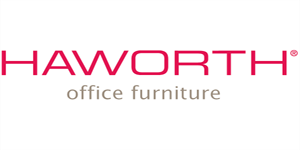 One of the largest manufacturers of office furniture in the country, Haworth designs everything from mass-market product lines to designer office furniture. The company has a wide variety of options, enabling you to find whatever you need for your business or home office.
About Haworth
Haworth, Inc. was founded by G.W. Haworth in 1948. What started as a humble wood furnishing business on the shores of Lake Michigan evolved into the second largest office furniture manufacturer in the United States. The company has a focus on organic workspaces and remains privately held to this day.
For the last 70 years, Haworth has worked to constantly improve both its product offerings and the company as a whole, investing heavily in design and research. The company's primary goal is to provide its customers with only the best. To that end, Haworth works closely with its customers and dealers to ensure its products increase efficiency and innovation. Haworth strives to give each customer a solution tailored to their needs.
Free Cubicle Quotes From Top Dealers!
Haworth Office Cubicle Products
There are multiple office cubicle system options available from Haworth, each with its own set of advantages depending on your space and style. Some of these products include:
Openest: A break from more traditional modular systems, Openest aims to create a more cosy environment. The Double Desk option offers a semi-private space for those who need collaboration as well as the ability to concentrate. The Privacy Desk is a fully secluded space, while the Privacy Booth offers seclusion with guest seating.
Places: This collection from Haworth is compatible with other systems from the company. It is designed to last for years and stand up to multiple reconfigurations. Places can be set up either for semi-private workspaces or open workspaces.
Premise: Developed for high flexibility, Premise is a collection that meets the ever-changing needs of the business world. Both traditional and floor-to-ceiling configurations are possible with Premise. Glass panes let in light and low return panels allow for collaboration between colleagues.
UniGroup Too: Perhaps the most versatile offering from Haworth, UniGroup Too provides markerboards or slat pads for personalization, segmented panels, and up-mount storage units. Workstations feature laminate surfaces, monolithic panels, and plenty of storage options. UniGroup Too is compatible with other Haworth seating and storage options.
How Much do Haworth Office Cubicles Cost?
Providing an exact cost for Haworth office cubicles is difficult. Multiple factors, such as cubicle configurations, cubicle size, features, added accessories, and the dealer you purchase through all impact cost. That being said, here is a general pricing guide to provide an idea of what you can expect to pay for your Haworth office cubicles:
An L-shaped, 72.5" x 72" single station with 44" tall panels, work surfaces measuring 24" x 24" and 24" x 30", and a mobile file box from Haworth's Places collection has a cost of $1,550 per station.
A 72" x 72" station unit that is 47" tall and comes with a box file pedestal, power down the spine, and upgraded surfaces from Haworth's Premise collection has a cost of $1,350 per station.
A 72" x 72" UniGroup Too configuration with 67" tall panels, one file pedestal, two overhead storage bins, and two tack boards has a cost of $1,660 per station.
Note that these costs do not include delivery and installation. However, the quote you receive from a dealer should. It is important to ask what all is included in the price you are quoted.
Haworth Office Cubicle Reviews
Overall, customer reviews for Haworth office cubicles are largely positive. Customers find that the company offers quality furniture at reasonable prices. Some have said that Haworth workstations have improved the productivity and general environment of their office. People have also said that the designs of the company's cubicles make it easy to collaborate with their colleagues and managers while still allowing them the privacy needed to get their own work done. After thorough research, very few negative reviews could be found for Haworth office cubicles. The only negative reviews that we discovered about the company seem to be about office chairs specifically, and at least one of those was about the product being labeled incorrectly.
It is a good idea to ask others how the product has worked for them, as it is the best way to see how it will work for you.
Author: Angela Escobar
Compare Competing Prices From The Best Cubicle Pros