Knoll Office Cubicle Prices, Reviews, Complaints & Company Overview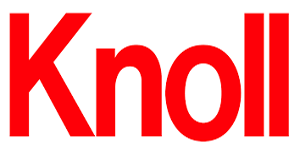 For decades, Knoll has designed and manufactured office furniture meant to enhance your business. With a wide variety of options for a variety of different business types and office layouts, Knoll has what it takes to provide your business or home office with the perfect solution.
About Knoll
Founded in 1938 by Hans and Florence Knoll, the company has always been driven by the idea that furniture should complement the space it inhabits. Knoll believes that the way people interact with their environments, as well as the environment itself, directly affects the way they work. Because of this, Knoll strives to create solutions that improve the quality of life and work for all of its customers.
The company's wealth of experience and knowledge enable it to consistently provide reliable and attractive products, combining expert craftsmanship with superior design. Whether it be furniture for a private home office or furniture and workstations for a company, Knoll brings the same levels of design and quality to everything the company makes.
Free Cubicle Quotes From Top Dealers!
Knoll Cubicle Products
Knoll has a broad range of offerings, each with its own set of advantages depending on the layout and setup of your business. Some of the company's office cubicle products include:
Antenna Workspaces: This series from Knoll features a planning scheme for both common and individual areas. Everything is based around a central table, with different areas created through integrated storage, linked desks, and partitions. Private spaces are definitely an option with Antenna Workspaces, but collaboration is at its heart.
AutoStrada: Whether you're looking to create an open-office system or private spaces, AutoStrada has you covered. With planning modes available in spine-based, storage-based, table-based, and wall-based configurations, there is no shortage of options to choose from. You can even set up a mix between the four to create the perfect workspace for your business.
Dividends Horizon: A versatile option designed to help workers concentrate, Dividends Horizon offers activity spaces for collaboration while still providing distinctly private work areas. The business world is ever-changing, and this series from Knoll aims to meet those changing needs head on by offering a combination of shared and personal spaces.
Morrison: Highly durable and able to integrate with existing components, the Morrison collection is designed for high-performance offices. It offers two different planning modes, freestanding and panel-based, that allow you to choose the best solution for your specific workspace. It is most often used by organizations looking for a setup for their entire facility and offers personal spaces, open meeting areas, and reception desks.
Reff Profiles: With a focus on form as well as function, solutions from Knoll's Reff Profiles collection come in glass and aluminum as well as walnut. Bring a new aesthetic to your office, whether it be in private spaces or an open system.
How Much Do Knoll Office Cubicles Cost?
Providing an exact cost for Knoll office cubicles is difficult, as the cubicle's dimensions, model, and quality all contribute to its final price. Added accessories, additional features, and your chosen dealer also play a role in determining the cost. Here is a general pricing guide to provide an idea of what you can expect to pay for your Knoll office cubicles:
A two-person workstation from Knoll's Antenna Workspaces collection has a starting cost of $13,427. Prices go as high as $32,291 for eight-person workstations, with the average cost of a single-person unit being $5,500.
A two-person workstation from Knoll's AutoStrada collection has a starting cost of $28,586, with single-person units having an average cost of $8,000.
A four-person workstation from Knoll's Dividends Horizon collection has a starting cost of $21,443, with single-person units having an average cost of $5,000.
A single-person workstation from Knoll's Morrison collection with cabinets added has an average starting cost of $12,216.
A two-person workstation from Knoll's Reff Profiles collection has an average cost between $31,339 and $39,052, with single-person units having an average cost of $13,500.
Knoll also offers used office cubicles, which come at a lower price.
Knoll Office Cubicle Reviews
Customer reviews for Knoll office cubicles are largely positive, with many people considering the company's offerings to be unmatched in terms of quality and design. Customers enjoy the flexibility that Knoll office cubicles have to offer, finding that it gives them the ability to make changes as needed with little hassle when it comes to reorganizing their office setup.
Overall, there are not many negative reviews for Knoll office cubicles. Some reviewers complained about installation, but most of those happen to be from people that had someone else install and set up their system. As with any other product or service, always read through any available reviews before making your final purchasing decision. It is a good idea to ask others how the product has worked for them, as it is the best way to see how it might work for you.
Author: Angela Escobar
Compare Competing Prices From The Best Cubicle Pros