Cisco Phone System Prices, Reviews, & Company Overview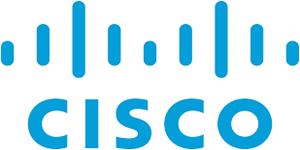 Cisco is a major player in networking technology, recognized for their high-quality products and service. The company has a focus on forming long-lasting relationships with customers based on reliability and trust. They strive to transform the way people connect and communicate by working tirelessly to provide innovative solutions.
About Cisco
Founded in 1984, Cisco came to be when Len Bosack and Sandy Lerner were looking for a way to email each other from their respective offices at Stanford University. At the time, no such technology existed. As a result of this challenge, the first multiprotocol router was invented.
The company grew quickly throughout the early 1990s, due in part to the introduction of the new and improved 7000 model router in 1993. That same year, Cisco Systems acquired Crescendo Communications, bringing them further into the field of network switching devices. In 1998, Cisco bought Selsius Systems, which allowed them to become a leading name in Voice over Internet Protocol (VoIP) technology.
Cisco introduced another game changer in 2006: TelePresence, an elaboration on videoconferencing that allowed people to act as if they were in the same room, despite being in different places. They have continued to grow and improve as a company, shaping the Internet and networking technology as they go.
Free Phone System Quotes From Top Dealers!
Cisco Phone Systems
Cisco Systems offers a variety of phone systems and products engineered for different needs. Phone systems offered by Cisco include:
Unified Communications Manager: Also referred to as CallManager, this is at the center of the Cisco collaboration portfolio infrastructure. Covering nearly all types of modern business communication, Cisco's Unified Communications Manager provides enhanced IP-based voice solutions and video capabilities. It can be scaled up to 40,000 users, with designated users in control of session management.
Business Edition 6000: Ideal for businesses with smaller budgets, the Cisco Business Edition 6000 is simple but powerful. The system is able to support up to 50 sites, 100 call center agents, and 1,000 users at a time.
Business Edition 7000: Designed with rapidly growing businesses in mind, the Business Edition 7000 from Cisco is an all-in-one solution. Features such as conferencing, messaging, third-party support, video, and voice are available on any device for every user. Able to handle thousand of devices and users, this system is optimized for large companies.
Cisco Webex Teams: Designed to work across a variety of different devices, Webex Teams is a cloud-hosted system that allows messaging and online meetings as well as video and voice calling. Webex Teams syncs call histories and contact lists across devices, allowing for maximum optimization.
Cisco also manufactures their own hardware in addition to software and systems, such as IP phones with HD audio and video. No matter what your needs may be, you can get the whole package from Cisco.
How Much Do Cisco Phone System Cost?
The price of phone systems from Cisco vary in cost based on the amount of users, edition you choose, and the model you choose.
Unified Communications Manager license fees typically cost between $100 and $300 per user

For Business Edition 6000 models:

The 6000S, able to support up to 150 users and 300 devices, costs between $6,000 and $8,000
The 6000M, able to support up to 1,000 users and 1,200 devices, costs between $7,000 and $9,000
The 6000H, designed with a focus on video and able to support up to 1,000 users and 2,500 devices, costs between $13,000 and $20,000

For Business Edition 7000 models:

The 7000M, able to support over 1,000 users and 3,000 devices, costs between $17,000 and $20,000
The 7000H, ideal for video-intensive enterprises and able to support more than 1,000 users and 3,000 devices, costs between $16,000 and $37,000

Webex uses a different pricing model depending on whether you sign an annual contract or choose to go month-to-month. As you can imagine, costs are higher for customers who choose the month-to-month option. For example:

Premium 25, which includes up to 25 meeting participants, 5 gigabytes of cloud recording storage, and HD video, costs $19.95 per host, per month with an annual contract and $28.95 per host, per month with no contract
Premium 100, which includes up to 200 meeting participants, 10 gigabytes of cloud recording storage, and HD video, costs $29.95 per host, per month with an annual contract and $38.95 per host, per month with no contract
Cisco Phone System Reviews
Customer reviews for Cisco phone systems are largely positive. Reviewers commonly praise how well the systems work, in some cases even with hundreds of phones and users on the network. People also enjoy that the systems allow their employees to communicate with each other without disrupting workflow. Overall, customers have found that phone systems from Cisco enhance and streamline the efficiency of their business.
There are customers that have had issues with the company, primarily when it comes to their customer support. Complaints about contradictory support, lack of support, and long response times have all been reported. In some cases, people have reported that these issues led them to purchasing a system that did not support their needs and even more issues when attempting to fix them.
Always be sure to read through any available reviews before making a final purchasing decision. Ask around to see how the phone systems have worked for business owners in similar industries.
Author: Angela Escobar
Compare Competing Prices From The Best Phone System Pros