Panasonic Phone System Prices, Reviews, & Company Overview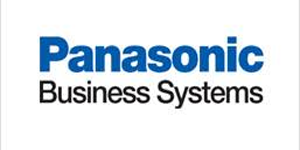 For more than a century, Panasonic has been a major provider of technology solutions designed to make life easier, more comfortable, more productive, and more entertaining. In addition to the consumer electronics they're famous for, Panasonic also offers communication servers and business phone systems.
About Panasonic
Although founded in 1918, the company we know as Panasonic has only been doing business under that name since 1955. Originally, the company developed lighting products. Today, their goal is creating a better, safer, more efficient world through technology.
Panasonic is looking to transform public life with technology that adapts and responds to our needs. The company's stated mission is to improve lives and make the world a better place. Smart cars, smart homes, and even smart cities are what Panasonic sees in the near future.
In addition to all of this grand scale innovation, Panasonic creates communication servers and phone systems designed to streamline businesses, making them more competitive, more productive, and more efficient.
Free Phone System Quotes From Top Dealers!
Panasonic Phone System Products
Panasonic offers communication servers as well as digital, IP, and SIP phones. Their communication servers include:
The KX-NS1000 lets you integrate a variety of devices to one platform. The centralized, web-based communication server connects up to 16 branches and 1,000 users.
The KX-NS700 includes integrated voicemail and email with optional fax server integration, which allows you to create an electronic fax archive instead of printing out reams of paper.
The KX-NS700G is Panasonic's hybrid platform designed with small businesses in mind. It includes ports for 6 analog lines plus 18 digital and 4 IP phones.
The KX-NSX2000 is designed to help connect a mobile workforce to both business and customer.

Panasonic also offers a wide range of phones, including:

The KX-DT521 is a user-friendly, digital desktop phone with an ergonomic design, LCD display, and hands-free speakerphone.
The KX-DT543 and KX-DT546 digital desktop phones offer amazing voice quality with hands-free speakerphone and wireless headset capability.
The KX-NT543 is an IP phone with 3-line LCD display, dual Ethernet ports, power over Ethernet, speakerphone, wireless headset capability, and 24 programmable buttons.
The KX-NT546 IP phone includes all of the features of the 543 but with a 6-line LCD display.
The KX-NT551 IP phone features a 1-line LCD display with 8 programmable buttons, speakerphone, power over Ethernet, and dual Gigabit Ethernet ports.
The KX-NT553 is the executive IP phone. Added features include 3-line LCD display, wireless headset capability, and 24 programmable buttons.
The KX-NT556 is the next step up in executive IP phones, with 6-line LCD display and 36 programmable buttons.
The KX-NT560 is the granddaddy of executive IP phones, with all of the above features plus a 4.4" LCD display, integrated Bluetooth, and 32 flexible keys.
The KX-HDV430 is a highly versatile SIP phone with built-in video camera for remote monitoring and video communication.
The KX-HDV130 is Panasonic's entry-level SIP phone, with a sleek design and great features to streamline business.
The KX-HDV230 is the next step up in SIP phones, with 24 keys and a large LCD panel.
The KX-TGP600 is a cordless SIP phone system, expandable to eight cordless or desktop DECT phones.
How Much Does a Panasonic Phone System Cost?
Phone system pricing varies according to variables such as number of users and features. The following prices are general guidelines.
The Panasonic KX-NS700 with up to 288 extensions costs around $600 on average
The Panasonic KX-DT546 digital phone costs around $450 on average
The Panasonic KX-NT553X IP phone costs around $250 on average
The Panasonic KX-HDV430B SIP phone costs around $350 on average
Panasonic Phone System Reviews
Panasonic receives praise from customers for creating high quality, reliable, innovative products that meet their needs, even when those needs change.
Numerous reviewers mention the fact that the systems are scalable and allow them to add features as they become available or the company's needs change. They also comment that Panasonic's prices are extremely competitive, often more competitive than they'd expected.
Customers also appreciate that the Panasonic communication systems allow them to run both legacy and IP phones, which saves them from having to completely replace or revamp an existing system. Features are described as innovative and adding value to the business.
Reviewers also talk about the look of the products, which they describe as "sleek," "modern," and as working well with any decor.
There are not a lot of negative reviews, although there are some, of course. One reviewer who liked the hybrid PBX system says that it's great on features and reasonably priced, until you look to expand. If you want the full extension capabilities, the cost is considerable.
Some reviewers also feel the phones are not user-friendly, particularly transferring calls and voicemails. They describe the controls as not being intuitive and the series of steps required as cumbersome.
Author: Angela Escobar
Compare Competing Prices From The Best Phone System Pros