Mitel Phone System Prices, Reviews, & Company Overview
-->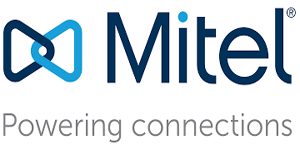 Founded in 1973 and based in Canada, Mitel is one of the world's largest phone providers, connecting literally billions of people every day. They offer tailored, customized phone systems for every size organization. Mitel phone systems are available via onsite hosting as well as in the cloud and as a hybrid.
About Mitel
Every day, Mitel phone systems have over 60 million users making over 2 billion connections in 100 countries. The company leads Europe, Africa, and the Middle East in market share and is considered an industry leader. Mitel is also the world's fastest-growing cloud provider.
Mitel products power communications for everything from single-user businesses to enterprise-level organizations. The company is a leader in innovation, with 1,800 patents and applications, and ensures its customer have the latest technology.
Technology, of course, is always changing. That's why Mitel makes its products scalable, so they can grow and change along with your business needs.
The company is also big on collaboration, with over 2,500 channel partners around the world helping deliver its products.
Free Phone System Quotes From Top Dealers!
Mitel Products
Mitel offers a wide array of products that fall under the following basic categories:
Cloud business phone systems: Scalable, cloud-hosted communications systems for everything from small companies to enterprise businesses
MiContact Center: Gives your customers self-service options and optimizes your workers' productivity
On-site business phone systems: Comprehensive solutions for any sized business that are flexible, user-friendly, and reliable
Collaboration software: Keeps your employees connected via voice, video, and instant messaging
Business phones, devices, and accessories: Includes IP and digital phones as well as consoles and conference phones
How Much Does a Mitel Phone System Cost?
Mitel phone system costs vary widely according to features, users, customizations, and more. We offer some cost samples to help you budget.
MiVoice 5304 IP is a button phone designed for educators, retailers, hotels, and teleworkers. It includes a small display and costs around $100.
MiVoice 5312 IP is a multi-line button phone designed for the desktop of support staff and other office workers. It includes 12 programmable keys and costs around $175.
MiVoice 5320 IP is the company's entry-level application phone, designed for organizations that require more features in their telecom products. It costs around $250.
MiVoice 5330e IP features a large graphic display as well as cordless applications, call history, conference calling, and visual voicemail for around $375.
MiVoice 5360 IP has a large, touchscreen display with 48 programmable keys and is the company's top IP application model. It sells for around $600.
The MiVoice conference unit features 16 microphones, HD audio, color touchscreen, LCD or projector connectivity, SmartOffice suite embedded, and a 4-meter range for around $800.
The MiCloud Business Essentials plan starts at around $20 per month, per user. Features include inbound and outbound calling, voicemail to email, hold music, and one connected device for each user.
The MiCloud Business Premier plan costs around $25 per month, per user. It includes the Essentials plan features as well as MiTeam collaboration, desktop and softphone, parallel ring, and two connected devices.
The MiCloud Business Elite plan offers all of the above features, plus four connected devices per user, integrated CRM, enhanced analytics, and much more. The cost is around $30 per month, per user.
Mitel Phone System Reviews
People either love or hate their Mitel phone system; there isn't a lot of middle ground.
First, the good. Users love the pricing structure and robust features included with Mitel's services (even negative reviewers have positive comments about the pricing and features included). They also praise the company for providing exceptional quality, integration with other softwares, and how easy the system is to learn and use.
People who are happy with their Mitel service also praise the company's customer support as being knowledgeable, helpful, and quick to respond.
Reading the negative reviews, it looks like you're looking at two different companies. These users complain that their service is down on a regular basis, that it needs updating nearly every day, and that customer support is practically non-existent.
If you're looking to install a cloud-based phone system, make sure you're in an area that supports that type of service. If you do not have fast, reliable Internet, no cloud-based system will work well for you. We aren't saying this is the basis of customers' issues with Mitel, only that it is a consideration for any software provider. If you do not have strong Internet service, either stick with self-hosting or choose a hybrid product.
Author: Angela Escobar
Compare Competing Prices From The Best Phone System Pros