NEC Phone System Prices, Reviews, & Company Overview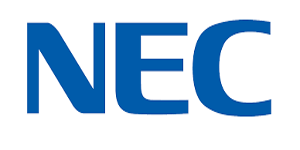 NEC creates a wide range of communication products, including business phone systems. The company offers a variety of phone types to fit any size organization. Their units are customizable, allowing you to add features and options that increase productivity.
About NEC
Founded in Japan in 1898 as a telephone switching company, today NEC has locations in five countries providing an enormous array of IT solutions designed to enhance communication. In addition to phone systems, NEC designs technologies such as facial recognition, biometric security, access control, surveillance, and much more.
Organizations of every size and in nearly every industry use NEC products, including universities, hoteliers, medical providers, global retailers, and Fortune 1000 companies.
The company's high availability unified communications service is designed especially to keep employees connected. No matter where you are, access the same features and tools you would if you were sitting right at your desk.
Free Phone System Quotes From Top Dealers!
NEC Phone Products
NEC offers a wide array of customizable phones and related hardware. Optional features include ergonomic design, Bluetooth connectivity, and docking capabilities for your smartphone.
UT880 Series: An IP desktop phone integrated with a tablet and packed with features
DT400 Series: The digital desktop phone developed for use with the UNIVERGE SV9000 platform
DT800 Series: IP desktop phones that were developed for use with the UNIVERGE SV9000 platform
SIP telephones: Developed for use with the UNIVERGE 3C platform, these phones combine voice and data communication capabilities
In-building Wireless-Wireless LAN: Supports mobile handsets to allow employees to move between work areas for greater responsiveness without loss of productivity
In-building Wireless-Digital DECT: Digital enhanced cordless telecommunications (DECT) keeps employees connected with industrial-grade handsets
Softphones: Connect your handset or headphones to a USB port in your computer to conduct calls (voice, video, and text) and check availability of colleagues
Attendant consoles: Ensure callers are not disconnected, misdirected, or spending too much time on hold
Doorphones: Safe, secure building access, includes audio and visual monitoring
How Much Do NEC Phone Systems Cost?
Phone system pricing varies according to how many users you have and which features you want. For an accurate estimate, choose Request a Quote. In the meantime, you can use the following prices to help budget.
The NEC DT400 desktop phone series starts at around $200
The NEC DT800 desktop phone series starts at around $300
The NEC UT880 desktop phone series starts at around $500
The NEC softphone starts at around $2,000
The NEC UNIVERGE SV8100 including a main board, 16 digital ports, 4 CO trunk loop ports, and more costs around $2,500 used and $4,000 new
A small office phone system, such as the NEC DSX-40, with four lines and eight stations, costs around $1,250 on average
The NEC DSX-80 phone system starts with eight lines and 16 stations, costs between $1,500 and $5,000 depending on features, number of lines and stations, and more
The NEC DSX-160 phone system costs between $7,500 and $10,500, depending on number of lines, stations, and features
NEC Phone System Reviews
Reviewers love NEC for creating such a diverse communications portfolio. Their products are highly customizable, another popular feature. Reviewers also like the ability to scale their service to meet changing business needs.
The company also has an excellent reputation for designing high-quality products and reliable systems. This reputation for quality extends to their customer support, which users say is excellent from the very beginning. NEC's team works with you to understand your requirements to determine the best system and features for your needs.
Clients also said that, when they did have issues, NEC sent developers or integrators (whichever solution the problem warranted) to figure out what went wrong and implement a solution.
We did find a few negative reviews. Most focused on third-party vendors not having the expertise needed to fully understand the product before installation. These reviewers also said, though, that the vendors were quickly up to speed and improved their level of service.
Some users also complained that the products, while of good quality, are not user-friendly.
Author: Angela Escobar
Compare Competing Prices From The Best Phone System Pros