Blanket / Batts and Rolls Insulation Prices, Reviews & Pros vs Cons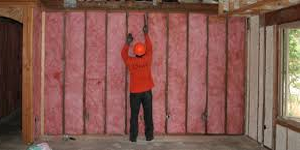 Both the most common and available type of insulation, blanket insulation comes in the form of batts or rolls and is typically made from fiberglass but can also be found in other materials such as mineral wool, natural fibers, and plastic fibers. It is usually installed in areas without very many obstructions, such as unfinished ceilings, floors, and walls. This type of insulation can be found in widths suited to the standard spacing of different areas, as well as in continuous rolls that can be trimmed to fit specific needs.
The Difference Between Batts and Rolls
It might not seem like there is much of a difference, if any, between batts and rolls, but there is. Batts are better suited to fitting right into spaces and comes in pre-cut sections, whereas rolls are a continuous roll better suited for longer, more open spaces and must be hand cut. Batt insulation can be faced or unfaced, with flame-retardant coverings available for exposed insulation. Both batts and rolls are fairly low priced, making them a great choice for someone looking to hire a contractor for installation or for those wanting to just do it themselves.
Request Insulation Installation Price Quotes Using Our Free Tool
Get connected to the top rated insulation contractors in your area and get free competitive estimates. No obligations to hire, ever!
Batts
There are multiple insulation materials to choose from when deciding which batt will work best for you, each with its own advantages and disadvantages depending on the location and purpose of its placement.
Cotton: Typically unfaced, this type of batt is often made with the leftover fabric scraps from the production of blue jeans, non-toxic flame retardants, and added synthetic fibers. Cotton is less likely to cause irritation but can also be more expensive, difficult to install, and permeable in comparison to other materials.
Fiberglass: Inexpensive and easy to install, fiberglass batts are possibly the most common type of insulation used in residential applications. They are made from spun glass fibers that are usually held together with a phenol formaldehyde glue, though you can find brands that sell it without the formaldehyde. Fiberglass batts are available faced or unfaced, and should be installed with an air barrier as fiberglass does little to slow air leakage.
Mineral wool: The majority of mineral wool batts in the states are made from slag-wool, which comes from steel-mill slag. This insulation is incredibly resistant to high temperatures and is typically used near chimneys and other areas that require a high heat tolerance.
Rolls
Perfect for insulating lengthy areas, rolls allow for long runs without the breaks in heat transfer that can come with batts. Like batts, rolls can be faced or unfaced and offer similar R-values. While rolls are mainly used in areas that have lengthy amounts of space to be insulated, they can also be cut to fit specific areas and are available in the same materials as batts.
How Much Do Blanket/Batts and Rolls Insulation Cost?
The cost of batts or rolls depends on the material, R-value, and size of the insulation, as well as the vendor you purchase through. While this needs to be considered, here are some general pricing guidelines to give you an idea of the cost of batt or roll insulation.
Knauf Guardian kraft-faced fiberglass insulation roll, 15" x 32' (40 sq. ft.), 3-5/8" thick, R17, price range: $10.00 to $12.00 per roll per bag
EcoTouch PINK fiberglas insulation roll, R19, kraft faced, 15" x 470.4", 48.96 sq. ft., price range: $20.15 to $28.79
CertainTeed Insulsafe SP fiberglass blowing insulation, R30, 67.1 sq. ft. per package, non-combustible per ASTM, price range: $22.50 to $30.90
Johns Manville Unfaced Mineral Wool Batt Insulation with Sound Barrier, 15.25" x 47", R15, price range: $22.00 to $26.00
ROCKWOOL SAFE 'n' SOUND rock wool batt insulation, unfaced, fire-resistant up to 2150 degree F, 15.25" x 47", coverage 59.7 sq. ft., sound barrier, price range: $40.25 to $41.97
CertainTeed Fiberglass Kraft Faced insulation roll, 15" x 32", R13, price range: $48.00 to $51.00
Knauf Guardian unfaced fiberglass insulation batt, 24" x 48" (88 sq. ft.), 10" thick, R30, price range: $49.00 to $55.00
Quiet Zone fiberglass insulation batts, 16" x 93", 130.33 sq. ft., unfaced, price range: $60.95 to $62.26
This pricing is for individual units. The amount of insulation needed for a job will depend on the necessary R-values and material being used.
Blanket/Batts and Rolls Insulation Reviews
Batts and rolls are popular choices for insulation, and customer reviews don't show any different. People enjoy the versatility of this insulation type and how easy it is to get ahold of, but there are also certain things to consider when it comes to batts and rolls. Many find that they can be difficult to install in certain areas, requiring strange cutting or trimming to fit into areas. There are also those who complain that when you do have to cut rolls, or when installing batts side by side, the breaks allow for air infiltration. Always do thorough research on the insulation type and any customer reviews you can find before making your final purchasing decisions.
Author: Angela Escobar