Insulating Concrete Forms (ICFs) Insulation Prices, Reviews & Pros vs Cons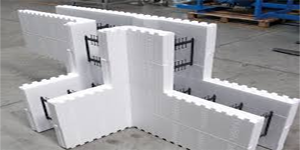 Insulating concrete forms (ICFs) are energy efficient, strong systems that result in cast concrete walls sandwiched between layers of insulation. They are typically used in low-rise building, either commercial or residential, and do not look much different than any other form of construction.
About Insulating Concrete Forms
Made from expanded polystyrene insulation (EPS) or other insulating foam, ICFs are hollow blocks or panels that are stacked to form the walls of a building. These blocks are then filled with concrete to reinforce the structure. The combination of high strength material and a lightweight material with high insulation properties provides a wall with air tightness, durability, and high acoustic performance.
Request Insulation Installation Price Quotes Using Our Free Tool
Get connected to the top rated insulation contractors in your area and get free competitive estimates. No obligations to hire, ever!
ICFs can take the place of standard wood frames in walls and provide continuous acoustic and thermal insulation, as well as a backing for drywall on the inside and multiple types of siding on the outside. This insulation provides a high R-value and allows for wiring and plumbing to be put in place without cutting into the concrete, however that should be run through the walls before any concrete is poured.
Types of ICFs
All ICFs are essentially identical in principle, but details vary from brand to brand. The systems are either pre-formed interlocking blocks or separate panels that connect with some sort of tie. There are three broad categories of ICF system:
Block systems: These systems have the smallest individual units, ranging in size from 8" x 1'4" to 1'4" x 4". The units are made with special interlocking edges that allow them to fit together.
Panel systems: With sizes ranging from 1' x 8' to 4' x 12' these systems have the largest individual units. Since their edges are flat, a separate connector or tie must be used to attach them. Panels are either assembled by the distributor before delivery or on-site before being set in place.
Plank systems: Similar to panel systems, but typically smaller, with heights ranging from 8" to 12" and widths ranging from 4' to 8'. Planks are set up with ties rather than coming assembled as units.
Within these ICF categories, you will find differences from brand to brand. It is important to carefully consider what each brand has to offer and which system will work best for whatever project you are working on.
How Much Does Insulation Concrete Forms Insulation Cost?
While factors such as brands, framing systems, and the vendor you purchase through will all go into the final cost of ICF insulation, here is a general guideline as to what you can expect to pay:
Fox Blocks Insulated Concrete Form, straight block, 4" core, 16" x 48", foam 2-5/8" thick, R23, price range: $17.79 to $19.99
Smart Block Insulated Concrete Form, straight block, 8" core, 12" x 40", foam 2-1/8" thick, 20 blocks builds 66 sq. ft., price range: $17.29 to $19.79
Fox Blocks Insulated Concrete Form, 45-degree angle block, 4" core, 16" x 48", foam 2-5/8" thick, R23, price range: $24.02 to $26.99
ICF Supply Co. Insulated Concrete Form, straight block, 6" core, 16" x 48", foam 2-5/8" thick, price range: $22.62 to $23.62, bundled in units of 12
Note that this is the pricing for individual units. The amount of insulation needed for the job will depend on the type of insulation being used. Also keep in mind that ICF houses are more energy efficient and can help to cut energy expenses.
Insulating Concrete Forms Insulation Reviews
Customer reviews for ICFs tend to talk about what you can save by choosing this particular insulation system over others. It can allow for the installation of smaller (which usually means cheaper) cooling and heating equipment and also save on energy costs over time. Consumers also talk about the peace of mind that comes with the fire resistance and strength that concrete has to offer. But there are also downsides that some customers have spoken of.
The exterior foam insulation can give groundwater and insects a route to enter the walls if polystyrene is used. This can be fixed by choosing foam that is designed to be waterproof and/or treated with insecticides, but that will increase the cost. Customers have also noted that homes with ICF insulation can experience humidity issues following construction, as the concrete is still curing. However, the moisture levels will return to normal once it has fully cured. Always research consumer reports as well as the insulation itself before making any final decisions.
Author: Angela Escobar