Rigid Fibrous or Fiber Insulation Prices, Reviews & Pros vs Cons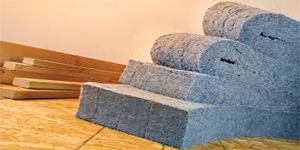 Fibrous insulation prevents heat transfer through convection by capturing air within the fibers. Its porous structure also lends itself to being a good acoustic or soundproofing insulation. It tends to be fairly flexible, but can be made more rigid with additives and formed to meet certain specifications or shapes.
Rigid Fiber/Fibrous Insulation
Generally made from fiberglass or mineral wool, rigid fiber or fibrous insulation is mainly used for insulating air ducts in homes or wherever there is a need for insulation that can handle extreme temperatures. The most common form of fibrous insulation is batts or rolls, but it can also be found in boards/panels and loose-fill insulation. Fibrous insulation can be used for various purposes and in multiple areas of the home, so for many it is the go-to choice when picking an insulation type.
Request Insulation Installation Price Quotes Using Our Free Tool
Get connected to the top rated insulation contractors in your area and get free competitive estimates. No obligations to hire, ever!
Types of Fibrous Insulation
There are multiple types of rigid fiber or fibrous insulation, with each one having its own advantages and disadvantages depending on the intended use. The most common types of fibrous insulation are:
Cellulose: This insulation is made from recycled paper products and typically has chemical compounds, like mineral borate, to increase fire resistance.
Fiberglass: Made of fine glass fibers, fiberglass insulation is available in batts/rolls or loose fill. It comes in various densities and R-values and can be used in many areas for many different insulation purposes.
Mineral wool: Available in loose-fill or rolls, this insulation is made from natural minerals or minerals that are left over from molten metal. It requires no extra chemical to make it fire retardant and contains large amounts of recycled content.
Natural fiber: Natural fibers, such as cotton, hemp, straw, or wool can be used as insulation materials. They are non-toxic, but tend to cost more than fiberglass insulation, and some natural fibers (like wool) can retain water and remove their fire-resistant chemicals or coating.
Plastic fiber: Similar to fiberglass, plastic fiber insulation is mainly made from recycled plastic bottles that are pressed into (usually) batts or rolls. It is often treated to increase fire resistance, but it can still melt.
How Much Does Rigid Fibrous or Fiber Insulation Cost?
The true cost of rigid fibrous or fiber insulation depends on the material, R-value, and size of the insulation. Prices also vary from vendor to vendor, but here is a general guideline as to what you can expect to pay for the insulation.
Johns Manville Unfaced Mineral Wool Batt Insulation with Sound Barrier, 15.25" x 47", R15, price range: $22.00 to $26.00
Johns Manville Attic Pro Fiberglass Blown-in Insulation with Sound Barrier, 103 sq. ft., R19, price range: $33.00 to $36.00
CertainTeed Paperfaced Batt, R19, 6-1/4" x 16" x 96", 9 batts per pack, price range: $53.50 to $54.42
CertainTeed Paperfaced Batt, R19, 6-1/4" x 24" x 48", 18 batts per pack, price range: $77.50 to $81.91
Knauf Earthwool Insulation Board with ECOSE Technology, 24" x 48" (88 sq. ft.), 2" thick, price range: $63.00 to $67.00
EcoTouch PINK fiberglass insulation batts, R30, kraft faced, 15" x 48", 88 sq. ft., price range: $56.64 to $80.92
Note that these are the prices for individual units. The amount of insulation needed for a job is dependent on any necessary R-values and the type of insulation being used.
Rigid Fibrous and Fiber Insulation Reviews
Customers frequently boast of the variety and versatility that rigid fiber and fibrous insulation has to offer. It is generally easy to install (and can be installed in multiple areas), environmentally friendly, and works for a variety of insulation purposes (fire resistance, soundproofing, thermal protection, etc.). However, customers have also found that the insulation can be moisture sensitive and should not be used in areas where moisture may be a problem. It is also an eye and skin irritant, so protective gear should be worn at all times during installation. Always research the product, as well as the reviews, before any final purchasing decisions are made.
Author: Angela Escobar
Find Insulation Companies Who Will Compete for Your Business