Spray Foam Insulation Prices, Reviews & Pros vs Cons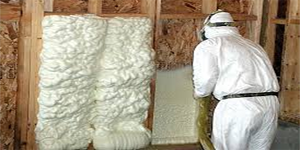 The easiest way to reduce air conditioning or heating bills is by making sure you have the proper insulation. Good insulation provides thermal protection and blocks air infiltration, all while lowering your energy expenses and keeping your home at optimal temperature levels. Spray foam insulation is the perfect solution for this and is one of the best types of insulation for renovations. If you're looking to increase the amount of protection your insulation offers, or just install new insulation, then spray foam might be exactly what you're looking for.
Request Insulation Installation Price Quotes Using Our Free Tool
Get connected to the top rated insulation contractors in your area and get free competitive estimates. No obligations to hire, ever!
Spray Foam Insulation
Liquid foam insulation can be foamed in place, injected, poured, or sprayed in multiple areas in order to provide a tighter seal. Some spray foam insulation can provide higher R-values than traditional insulation methods and fill even the smallest nooks and crannies. Spray foam can reduce or stop air leaks and fill cracks or holes that might form in smaller areas as well, such as door and window frames. This insulation stops air leakage better than any other type. Simply spray, then let it foam and harden, and your work is done.
Types of Spray Foam Insulation
Spray foam comes in two main types, closed-cell spray foam and open-cell spray foam. Each one has its own perks.
Closed-cell spray foam: It may not seem worth it to go with closed-cell spray foam over open-cell, or possibly any other insulation, as it is the most expensive residential insulation solution. However, you get what you pay for, and closed-cell spray foam performs better than any of its competitors. It provides a higher R-value per inch than insulation materials such as cellulose, fiberglass, or open-cell foam and is impervious to moisture. It is also incredibly dense and can add structural strength wherever it is applied. However, it should be noted that most closed-cell spray foam blowing agents are hydrofluorocarbons which are environmentally hazardous.
Open-cell spray foam: While not as dense and with a lower R-value, open-cell spray foam insulation fills the smallest nooks and crannies and provides an incredibly effective barrier much the same as closed-cell spray foam. However, open-cell foam absorbs and holds water and is vapor permeable.
How Much Does Spray Foam Insulation Cost?
The cost of spray foam insulation will vary depending on the vendor you go through and the amount, material, and R-value of the insulation. Here are some general pricing guidelines to give you an idea as to the cost of spray foam insulation.
Dow Froth-Pak 620 closed-cell spray polyurethane foam, R6.2 at 1", ASTM E-84 Class 2 Fire Rated, 620 board feet per set, price range: $550 to $600
Handi-Foam 605 closed-cell spray polyurethane foam, R6.2 at 1", includes 15' hose and 8 extra spray nozzles, 605 board feet per set, price range: $669.25 to $715.59
Foam It Green closed-cell spray polyurethane foam, R7 at 1", Class 1 E-84 Fire Retardant, 602 board feet per set, price range: $567.99 to $727.99
Johns Manville Corbond III closed-cell spray polyurethane foam, R21 at 3", R42 at 6", 5,200 board feet per set, price range: $2,200.00 to $2,400.00 per set
This pricing is for individual units. The amount of insulation that you need depends on the R-values needed and the type of insulation.
Spray Foam Insulation Reviews
Customers flock to spray foam for a reason: they enjoy the high R-value and air seal that it provides. Reviews commonly tout the ease of application, moisture resistance, and sealing properties of the foam. People also enjoy that there is no nutritional value to attract insects, making it naturally pest resistant. However, customers have also pointed out that there are downsides to using spray foam insulation. It is easy to apply, it is also messy and expanding, so you need to make sure you don't use any more than necessary. And while the dried foam is non-toxic, in its liquid form it can be toxic. Always research the product itself and any customer reviews when choosing your insulation.
Author: Angela Escobar