Foam Board or Rigid Foam Insulation Prices, Reviews & Pros vs Cons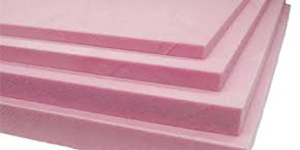 What usually comes to mind when people think of insulation is a material that is fluffy and easy to be cut or compressed. But rigid foam insulation (also referred to as board-stock or foam board, is a durable insulation option that is made from plastics and often used for insulation in building exteriors and foundations. It can be purchased in varying sizes of boards or sheets.
Request Insulation Installation Price Quotes Using Our Free Tool
Get connected to the top rated insulation contractors in your area and get free competitive estimates. No obligations to hire, ever!
Rigid Foam Insulation
Rigid foam tends to have higher R-values than other insulation materials such as cellulose, cotton, or fiberglass. It can be used in foundations, roofs, and walls for either new construction or renovations. The three main types of rigid foam insulation are polyisocyanurate, expanded polystyrene (EPS), and extruded polystyrene (XPS), with the key differences coming in the form of compressive strength, cost, permeability, and R-value per inch. All types of rigid foam are derived from petroleum.
Compared to other insulation materials, rigid foam is more effective as an air barrier, especially when the seams between the sheets have been sealed with canned spray, caulk, or tape. Rigid foam is often used to insulation the exterior or interior of foundation walls and can improve air-tightness, raise R-values, and reduce thermal bridging.
Types of Foam Board/Rigid Foam Insulation
There are three main options when it comes to choosing rigid foam insulation:
Polyisocyanurate: Generally used mainly in roofing applications, these panels tend to be more expensive, but lose less R-value over time than other materials. Since polyisocyanurate panels start as a liquid foam that is sprayed against a substrate to form the rigid panel, all polyisocyanurate panels are faced, though the facing type can vary.
Expanded polystyrene (EPS): This is the most versatile of the rigid foam options and can be used in floors, roofs, walls, and other areas. It has the highest average R-value of the three main types of rigid foam and is also the cheapest. EPS does not retain moisture during long term use and can be treated to resist insects. It is available in faced or unfaced.
Extruded polystyrene (XPS): XPS falls right in the middle of the three main rigid foam types, both in average R-value and cost. It is typically used in below grade applications and walls, and is available faced or unfaced. It is important to note that XPS absorbs more moisture over time than other rigid foam insulations.
How Much Does Foam Board or Rigid Foam Insulation Cost?
The cost of rigid foam insulation varies depending on the material, R-value, size, style of insulation, and vendor. That being said, here are some pricing guidelines to give you an idea as to the general cost of the insulation:
ISULFOAM rigid extruded polystyrene foam insulation, R8, kraft faced, 2" x 48" x 96", 32 sq. ft., price range: $12.99 to $13.79
FOAMULAR 150 rigid extruded polystyrene foam insulation, R5, kraft faced, 1" x 48" x 96", 32 sq. ft., price range: $19.99 to $23.79
Rmax Thermasheath-3 rigid foam insulation, R6, 1" x 4' x 8', closed cell polyiso, aluminum foil facers, 32 sq. ft. a sheet, price range: $30.93 to $31.60
Rmax TSX-8510 rigid foam insulation, R6, 1" x 4' x 8', closed cell polyiso, aluminum foil facers, 32 sq. ft. a sheet, price range: $30.25 to $31.05
ROCKWOOL ROCKBOARD 60 rigid rock wool board insulation, unfaced, R6, 24" x 48" x 2", sound barrier, price range: $51.18 to $52.00
Johns Manville CI Max Polyiso Foam Insulation, 2-1/2" x 48" x 96", R16, price range: $62.00 to $70.00
Keep in mind that these are the prices for individual units. The amount of insulation needed for any job depends on the R-value you need and the type of insulation being used.
Foam Board or Rigid Foam Insulation Reviews
Customers often find that the strength of rigid foam insulation is superior to that of batts or blown-in materials. Rigid foam can be cut easily, does not shift out of place once installed, and is resistant to pests and moisture. It is common to find reviews that talk about rigid foam being easy to install and perfect for areas such as basements or crawl spaces. But some consumers also find that rigid foam requires a moisture barrier depending on your area because, while it is moisture resistant, the air bubbles in the insulation can still accumulate moisture in wetter climates. It is pertinent to do research into consumer reports and reviews as well as the insulation itself before making any final purchasing decisions.
Author: Angela Escobar
Find Insulation Companies Who Will Compete for Your Business