Loose-fill and Blown-in Insulation Prices, Reviews & Pros vs Cons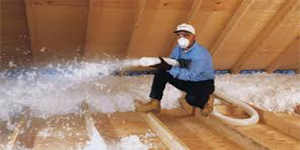 Made from materials such as cellulose, fiberglass, and (on occasion) mineral wool, loose-fill and blown-in insulation is easier to work with and install in comparison to other insulation methods such as batts or rolls. It is better able to fill the areas that it is installed and often provides better insulation that other materials or styles of insulation.
About Loose-Fill/Blown-In Insulation
Loose-fill and blown-in insulation are basically the same thing; the difference comes in the application method. When it is installed on an attic floor or poured into a cavity is when it is usually referred to as loose-fill insulation. Blown-in insulation takes its name from the installment method. The insulation is put into a machine that fluffs the insulation before it is blown through a hose into the area it is meant to fill. While you can rent a machine to do this yourself, it is usually best to have a trained professional install blown-in insulation.
Request Insulation Installation Price Quotes Using Our Free Tool
Get connected to the top rated insulation contractors in your area and get free competitive estimates. No obligations to hire, ever!
Loose-fill insulation is made up of small particles of fiber, foam, or other materials that form an insulation that is able to conform to nearly any space and not disturb anything around it. This makes it perfect for renovations or retrofits and places where other methods of insulation are difficult to install. It also provides higher R-values and allows for less air movement than other systems.
An important thing to consider with loose-fill and blown-in insulation is settling. Loose-fill insulation can lose R-value over time due to settling, with cellulose losing more than fiberglass or mineral wool. It is possible to avoid settling if the insulation is blown-in at the proper density, which will prevent any loss of R-value. To achieve this, it is best to have a professional do the install or to consult an insulation contractor prior to installation.
Types of Loose-Fill/Blown-In Insulation
Cellulose: Cellulose insulation is primarily made up of shredded paper mixed with fire retardants, usually borate. Its insulation value is comparable to fiberglass, but tends to perform better due to the fact that it is more resistant to airflow. It should be installed in the dense-pack method, which is to a density of 3-1/2 pounds per cubic foot.
Fiberglass: Made from chopped glass fiber sometimes bound by an adhesive, fiberglass loose-fill insulation is typically installed on attic floors. It has some of the lowest R-values of any insulation, so it is usually best to install it in a deep area.
Mineral wool: Mineral wool is usually used to describe one of two types of insulation material: rock wool, which contains natural minerals, or slag wool, which contains the waste material that forms on molten metal. It has a high amount of post-industrial recycled content and does not require additional chemicals to make it fire-resistant. It also has superior R-values and soundproofing abilities.
How Much Does Loose-fill and Blown-in Insulation Cost?
The cost of loose-fill and blown-in insulation depends on multiple factors, such as the amount, material, and R-value of the insulation, as well as the vendor it is purchased through. What follows are general pricing guidelines to give you an idea as to what loose-fill and blown-in insulation costs.
Knauf Insulmax Shake and Rake loose fill fiberglass insulation, formaldehyde-free, coverage 35 sq. ft., R19, price range: $15.00 to $18.00
CertainTeed Insulsafe SP fiberglass blowing insulation, R30, 67.1 sq. ft. per package, non-combustible per ASTM, price range: $22.50 to $30.90
Knauf Guardian fiberglass blow-in insulation, formaldehyde-free, coverage 65.3 sq. ft., R30, price range: $29.00 to $33.00 per bag
AttiCat Expanding Blown-In PINK Fiberglas Insulation, R49, 8.75" x 18.5" x 32", 109 sq. ft., price range: $24.14 to $34.49 per bag (machine sold separately)
Knauf Jet Stream Ultra Blown fiberglass, 24" x 48" (88 sq. ft.), R15, price range: $32.00 to $36.00
Johns Manville Attic Pro Fiberglass Blown-in Insulation with Sound Barrier, 103 sq. ft., R19, price range: $33.00 to $36.00
These are the prices for individual units. The exact amount of insulation needed for a job depends on the materials being used and the R-values needed.
Loose-fill and Blown-in Insulation Reviews
Customers often speak of the benefits of loose-fill and blown-in insulation in consumer reviews. When compared to insulation systems such as batts or rolls, many people find that loose-fill is more efficient, easier to install, and quicker to install. But customers also note that loose-fill insulation is more likely to suffer from mold and rot than other insulations, so it is incredibly important that you ensure the area you are installing it in is properly sealed. Customers have also found that it really is best to let professionals install blown-in insulation, as they have the experience and equipment knowledge to do so properly. Always make sure to thoroughly research all of your insulation options and any customer reviews before any final decisions are made.
Author: Angela Escobar