Concrete Block Insulation Prices, Reviews & Pros vs Cons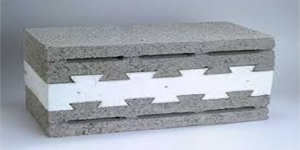 There are many ways to insulate the concrete blocks used in the foundations and walls of buildings. Whether you install insulation in the hollow center of these blocks or have it installed over the wall (which is the recommended method), concrete block insulation can be a great way to increase the R-values and overall insulation of your home.
Insulated Concrete Block
While you can insulate the center of concrete blocks, so long as they are hollow or unfilled, that is not usually the recommended method of insulation. This method will raise the average R-value for your walls, but heat can still be conducted through the solid areas such as block webs and mortar joints. The preferred method is to install insulation over the surface of the block, on the exterior or interior of the foundation walls in order to contain the thermal mass of the blocks. This, in turn, allows for better moderation of temperatures inside the home.
Request Insulation Installation Price Quotes Using Our Free Tool
Get connected to the top rated insulation contractors in your area and get free competitive estimates. No obligations to hire, ever!
In the United States, there are two standard varieties of autoclaved masonry units available: autoclaved aerated concrete (AAC) and autoclaved cellular concrete (ACC). Autoclaved concrete has up to ten times the insulating value of conventional concrete and can be easily cut and shaped with ordinary tools. The difference between the two typed is that ACC uses fly ash, the waste produced from burning coal, whereas AAC uses high-silica sand. Both absorb water easily, so insulating them can provide the moisture protection that is needed.
Types of Insulation for Concrete Blocks
There is more than one type of insulation that can be used to insulate concrete blocks. Depending on the chosen method of insulation, there are various types that could be more or less effective.
Blown-in insulation: Loose-fill insulation is made from particles of fiber, foam, and other materials and can conform to any space. While it can be poured or stuffed into place, it can also be blown-in, a process that fluffs the insulation before it is placed and can be more effective than simply stuffing it. To use this type of insulation, you would need to be able to fill in the concrete blocks from the top.
Rigid foam insulation: Large and lightweight panels that can be installed directly on the surface of the concrete blocks. The only thing you need to do is measure and cut the panels, then glue them in place. Just remember to use glue that is recommended for use with rigid foam and masonry, as there are some types of glue that can eat through the foam. There is also special tape that can be used to provide an airtight seal.
Spray foam insulation: Spray foam is a great insulator, as it fills every possible nook and cranny. To use spray foam insulation with concrete blocks, it would need to be done by spraying it into the blocks from the top or by drilling holes near the top of the wall and filling each vertical cell one at a time.
What Will I Pay for Concrete Block Insulation?
While the cost of your concrete block insulation will vary depending on the material, R-value, size, style of insulation, and vendor, here are some general pricing guidelines:
ISULFOAM rigid extruded polystyrene foam insulation, R8, kraft faced, 2" x 48" x 96", 32 sq. ft., price range: $12.99 to $13.79
FOAMULAR 150 rigid extruded polystyrene foam insulation, R5, kraft faced, 1" x 48" x 96", 32 sq. ft., price range: $19.99 to $23.79
CertainTeed Insulsafe SP fiberglass blowing insulation, R30, 67.1 sq. ft. per package, non-combustible per ASTM, price range: $22.50 to $30.90
Rmax Thermasheath-3 rigid foam insulation, R6, 1" x 4' x 8', closed cell polyiso, aluminum foil facers, 32 sq. ft. a sheet, price range: $30.93 to $31.60
Dow Froth-Pak 620 closed-cell spray polyurethane foam, R6.2 at 1", ASTM E-84 Class 2 Fire Rated, 620 board feet per set, price range: $550 to $600
Handi-Foam 605 closed-cell spray polyurethane foam, R6.2 at 1", includes 15' hose and eight extra spray nozzles, 605 board feet per set, price range: $669.25 to $715.59
Johns Manville Corbond III closed-cell spray polyurethane foam, R21 at 3", R42 at 6", 5,200 board feet per set, price range: $2,200.00 to $2,400.00 per set
These are the prices for individual units. The amount of insulation you need for a job depends on the necessary R-values and type of insulation being used.
Concrete Block Insulation Reviews
There are upsides and downsides to concrete block insulation. Many of the reviews you will find talk about how concrete block insulation can increase the R-values of your homes walls. To many, it seems only natural to take advantage of the building material used in the foundation to add that additional layer of insulation. However, there are also those who point out that insulated concrete blocks may not do all that much to improve insulation, since heat can still easily pass through the un-insulated areas of the concrete. It is important that you do the proper research both into the type of insulation itself as well as any customer reviews you can find before making any final purchasing decisions.
Author: Angela Escobar
Find Insulation Companies Who Will Compete for Your Business