Anago Commercial Cleaning Service Rates, Reviews, Complaints & Company Overview
-->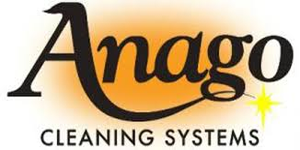 Although mainly centered on the east coast, Anago Cleaning Systems has franchises throughout the United States as well as two locations in Canada. Their employees receive in-depth training to provide commercial cleaning services to a wide variety of industries, from offices to warehouses and from movie theaters to medical offices.
About Anago Cleaning Systems
For over a quarter century, Anago has built a reputation for providing high-quality cleaning and janitorial services to a wide range of clients. The company's top goal is customer satisfaction. To support that goal, they instituted a dedicated customer service department that both handles issues as they arise and stays up-to-date on industry innovations.
Anago's commercial housekeeping services include green cleaning initiatives that create a healthier environment for your workers while reducing your environmental impact. The company promises reliable service that creates a clean, safe environment for your business.
Free Cleaning Quotes From Top Companies!
Anago Commercial Cleaning Services
Every industry has its own cleaning standards. Anago trains its staff on the compliance and regulatory requirements for every customer. They take care of the cleaning so you can focus on your business. Their services include:
Office cleaning: Anago will clean a single small office or the entire building to ensure employees and visitors alike enjoy a sanitary environment.
School, daycare, and educational cleaning: As a fully-certified "green" commercial cleaner, Anago has both the resources and the knowledge to keep the learning environment both clean and safe for everyone, including your students.
Healthcare facility cleaning: Medical offices have highly specialized cleaning needs, including regulatory and compliance requirements that many commercial cleaners can't handle. Anago cleans just about any medical facility, including outpatient surgeries, urgent care clinics, oral surgeries, and dialysis centers.
Auto dealership cleaning: From the showroom to the waiting area, you want your auto dealership to sparkle. The goal is twofold: creating a safe, clean environment and making sure a dirty sales floor doesn't scare away prospective car buyers.
Financial institution cleaning: Anago's green cleaning system keeps your facility safe and healthy. In addition, employees receive a thorough training in compliance requirements, such as proper document disposal.
Religious facility cleaning: As the saying goes, cleanliness is next to godliness. Welcome worshipers and make new visitors feel comfortable with a facility that both looks and smells clean.
Retail storefront cleaning: Aisles, counters, and doorknobs quickly lose their sparkle. Routine cleaning ensures customers entering your store form a favorable opinion of your brand.
Industrial and manufacturing cleaning: Hard-working staff deserve clean break rooms and restrooms. And, the facility as a whole needs routine cleaning to keep the work area safe and protect your products.
Fitness center cleaning: All those bodies, all that sweat; fitness centers are a breeding ground for fungus and bacteria. Anago keeps the iron pumping and equipment ready to use with detailed cleaning and a high-grade disinfectant.
Specialty cleaning: In addition to standard items, you can add deep cleaning services to your plan, such as floorcare that includes tile and grout.
Green cleaning: Anago thoroughly researched the best green cleaning methods to discover which ones truly reduce your environmental footprint and help save you money.
How Much Do Anago Commercial Cleaning Services Cost?
Commercial cleaning costs vary according to your facility size and type as well as the services you choose. Where you're located also plays a role, since hourly wages vary drastically in different parts of the country (and even within the same state). You also usually pay a lower rate per square foot for a larger facility.
Basic cleaning services cost between $0.10 and $0.25 per square foot
Special services, such as washing and waxing the floor, add another $0.15 to $0.50 per square foot to your cost
Industries with more stringent cleaning standards typically pay a higher rate per square foot
Interior window washing costs around $24 per hour
First floor exterior window washing costs around $24 per hour; upper floors cost around $48 per hour
Anago Commercial Cleaning Service Reviews
Anago Cleaning System's customers appreciate the company's flexibility in cleaning nearly every environment. They also like scheduling options that include 24/7 cleaning. In addition, those 24/7 hours mean that emergency cleaning services are available around the clock.
The company's green cleaning is a popular feature, with customers praising Anago's environmentally-safe products for creating a less toxic workspace. Live customer service is available via phone or email. And, they offer a satisfaction guarantee, which is not standard in the commercial cleaning industry.
Anago also allows customers to choose their ideal cleaning schedule, from daily to monthly. They even offer seasonal options, such as deep spring cleaning to get into every nook and cranny.
The only negative item found was a complaint that the company has few locations west of Indiana.
Before signing a contract with any commercial cleaner, review their products and services carefully. Compare pricing with other vendors, as well as intangibles such as 24/7 availability. Determine which services you actually need. Also, talk to other customers and find out what they like and don't like about the service.
Finally, ask about a cancellation clause in the event you are unsatisfied with their work. You don't want to be tied to a three-year contract with a sub-par cleaning company.
Author: Angela Escobar
Compare Competing Prices From The Best Commercial Cleaning Pros