JAN-PRO Commercial Cleaning Service Rates, Reviews, Complaints & Company Overview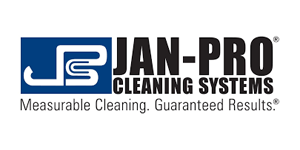 JAN-PRO is a janitorial service known primarily for two things: green cleaning initiatives and quality work. The company puts all of its employees through a strict training program to ensure your workplace receives the best cleaning every time. With over 90 franchises across the country and experience in providing cleaning solutions to a variety of business types, JAN-PRO has what it takes to get the job done.
About JAN-PRO
For more than 25 years, JAN-PRO has developed a culture of trust and reliability, working hard to build long-lasting relationships with their customers. JAN-PRO commercial cleaning services utilizes the latest innovations and technology coupled with custom cleaning plans to keep your workplace as clean and safe as possible. The company also employs strict training programs to ensure you get the same level of excellent service every time.
An industry leader in commercial cleaning, JAN-PRO's hospital-strength products and procedures mean that your facility isn't just clean, it's safe. The company's goal is to provide eco-friendly commercial cleaning from a service you can trust.
Free Cleaning Quotes From Top Companies!
JAN-PRO Commercial Cleaning Services
JAN-PRO has decades of experience in cleaning across several different types of businesses and facilities. Their custom cleaning solutions make them a go-to service no matter what the business may be. Plus, all JAN-PRO commercial cleaning services are performed by JAN-PRO owner-operators, not third-party or contract cleaners. Some of the facility types JAN-PRO has serviced include:
Financial institutions: JAN-PRO has been providing commercial cleaning services to various levels of financial institutions for years. The company knows that, whether you're a small, local bank or a major branch location, appearance and security are important. Not only does JAN-PRO provide high-quality cleaning solutions for your institution, but they train their employees on the security procedures required to do so.
Commercial offices: People spend a lot of time at work, most of their time, in fact. JAN-PRO knows this and works hard to create office environments free of contaminants, dust, and germs. An improperly cleaned workplace can spread illnesses like the cold and flu, so JAN-PRO offers daily deep cleaning services for all office buildings.
Retail stores: Prices and products may bring customers in, but a dirty store can send them right back out. Commercial cleaning services from JAN-PRO ensure that your store always looks in tip-top shape and keeps customers coming back.
Religious facilities: A place of worship is a place of community, and any place that people routinely get together is a place that needs to be clean. JAN-PRO offers cleaning solutions specifically tailored to religious facilities, making sure your place to pray stays bright, shiny, and germ-free.
To ensure that your workplace receives the best possible cleaning and keeps everyone inside healthy and safe, JAN-PRO uses eco-friendly cleaning methods and products and offers customized cleaning plans. Their philosophy of green cleaning helps them to use chemicals that have little to no impact on the environment. And their custom cleaning plans allow you to tailor your sanitation solutions specifically to your business, down to the smallest detail.
How Much Do JAN-PRO Commercial Cleaning Services Cost?
When it comes to pricing for commercial cleaning services, it is difficult to provide an exact cost. Prices are largely dependent on the size of your facility (larger facilities cost less per square foot), type of business you run, and the cleaning plan you set up. That being said, what follows is a general pricing guideline for what you can expect to pay for JAN-PRO commercial cleaning services.
Light cleaning services (dusting, vacuuming, trash removal) cost, on average, between $0.05 and $0.10 per square foot for large spaces and between $0.10 and $0.15 per square foot for small spaces
Heavier cleaning services (carpet extraction, wood floor maintenance, etc.) are typically more expensive, with costs averaging between $0.15 and $0.25 per square foot
Overall, larger spaces tend to cost between $3,000 and $5,000 per month, while smaller ones come in at about $600 per month
Remember that special requests and services may add to the cost, so be sure to ask what is included in the quote you're given.
JAN-PRO Commercial Cleaning Service Reviews
For the most part, customer reviews of JAN-PRO cleaning services are quite positive. One thing people really love about their company is their green practices. Customers enjoy that the service is able to offer eco-friendly methods while still providing incredible cleanliness. People also like that the company requires intensive training of their employees, meaning that each crew provides the same level of performance for every business type, every time.
Though most people have been happy with their JAN-PRO commercial cleaning service, some have taken issue with the company. There are customers who have said that, while the cleaning crew did a good job, the crew was very rude to them and their employees. Others have said that getting in touch with customer service representatives is difficult and that responses can take a while.
Always make sure to read through any available reviews before making any final purchasing decisions. Ask business owners in similar industries how the cleaning service has worked for them to get an idea of how they could help you.
Author: Angela Escobar
Compare Competing Prices From The Best Commercial Cleaning Pros