Office Pride Commercial Cleaning Service Rates, Reviews, Complaints & Company Overview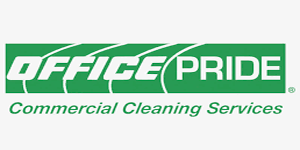 A janitorial service that offers commercial cleaning solutions to a wide variety of businesses and facilities, Office Pride can handle any cleaning task. From basic services such as trash removal and vacuuming to major projects such as stripping and waxing floors. Whatever your sanitation needs may be, Office Pride is there to help.
About Office Pride
Office Pride is a faith-based janitorial service company that provides commercial cleaning services to businesses across the country. They are committed to ensuring that every facility they service receives top-quality cleaning and care every time. The company works to build relationships with their customers through hard work and integrity, creating a bond of trust.
Faith is a large aspect of who Office Pride is as a company. Their foundational verse comes from Proverbs 16:3- "Commit to the Lord whatever you do, and your plans will succeed." Office Pride believes that by following biblical principles, their company has been able to grow and provide incredible service to their customers.
Free Cleaning Quotes From Top Companies!
Office Pride Commercial Cleaning Services
With a wealth of experience in commercial cleaning, Office Pride has the ability to provide quality sanitation to any facility. The company works with you to create the perfect cleaning plan for your business and schedule. Some of the services available from Office Pride include:
Church cleaning: As a faith-based company, Office Pride knows that spirituality is important and that you should feel free to focus on your ministry. Church cleaning services from Office Pride allow you and your congregation to worship in a clean, healthy setting.
Daycare cleaning: Kids are great at making messes, which means that daycares often require a little extra work when it comes to keeping things clean. Not only that, but people are entrusting their children to you and the cleanliness of your daycare is important. Office Pride knows this and makes sure that your daycare stays clean and safe.
Financial institution cleaning: When people step into a bank, they expect it to be clean; it's an important part of a professional image. Office Pride doesn't just work to make sure your financial institution looks good, but that it is cleaned in a way that retains the utmost security. All Office Pride employees must sign confidentiality agreements and other contracts in addition to receiving special training on the proper way to clean a building with sensitive materials.
Medical cleaning: There are a host of regulations and requirements for cleaning medical facilities, all of which Office Pride is well versed in. They are committed to preventing healthcare associated infections and keeping your hospital or practice sanitary and safe.
School cleaning: Keeping a school clean is important; germs and illnesses can spread rapidly in such an environment and keeping things sanitary helps to prevent that. With Office Pride's years of experience, they know exactly what needs to be done to keep your students and faculty safe.
The company also uses eco-friendly chemicals and processes for all of their cleaning services and prides themselves on their green cleaning methods.
How Much Do Office Pride Commercial Cleaning Services Cost?
It is difficult to provide an exact price for commercial cleaning services, as factors such as the cleaning plan, facility size, and the type of cleaning area play a role in determining the final cost. Here is a general pricing guide so as to provide an idea of what you can expect to pay for your Office Price commercial cleaning services:
Basic cleaning services average in cost between $0.10 and $0.15 per square foot, or around $40 per hour
More extensive cleaning services can cost around $0.20 per square foot, or around $50 per hour
Light, regular cleanings for a small office cost around $200 per month, though more frequent cleanings can bring the cost to $700 per month
Larger facilities cost, on average, between $2,000 and $5,000 per month
Special requests or services will add to your overall cost. Facilities that require extensive cleaning typically find themselves on the more expensive end of the pricing spectrum.
Office Pride Commercial Cleaning Service Reviews
The majority of customer reviews for Office Pride's commercial cleaning services are highly positive. Customers enjoy that the company offers the same level of clean every time, with many saying that they are the best cleaning service they've ever worked with. People also like that Office Pride does not require you to sign a one-year-minimum contract; rather, the company allows you to sign up on a month-to-month basis. Overall, people find Office Pride to be a professional organization that provides excellent service.
The only real complaints about the company that people have had are that, sometimes, members of the cleaning crew act in a less than professional manner. However, it should be noted that Office Pride works to ensure that, if a team is not providing the quality you deserve, they send a new team that meets your expectations.
Always make sure to read any available reviews before making a final decision. Ask around to see how the cleaning service has worked for people in similar industries, as this will paint the clearest picture of how they will work for you.
Author: Angela Escobar
Compare Competing Prices From The Best Commercial Cleaning Pros