Jani-King Commercial Cleaning Service Rates, Reviews, Complaints & Company Overview
-->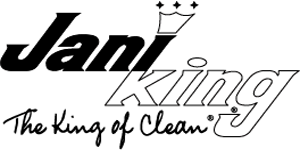 Jani-King is a janitorial service that offers full-service commercial cleaning solutions to a diverse catalogue of facility types. With more than 40 years of experience and over 120 support offices across the globe, Jani-King has the knowledge and the staff to keep your workplace clean and safe.
About Jani-King
Founded in 1968, Jani-King started off as a small cleaning company, marketing their services throughout the day and cleaning throughout the night. Today, they are one of the world's largest commercial cleaning franchises, with over 9,000 franchisees around the world.
Jani-King provides commercial cleaning services to several different types of businesses and facilities, such as hospitals, hotels, office buildings, and manufacturing facilities.The company has further increased their brand recognition by partnering with different sports and venues, cleaning arenas and stadiums that hold events for everything from golf to motorsports.
The company prides itself on a commitment, not just to providing excellent service and support, but to building relationships with their customers based on trust. Priority number one for Jani-King always has been, and always will be, their customers.
Free Cleaning Quotes From Top Companies!
Jani-King Commercial Cleaning Services
Jani-King has been in the business for decades and has over 120 support offices around the world, so they've dealt with several different types of cleaning and facilities. They use this experience to ensure that every facility they provide cleaning services to gets the best possible cleaning it can. Some of the cleaning services available from Jani-King include:
Bank cleaning: When a customer walks into a bank, they expect it to look good. It's a professional institution after all, one that they're trusting with their money, so it is important that the building be clean. Jani-King knows this, and ensures that your financial institution always looks its best. Not only this, but they train their cleaners on the necessary security measurements required to keep your sensitive information safe.
Hospital cleaning: It goes without saying that a medical facility needs to be clean. Germs and illnesses are ever-present and making sure that the hospital is clean is a good way to prevent the spread of disease and healthcare associated infections. Jani-King employs the toughest cleaning methods, making sure that everything is properly disinfected with the right chemicals and procedures.
Office cleaning: A clean office is a happy office. Beyond just making the building look better, keeping your office space clean prevents the spread of germs and sickness. This means fewer sick days and less time lost. With Jani-King's wealth of experience in office cleaning, your employees will stay happy, healthy, and productive.
Retail cleaning: The appearance of a retail location is a part of what keeps customers coming back for more. You might have great prices, but if customers are greeted with dirt and dust every time they walk through your doors, they won't be returning any time soon. Jani-King offers unrivaled retail cleaning that keeps your business looking great and your customers coming back.
Stadium cleaning: It doesn't matter if your venue holds a few thousand people or a few hundred thousand, Jani-King has what it takes to get the job done. As the leader in entertainment venue cleaning services, the company has a wealth of experience that they use to ensure your venue stays clean.
How Much Do Jani-King Commercial Cleaning Services Cost?
Narrowing down an exact price for commercial cleaning services is difficult, as the size of your facility and the cleaning plan itself play a large role in determining the cost. What follows is a general pricing guideline so as to provide an idea of what you can expect to pay for Jani-King commercial cleaning services.
On average, the cost to clean a 10,000 square foot office is around $1,500 per month
On average, the cost to clean a 20,000 square foot office is around $2,000 per month
On average, the cost to clean a 50,000 square foot office is around $4,500 per month
An easy way to figure out how much you will spend is to figure out how large your building space is. Costs are typically about $0.20 per square foot for spaces up to 10,000 square feet. For every additional 10,000 square feet subtract five cents, until you hit 50,000 square feet. From that point forward, costs average at $0.05 per square foot. Note that special requests, services, or tasks add to the overall price.
Jani-King Commercial Cleaning Service Reviews
Overall, customer reviews for Jani-King commercial cleaning services are highly positive. Customers love that the company sits down with you to figure out what you need to be done and what times work best to do it. People also like that supervisors for Jani-King frequently inspect the work of their cleaners, ensuring that that the same level of service is provided each time. Another thing that Jani-King customers enjoy is the fact that their support representatives are available 24/7 for any concerns or questions they may have.
Though most reviews for Jani-King are positive, not everyone has been pleased with their experience. Some customers report issues with the company canceling cleaning services only an hour or two before they were supposed to be performed. Others have said that when issues with the quality or level of cleanliness have occurred, Jani-King is slow to act.
Always read through any available reviews before making a final decision. Ask around to see how other people in similar businesses feel about the cleaning service, as that is the best way to figure out how they will work for you.
Author: Angela Escobar
Compare Competing Prices From The Best Commercial Cleaning Pros