GFS Paint Booth Prices, Reviews, Complaints & Company Overview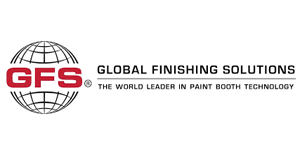 Global Finishing Solutions, GFS, is an industry leader manufacturing paint booths and finishing systems for a wide range of businesses. The company was founded when several finishing equipment manufacturers merged, combining their respective areas of expertise to create GFS.
Merging the talents of Binks, Blu-Surf, DeVilbiss, JBI, and Milbanks is how GFS is able to engineer and manufacture customized spray paint booths for everything from aerospace and defense to woodworking. They also provide "out of the box" finishing solutions.
About GFS, Global Finishing Solutions
Global Finishing Solutions designs paint booths and finishing systems for aircraft, automobiles, heavy equipment, and more. Nearly every component comes from the manufacturer's Wisconsin plant, including control panels, fans, filters, lights, and motors.
The company dedicated resources, time, and energy to building its design and engineering departments in order to create the strongest in-house team in the industry. Also contributing to GFS's reputation for high quality is the superior knowledge gleaned from the merging of five powerhouse companies to create a single manufacturer with an incredibly diverse pool of expertise.
Free Paint Booth Quotes From Top Dealers!
GFS Paint Booth Products
GFS offers a wide array of paint booth types, sizes, and styles.
Aircraft paint booths: When it comes to aviation finishing, contamination and environmental controls are key factors in getting a flawless finish. GFS designs aircraft booths to meet and exceed even the highest standards.
Automotive paint booths: Designed for body shops and collision repair centers, GFS incorporates energy efficiency into these finishing systems with technologies such as the LOGIC control panel, available with AdvanceCure and SmartCure to reduce both operating costs and environmental impact. GFS is the official paint booth provider for all of the major auto manufacturers. And, through their distributor network across North America, they built strategic relationships with the major coating and paint companies.
General purpose paint booths: If you need to paint equipment, vehicles, or other items that are too large for automotive paint booths but too small for GFS's large equipment paint booths, the general purpose line may be just what you need. Standard models are ETL and ETL-C listed, meeting or exceeding industry safety standards.
Large equipment paint booths: This comprehensive line offers durable performance and unrivaled quality to deliver a superior finish. Standard models are ETL and ETL-C listed, meeting or exceeding industry safety standards.
Open face paint booths: GFS's most popular product line (and its most affordable booth), these give operators a safe, clean working environment thanks to GFS Wave exhaust filters that capture overspray. And, with the nut and bolt construction, you get a durable booth. Available in pre-engineered models to get you working quickly. Or, customize your paint booth to meet your exact requirements.
Recirculating paint booths: Featuring the most efficient operating system plus accurate airflow and climate control - and monitoring systems - for a truly safe operating environment.
Truck paint booths: All the same great features you find in the automotive paint booths but with more room to accommodate larger vehicles. Custom designs are available.
GFS also offers:
Accessories
Aluminum repair stations
Mix rooms
Prep environments
How Much Do GFS Paint Booths Cost?
The main factors affecting paint booth pricing include the type of booth, whether it's heated, the booth's size, and any additional features you choose. The following should help you estimate the cost of a new GFS paint booth. Please note that these prices do not include tax, installation, or delivery.
GFS Open Face Paint Booth, 6' x 7' x 6', high capacity air flow at 125 fpm, 18-gauge panels, easy to change filtration, GFS WAVE exhaust filters, price range: $3,000 to $3,500
GFS General Purpose Paint Booth, non-pressurized crossdraft, 14' x 10' x 24', ductwork exhaust for 30' roof, electromagnetic panel, price range: $21,800 to $24,300
GFS General Purpose Paint Booth, pressurized crossdraft, 14' x 10' x 24', booth mounted indoor air make-up unit, intake, discharge, exhaust ductwork for 30' roof, price range: $48,900 to $51,000
GFS Performer ES Crossdraft, non pressurized, 24', light fixtures included, air solenoid valves and door limit switches, price range: $10,799 to $11,150
GFS Performer ES Semi-Downdraft, pressurized, butane heater, 30', light fixtures included, air solenoid valves and door limit switches, includes intake and exhaust ductwork, price range: $29,600 to $32,000
GFS Paint Booth Reviews
Customers and product reviewers alike rave about GFS paint booths. For customers, it's all about the quality (excellent), price (fair), customer support (amazing), and improved efficiency (significant). GFS customers claim that upgrading their current equipment to a GFS auto paint booth increased productivity by as much as 35 percent, with one customer comparing the switch to stepping into a Ferrari after driving a station wagon.
Consumer reviewers were more interested in the background that helped create the company. They note that GFS employs its own system designers, airflow specialists, software developers, compliance specialists, and electrical, mechanical, and structural engineers. It is this diverse team of experts that reviewers credit with creating such high quality finishing systems, customized for each industry (or customer, if needed).
All in all, GFS earns incredible praise across the board. We were unable to find any negative reviews.
Author: Angela Escobar
Compare Competing Prices From The Best Spray Paint Booth Pros