Spray-Tech/Junair Paint Booth Prices, Reviews, Complaints & Company Overview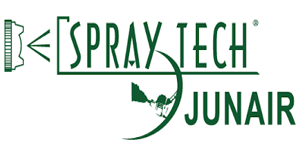 A leading industrial finishing system manufacturer, Spray-Tech/Junair develops and builds high-performance paint booths for aircraft, automotive, large equipment, and truck applications. All of their spray booths meet or exceed NFPA and OSHA standards.
Spray-Tech/Junair designs and manufactures all of its equipment in an in-house facility, which allows them to offer more competitive pricing while still producing a superior product. Their finishing products include paint booths as well as clean rooms and powder coating products.
About Spray-Tech/Junair
No matter what your finishing needs are, Spray-Tech/Junair has you covered. They design and manufacture automotive paint booths, clean rooms, air make up units, industrial conveyor ovens, dust collection modules, paint mixing rooms, and prep stations.
The mission of Spray-Tech/Junair is to be the world's premier supplier of high-quality spray booths and finishing equipment. They are committed to creating all of their products in the United States and providing their customers a safe, economical way to finish their products.
Free Paint Booth Quotes From Top Dealers!
Spray-Tech/Junair Automotive and Truck Spray Booths
Spray-Tech/Junair's automotive and truck spray booth lines include:
Premier downdraft: Designed to offer the collision repair industry the cleanest finish possible.
Thermaire insulated: American made, easy to assemble, and loaded with robust features.
Thermaire full down: A classic downdraft style that offers the highest quality finish.
Power semi-down: Surrounds the vehicle with fresh, filtered air before sending the overspray through a rear exhaust system.
Side downdraft: Designed to allow shops unable to install a raised floor or pitted design to still enjoy the impeccable downdraft finish.
Reverse flow: The crossdraft industrial workhorse.
Front flow: The most affordable crossdraft option that still offers incredible quality.
Spray-Tech/Junair Industrial Spray Booths
Spray-Tech/Junair offers three large equipment paint booths, including:
Airplane booth: Available in a variety of sizes to accommodate everything from a Boeing 747 to a 2-seater.
Production tunnel: Customized painting and curing environments for your unique product needs.
Carbon exhaust cube: Carbon filtration systems designed to reduce VOCs on open face booths, these cubes mount directly to your unit's exhaust fan.
Spray-Tech/Junair Open Face Booths
Spray-Tech/Junair offers a complete line of open face booths to match any configuration or product finishing needs. Sizes range from single-person spray booths to custom designs 50' wide. The manufacturer works one-on-one with customers to design the perfect booth. Designs include Spray-Tech booth lighting and galvanized panels. Heavy-duty white powder coating is optional.
How Much Does a Spray-Tech/Junair Paint Booth Cost?
Paint booth pricing varies dramatically, from a few thousand dollars for an open face booth to $100,000 and more for downdraft models with heating and other features. Size, airflow, vendor, extra features, and more contribute to your total cost.
In addition, you may have extra costs, such as installing a concrete pit for a downdraft booth or extensive ductwork for side downdraft models.
The following estimates do not include taxes, delivery, or installation fees.
Open face paint booth measuring 6' x 7' x 6' averages between $2,700 and $3,700 depending on extra features
Crossdraft automotive paint booth that measures 14' x 9' x 24' averages between $7,500 and $8,500
Modified crossdraft paint booth that measures approximately 24' x 16' x 19' averages between $9,500 and $11,000
Side downdraft including air make up and measuring approximately 26' x 16' by 11', averages between $29,000 and $31,000
A 50' crossdraft truck booth averages between $28,000 and $32,000
A 30' downdraft Junair 5 Series starts at around $102,500
Paint Booth Reviews: Which Airflow Type Is Right for You?
Although you usually see more than these in a manufacturer's product list, the main airflow types are crossdraft, downdraft, and side downdraft. Everything else is essentially a modified version of these paint booth types. Which option is best for you depends on the types of items you finish and your shop's capabilities.
Crossdraft: These booths offer easy installation and a lower price than most other booths. Part of the tradeoff for that lower price, though, is reduced finish quality, since the crossdraft airflow moves over the length of the item, which may deposit debris toward the far end of the finishing item. However, when space or budget are limited (or both), a crossdraft booth is your best option.
Downdraft: This type of booth offers the best possible finish, since the airflow moves any debris downward thanks to the floor-based exhaust. If your facility already has the required cement pit (or elevated floor), your cost is significantly lower. Installing this flooring adds substantially to the overall cost. And, it may not even be feasible, depending on your facility's layout.
Side downdraft: This option gives you the downdraft's superior finish without the flooring requirements, since the exhaust system resides in the sidewalls. However, this creates a different logistical issue - and expense - as it typically requires extensive ductwork. However, if shop design forbids installing the cement pit and finish quality demands the downdraft airflow, this paint booth is your best option.
Author: Angela Escobar
Compare Competing Prices From The Best Spray Paint Booth Pros