Beaulieu Carpets of America Prices, Reviews, & Company Overview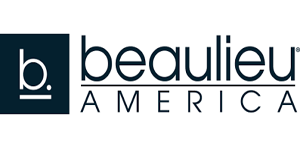 From humble beginnings in 1978, Beaulieu has grown into the third largest flooring manufacturer and the largest carpet-only manufacturing company in the world. The company offers various materials and styles of carpet, as well as additional features such as antimicrobial treatments.
About Beaulieu Carpets
A privately held company, Beaulieu America boasts 4,000 employees throughout 25 facilities across the country. The company strives to build a supportive and welcoming environment for their employees, which in turn strengthens the relationships and trust they build with their customers.
In addition to providing great products and service, Beaulieu strives to produce eco-friendly carpeting through environmentally responsible manufacturing. No matter what your carpeting needs may be, Beaulieu has the experience and and staff to help.
Beaulieu Carpet Products
Beaulieu has a variety of carpeting options both in nylon and olefin fiber that can cater to a spectrum of commercial and residential needs. They also offer different features, such as antimicrobial and odor-reducing treatments. Some of the carpets available from Beaulieu include:
Request Carpet Price Quotes Using Our Free Tool
Get connected to the top rated carpet contractors in your area and get free competitive estimates. No obligations to hire, ever!
Bliss: This carpeting is able to replace the flooring in any style of home and offers contemporary designs to perfectly fit your aesthetic. Antimicrobial, odor-resistant, and stain-resistant treatments are available for Bliss carpeting from Beaulieu.
Coronet: With classic looks that are still fashion forward, the Coronet collection from Beaulieu is one of the company's top selling product lines. Available in berbers, cut piles, friezes, and loops made from nylon, polyester, or polypropylene yarns, this collection represents the top of the line in Beaulieu carpets.
Hollytex: Designed and developed for commercial buildings, Hollytex carpet is ideal for small businesses and home offices. Available in multiple constructions, this carpeting provides a professional look while still maintaining durability and versatility.
How Much Does Carpeting From Beaulieu Carpets Cost?
Providing an exact cost for carpeting is difficult. Pricing varies based on the amount of carpet needed, labor costs, and the style of carpeting, as well as the vendor you purchase through. That being said, the average base costs for carpeting from Beaulieu are:
Between $2 and $6 per square foot
Average cost for carpeting by the yard is between $10 and $54 per square yard

You should also budget an additional $5 to $10 per square yard for installation and padding costs. Other costs may include:

Between $1 and $2 per square yard or between $25 and $50 per hour for furniture moving fees
Between $4 and $6 per square yard for installation on stairs
Between $0.50 and $3 per square yard to have existing carpeting removed and hauled away
Between $0.25 and $1 per foot for tack strips for new construction projects
Remember that these are general prices and your results may differ based on your area and the factors listed above.
Beaulieu Carpet Reviews
It is not uncommon for customer reviews for Beaulieu carpets to be full of praise. Many reviews tout the durability of the carpeting, finding that it holds up for longer than other brands. Customers also frequently talk about the company's competitive pricing, with some stating that to be the reason they went with Beaulieu in the first place. People also enjoy the features that the company has to offer, with pet owners especially fond of the antimicrobial and odor-reducing treatment options.
While many people love their Beaulieu carpet, there are those who have had issues with the company and their products. Multiple customers have said that the carpeting they purchased from Beaulieu flattens or frizzes within less than a year, even with professional carpet cleanings and regular vacuuming. Some of these customers have also said that the company placed the blame on them, refusing to take responsibility for the quality of the carpet and failing to approve warranty claims.
It is important and recommended to read all available reviews before making your final purchasing decision. In addition, talk to others who you know installed carpeting. They can offer feedback not only on the brand of carpet but also anything they learned during the process.
Author: Angela Escobar
Find Carpet Companies Who Will Compete for Your Business