Stainmaster Carpet Prices, Reviews, & Company Overview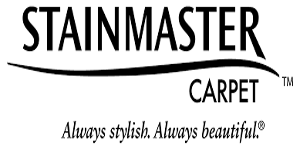 A revolutionary product in the flooring industry, the introduction of Stainmaster carpeting over 20 years ago brought with it an unprecedented level of soil and stain resistance. Since its inception, technological advances and innovations in the industry have only improved upon the original Stainmaster design. Today, it is known as one of the most durable and easy to maintain carpets in the world.
About Stainmaster
Initially introduced to the market by DuPont in 1986, Stainmaster took the carpeting world by storm. Previous to its release, the best (and really only way) to repel carpet stains was using a Scotchgard treatment. And while Scotchgard was an effective solution, it was nowhere near as effective as Stainmaster carpeting.
Stainmaster carpets are made with soil-repelling technology that causes the fibers to push away dirt and other staining substances, allowing your carpet to stay fresh. Unlike other carpets, where liquids begin to pool or seep into the fibers, liquids on Stainmaster bead up, making it easier to clean.
The carpeting is even engineered in a way that helps it to maintain its original appearance, allowing fibers and tufts to hold so that it doesn't flatten or frizz. Stainmaster carpet is especially ideal for families who have younger children or pets.
Request Carpet Price Quotes Using Our Free Tool
Get connected to the top rated carpet contractors in your area and get free competitive estimates. No obligations to hire, ever!
Stainmaster Carpet Products
Stainmaster is more than just a carpet with a protective coating; it is a product that delivers on the promise of stain-resistance in a way that others simply do not. They even offer different types of carpeting to provide you with the best Stainmaster carpet for your home.
Active Family: Designed for families with young children and for rooms that receive heavy foot traffic, the Active Family variety of Stainmaster carpet is incredibly durable. It is backed by a lifetime warranty on stains and is available in three fiber options: Extra Body II, Luxerell, and Tactesse.
Essentials of Stainmaster carpet: This Stainmaster carpet collection is the most cost-efficient choice of carpeting from the Stainmaster family. Even at a lower cost, it still comes with the benefits of a classic Stainmaster carpet, such as stain and static-resistance.
Pet Protect: Engineered specifically with pet owners in mind, this collection from Stainmaster resists even the most stubborn of stains. It works easily with cleaning agents, resists both fading and stains, and is color safe. Pet Protect carpeting is also designed to easily release pet hair from its fibers and helps to eliminate any odors your pets may leave behind.
SolarMax: Letting a lot of sun into your home is a great lighting choice and can add a pleasant aesthetic to any room, but it can be detrimental to your carpet. Luckily, SolarMax Stainmaster carpet is designed to resist fading and hold its color for years, even with constant sunshine exposure (although that is literally impossible). It is one of the most durable carpets in the Stainmaster brand.
TruSoft: Though fluffy and soft, TruSoft carpet is made to withstand heavy foot traffic and wear without losing its softness. Durable and easy to maintain, TruSoft makes you want to forget about the couch and take a seat on the floor.
How Much Does Stainmaster Carpet Cost?
Carpeting costs vary based on a variety of factors, such as the amount of carpet needed, carpet style, carpet type, and the vendor you purchase through. What follows is a general pricing guideline to provide an idea of what you can expect to pay for your Stainmaster carpet. For more accurate estimates, please click Request a Quote above.
Purchasing Stainmaster carpet by the foot costs between $4.50 and $6.80 per square foot
Purchasing Stainmaster carpet by the yard costs between $12 and $32 per square yard
Basic installation may be included in the cost of the carpet, but if not expect to pay between $0.50 and $1 per square foot
Padding is another aspect that may be included in the cost of the carpet, but averages between $2 and $3.50 per square foot if it is not
Other costs might include furniture moving fees, carpet removal fees, and haul-away fees, which average between $0.50 and $2 per square foot

Remember that this is just a general guideline. Prices for items such as installation depend greatly on your location and the layout of your home. Always ask what is included with the price of the carpet.
Stainmaster Carpet Reviews
Simply put, customers seem to really love Stainmaster carpets. Common reviews praise the quality of Stainmaster carpeting, with many people saying it is the only stain-resistant carpet that truly lives up to its promise. People also like that, even though the carpets are highly durable, they still have and retain a softness that makes the carpet enjoyable. Another aspect of Stainmaster that customers enjoy is the fact that all of their carpets are backed by a lifetime warranty.
The only real complaint that people have about Stainmaster is the price. Though they do have more affordable options, people have found that the brand is still more expensive than competitors. It should be noted, however, that costs are largely dependent on your area. Another complaint that some customers have is that the carpet is sometimes not installed correctly, although that falls less on Stainmaster themselves and more on the installers of the carpet. As with any purchase, it is important to read all available reviews before making a final decision.
Author: Angela Escobar
Find Carpet Companies Who Will Compete for Your Business