Milliken Carpet Prices, Reviews, & Company Overview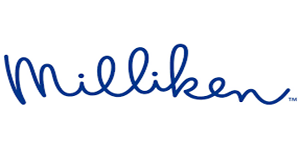 An award winning, privately held company, Milliken is one of the industry's leading manufacturers of chemical and textiles. The company has the largest textile research center in the world and has over 2,000 patents to its name. With nearly 11,000 associates employed across 60 facilities around the globe, Milliken has the expertise and the people to take care of all your carpeting needs.
About Milliken
Initially founded as the Deering Milliken Company in 1865 by Seth Milliken and William Deering, the company got its start as a woolen fabrics manufacturer. Today, they are known as Milliken & Company.
The company has always had a philosophy of investing in knowledge, putting it at the forefront of textile innovation and quality. Milliken committed to creating sustainable products to help improve the lives of their customers and the environment around them.
Though the company has expanded both in products and size, the Milliken family still ran operations until 2010, when Roger Milliken passed. Today, J. Harold Chandler servers as President and CEO.
Milliken is a company that thrives on challenge and constantly works to improve their products and the lives of their customers.
Milliken Carpet Products
Milliken makes all of their flooring products here in the United States, with premium New Zealand wool, WearOn nylon, and soil protection being used in the manufacturing process. Some of the carpet collections offered by Milliken include:
Request Carpet Price Quotes Using Our Free Tool
Get connected to the top rated carpet contractors in your area and get free competitive estimates. No obligations to hire, ever!
Milliken Allure: Made from WearOn nylon, the Allure collection from Milliken offers eight different designs influenced by Isfahan, Jacobean, Oriental, and Persian styles. This carpeting collection is more formal than others.
Milliken Earthscapes: With four to eight color choices, Milliken's Earthscapes collection of carpet has a focus on geometric and organic patterns. This carpet is made from WearOn nylon and is inspired by botanicals and contemporary scrolls.
Milliken Place: Perfect in either contemporary or traditional setups, this carpet collection features soft yet textured patterns. There are 18 patterns in the Milliken Place collection, which is made from StainMaster Tactesse nylon.
Milliken Refresh: This carpet bundles more traditional floral and trellis patterns into a contemporary arrangement. It is available in three to ten colors and made with WearOn nylon.
Milliken Signature: The perfect choice for adding an element of elegance and warmth to your home, Milliken Signature carpets are traditionally styled. They are made with WearOn nylon, with each design available in two to six color combinations.
How Much Does Carpeting From Milliken Cost?
Narrowing down the exact cost of carpeting is difficult. The final cost is largely influenced by factors such as the amount of carpet needed, carpet style/type, and the vendor you choose. That being said, here is a general pricing guideline to give you an idea of what you can expect to pay for your Milliken carpeting:
Purchasing Milliken carpet by the foot averages between $5.50 and $13.37 per square foot
Purchasing Milliken carpet by the yard averages between $17.68 and $42.99 per square yard
Padding for Milliken carpet is sometimes included in the price of the carpet itself, but if not can cost between $0.30 and $0.60 per square foot
Basic installation costs average between $0.50 and $1 per square foot
There are also additional installation fees that may be required, such as any custom cuts, moving of furniture, and the removal/haul-away of existing flooring. These costs average between $0.50 and $2 per square foot
Remember that this is just a general pricing guideline and that these fees may vary. Installation costs especially change based on your area and the layout of the home. It is a good idea to ask what other fees (if any) are included in the base price of your Milliken carpet.
Milliken Carpet Reviews
Milliken consistently receives praise and positive reviews for their carpeting. Customers enjoy the high-quality products that Milliken offers, and the 10-year warranties that back those products. People find that Milliken carpets are softer than many competitors, but still remain durable and easy to maintain. One of the main things that people love about carpets from Milliken is that they are manufactured with soil protection. People with pets and younger children especially find this feature alone to be reason enough to choose the company over others.
Though the vast majority of customer reviews for Milliken carpeting are positive, not all customers have been pleased with the company. Some have stated that even though they purchased the same carpeting for different rooms, the quality is not the same in each room. Despite similar (or even lesser) foot traffic in different areas, there are customers who have experienced deterioration or texture differences in what is supposed to be the same carpeting. Customers also complain of customer service issues, stating that it is difficult to get in touch with representatives and that their calls do not get returned.
Author: Angela Escobar
Find Carpet Companies Who Will Compete for Your Business