Empire Today Carpet Prices, Reviews, & Company Overview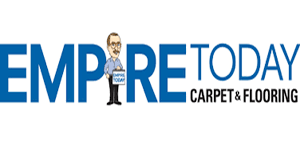 Initially founded in 1959 as Empire Plastic Covers, Empire Today is one of the most recognized home-improvement companies in the country. Often referred to simply as Empire, the privately-owned company operates 70 warehouse establishments across 36 states. Empire Today prides itself on providing excellent service and quality products for both commercial and residential needs.
About Empire Today
For over 50 years, Empire Today has been committed to producing the best possible products backed by the best possible service. With Empire, finding the the right carpet for your needs is easy; you don't even have to leave your home! The company offers free in-home estimates with representatives able to bring hundreds of different carpet samples and answer any questions you may have.
Unlike some other carpet companies, Empire Today does not have retail locations, which allows them to pass those savings to their customers. So not only do you not have to leave your home, you pay less while shopping from the comfort of your home. The company also services any manufacturer warranties themselves, making them your one-stop shop for all your carpeting, installation, and servicing needs.
Request Carpet Price Quotes Using Our Free Tool
Get connected to the top rated carpet contractors in your area and get free competitive estimates. No obligations to hire, ever!
Empire Today Products
Empire Today offers several different styles of carpeting to suit various needs or aesthetics. Carpet types available from the company include:
Berber carpet: This style of carpet is known for being comfortable and low-profile. It has flecks of color across thick loops of yarn and is highly durable, so it is ideal for rooms with high foot traffic. Berber carpet is also easy to clean and maintain.
Frieze carpet: A modern take on shag carpeting, frieze carpet is comprised of twisted fibers that help to conceal dirt and provide that shaggy texture. This carpet is known primarily for being comfortable and soft. Empire Today has frieze carpeting available in several color options.
Indoor/outdoor carpet: Typically resistant to fading, mildew, and moisture, indoor/outdoor carpeting is designed for covered or enclosed exterior spaces. It is ideal for patios and sunrooms, requires little to no maintenance, and is incredibly easy to clean.
Pattern carpet: Made from a combination of cut and looped fibers, pattern carpeting provides dotted, geometric, or linear designs. These patterns help to accent decor and furniture, giving your home a designer look.
How Much Does Carpeting from Empire Today Cost?
Exact pricing for carpeting is difficult to pinpoint, as the total cost is dictated by factors such as the amount of carpet needed, installation costs, and the style of the carpet itself. In general, you can expect your Empire Today carpeting to cost:
Between $2 and $15 per square foot
Between $18 and $135 per square yard (if you choose to purchase by the yard)

You should also include an extra $5 to $10 per square yard for installation and padding when drawing up your carpeting budget. Other costs may include:

Between $4 and $6 per square yard for installation on stairs
Between $1 and $2 per square yard ($25 and $50 per hour) for furniture moving fees
Between $0.50 and $3 per square yard for the removal and haul away of the previous carpeting
Keep in mind that these are just general pricing guidelines. Prices vary based on the layout or setup of your home and the area it is located in.
Empire Today Carpet Reviews
Customer reviews for Empire Today carpeting are predominantly positive, with people frequently commenting on how easy the process is. Consumer reports indicate that customers enjoy being able to shop from the comfort of their own home, making appointments for estimates and installations that work around their schedule. Customers also enjoy the variety of styles that Empire has to offer, with some stating that the variety made it fast and simple to outfit their entire home in the best possible carpet for each area.
While most of the reviews for the company are positive, there are those that have taken issue with them, most specifically when it comes to warranties. Some customers have experienced issues with warranty claims, stating that the company refuses to take responsibility when there is an issue (such as frizzing or pilling) with the carpeting. Even when people have had their carpets professionally cleaned and perform regular vacuuming, there are still customers who have said Empire Today places the blame on them. As with any purchase, it is important to read all available reviews before making a final decision.
Author: Angela Escobar
Find Carpet Companies Who Will Compete for Your Business