Ceridian Payroll Service Rates, Reviews, Complaints & Company Overview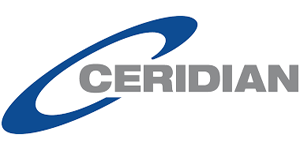 Ceridian is a human capital management (HCM) software that offers its services to small and midsize businesses across multiple countries. Their goal is to optimize the management of employees and make it easier to focus on running your business.
About Ceridian Payroll
Ceridian is an award-winning company that works to bring innovative yet simple HCM solutions to your business. The company's brand promise is "Make Work Life Better", which they strive to achieve through building strong customer relationships and reliable services. Priority number one for Ceridian always has been and always will be its customers. With different service options for different business sizes and types, Ceridian has everything you need to get the job done.
Ceridian Payroll Services
There are two payroll solutions that Ceridian offers: Ceridian HR/Payroll and Dayforce HCM.
Ceridian HR/Payroll
Designed for businesses with fewer than 100 employees, Ceridian HR/Payroll is a single solution that combines HR, payroll, and time in one application. Some of the features include:
Free Payroll Quotes From Top Companies!
Data dashboards and entry: Ceridian has dedicated payroll dashboards that allow your leadership team to access important pay and tax information from any location at any time. Approved users can view and manage necessary data as well as make adjustments to payroll aspects such as bonuses, one-time deductions, and retroactive payments.
Employee self-service: Employees can access their pay and tax information at any time, no matter where they are. This lets workers manage their personal data themselves instead of having to rely on human resources.
Mobility: Ceridian HR/Payroll is a cloud-based solution, so users can access their payroll and tax information from any device with an Internet connection.
Tax management: Ceridian automatically calculates, withholds, and files all payroll taxes for you, leaving you free to focus on the other tasks that come with running a business.
Dayforce HCM
Designed for companies with hundreds of employees, Dayforce HCM is a comprehensive solution that offers everything an HR department needs. Dayforce HCM is scalable, so it is perfect for growing businesses. It has all the features of Ceridian HR/Payroll, as well as:
Attendance: Dayforce HCM has time and attendance features that allow you to record and review each employee's punches. This ensures that all workers are arriving and leaving at their scheduled times and provides accountability.
Benefits: There are also benefits applications that let you view and manage benefits packages per employee. Eligibility, as well as current and past benefits plans can be accessed through the software.
Mobility: Dayforce HCM is a cloud-based platform that can be accessed from any device with an internet connection.
Real-time results: As with Ceridian HR/Payroll, Dayforce HCM allows HR administrators to make adjustments to payroll and tax information. However, Dayforce allows administrators to see real-time results to ensure that payroll is both accurate and compliant.
How Much Do Ceridian Payroll Services Cost?
The price of Ceridian payroll services depends on the size of your business and what your needs are. What follows is a general pricing guide so as to provide an idea of what you can expect to pay for your Ceridian payroll services.
Costs for Dayforce HCM Payroll and Benefits services start at $11.50 per employee, per month.
Payroll-only options cost an average of $10 per employee, per month.
Small business payroll services have an average cost of $1.60 per check, per employee. There is also an average cost of $2.30 per employee, per month for health and retirement benefits management.
No matter which solution you choose from Ceridian, costs increase the more features you add.
Ceridian Payroll Service Reviews
It is not uncommon to find customer reviews for Ceridian payroll services that praise the positive impact the company's solutions have had on their business. People find that Ceridian offers a wealth of useful features that allow them to make the most of their payroll software. Customers also like that it gives them a single solution for HR, payroll, and time tracking, making it easier to move between the different aspects of their business.
However, not everyone is entirely happy with their Ceridian payroll service solutions. Some customers state that the software is difficult to navigate, with some applications being almost impossible to use. Others have said that the implementation of different features is clunky at best, making it easy to become confused during use.
Always make sure to read through any available reviews before making your final purchase. Ask others in similar businesses how the service has worked for them to get an idea of how it may work for you.
Author: Angela Escobar
Compare Competing Prices From The Best Payroll Pros