Gusto Payroll Service Rates, Reviews, Complaints & Company Overview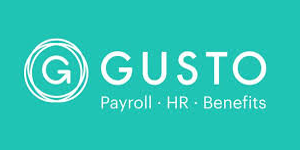 Designed primarily for small businesses, Gusto is a payroll, benefits administration, and compliance management platform that offers its services to companies across the United States. Gusto provides tools that make it easier to run your business and manage employees.
About Gusto Payroll Service
Initially launched as ZenPayroll in 2012, Gusto has grown to serve over 60,000 businesses across the country. In addition to processing billions of dollars in payroll each year, Gusto provides and helps you manage employee benefits.
The company's goal is to simplify the processes involved with HR and payroll, packaging them in a single solution that's easy to manage. Gusto believes that work should better and empower your life, so the provider works hard to provide businesses with a comprehensive solution that meets their needs.
Gusto Payroll Services
Gusto services offer more than just payroll solutions. The company provides comprehensive solutions that have a variety of applications and features, such as:
Free Payroll Quotes From Top Companies!
Automation: Gusto offers clients a variety of automated processes designed to take the worry out of handling payroll. Not only are taxes automatically filed and calculated (including 1099s and W-2s), but payroll, new hire reporting, tips, and wage garnishments are able to be set to run automatically.
Employee management: Paper onboarding and pay stubs are a thing of the past with Gusto payroll services. New hires complete their onboarding paperwork online and are emailed pay stubs. Direct deposit is available and employees are able to access their previous pay stubs and tax forms online, even if they no longer work for you.
Mobility: Gusto is a mobile payroll services solution that you can access from desktops, smartphones, and tablets. All necessary signatures are able to be completed online, streamlining the process and creating a truly mobile payroll solution.
Payroll features: With Gusto, payroll can be run in as many states as you need, since the company supports every state in America. Payment schedules are flexible, allowing you to pay your team anywhere from once a week to once a month. Gusto also offers unlimited payrolls, as well as unlimited bonuses and off-cycle payrolls.
Tax forms: Gusto automatically calculates and files all local, state, and federal payroll tax forms so you don't have to worry about it. In addition to 1099 and W-2 forms, this includes form 940, form 941, and form 8974.
How Much Do Gusto Payroll Services Cost?
There are three different payroll service plans that Gusto has to offer, with the plan that works best for you largely based on your business's needs and size.
The Core Plan: A full service payroll solution that includes employee accounts and profiles, health benefits, workers' compensation features, payroll, and support. It has a base price of $39 per month, plus an additional cost of $6 per employee, per month.
The Complete Plan: This full service payroll solution includes everything in the Core Plan, as well as advanced HR tools, employee directories and surveys, onboarding tools, and time-off management features. It has a base cost of $39 per month, plus an additional $12 per employee, per month.
The Concierge Plan: This plan includes everything from the Core and Complete Plans, as well as certified HR advisors, dedicated support, and an HR resource center. It has a base cost of $149 per month, plus an additional $12 per employee, per month.
Gusto Payroll Service Reviews
Most of the customer reviews for Gusto payroll services are highly positive, with users finding it to be incredibly intuitive and simple to navigate. People have said that the dashboard is especially helpful, because it is simple, uncluttered, and makes it easy to train new employees on the system. Customers also find that the service and support Gusto has to offer ensures that their questions are answered quickly and professionally.
For the most part, there are not many negative reviews for Gusto payroll services. There are some users who have said customer service representatives are slow to respond to or deny simple requests, but it should be noted that said requests were not listed. As with any product or service, it is a good idea to read through any available reviews before making your final decision. Don't be afraid to ask other business owners of similar industries and sizes how the service has worked for them.
Author: Angela Escobar
Compare Competing Prices From The Best Payroll Pros