2021 Hiscox General Liability Insurance Rates, Reviews, Complaints & Company Overview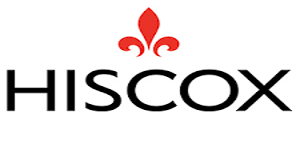 Headquartered in Bermuda, Hiscox is a publicly-held insurance company listed on the London Stock Exchange. The company specializes in underwriting commercial insurance policies for small businesses. Hiscox provides general liability, professional liability, workers' compensation insurance, and more to businesses throughout the United States.
About Hiscox
Although its headquarters are in Bermuda, Hiscox provides personal and commercial insurance policies in all 50 states, plus the District of Columbia. The company launched in London, England in 1901 as the Roberts Agency. In 1946, the firm became Roberts & Hiscox.
The company experienced many changes over the following 40 years. Then, in 1987, a reorganization led to the formation of Hiscox Holdings Ltd. More changes followed, including two attempted – but ultimately unsuccessful – takeovers. Then, in 2009, the company shortened its name to Hiscox and moved to Bermuda.
Hiscox's American base is in Chicago. The company is well-known for insuring professional industries, such as IT consultants and marketing firms, but they handle commercial clients in most industries. Independent agents sell Hiscox insurance products, but the company also sells directly to businesses that have fewer than 10 employees. In addition, Hiscox underwrites commercial policies sold by other insurance companies, such as GEICO.
Free General Liability Quotes From Top Pros!
Hiscox General Liability Insurance
A general liability insurance policy protects your business against certain claims made by a third party, i.e. non-employees. Coverage typically includes protection against bodily injury, personal injury, property damage, and advertising injury. You should consider a general liability policy for your business if any of the following is true:
You or your employees interact with clients face-to-face, either at your place of business or theirs
You have access to a client's property or equipment, such as performing repairs
Contracts require a general liability policy
You or your employees represent a client's business, such as marketing agencies
You use any third-party locations to perform business-related activities, such as consultant services
General liability insurance coverage
A general liability policy through Hiscox offers the following protections. Details vary according to the policy and limits you choose.
Bodily injury to a third party
Property damage to a customer or landlord's property
Personal injury, such as libel or slander
Advertising injury, such as inadvertently using a competitor's intellectual property
Electronic data liability
Medical expenses up to $5,000 for each third-party bodily injury
Legal costs to defend your business against claims
Claims resulting from the actions of your employees, temporary workers, and contractors
Your lost earnings when dealing with a lawsuit
Damage award interest
Your general liability policy does not protect you against everything. Items typically not covered include:
Coverage for actions occurring outside your policy period
Coverage for known claims dating before your policy period
Your property, including vehicles and boats (falls under property insurance)
Injury claims made my employees (falls under workers' compensation)
Intent to injure
Personal identifiable information
Professional services
Additional Hiscox commercial insurance products
Unfortunately, very few businesses can get by with a single commercial insurance policy. The most common additional policies include:
Employee practice liability insurance: Protects you against non-injury claims made by employees (or even people you interview for employment), including claims of wrongful termination and discrimination.
Workers' compensation insurance: Most states require a workers' comp policy to cover bodily injury claims made by employees.
Professional liability insurance: Protects you against negligence claims; recommended for companies whose business is knowledge – IT consultants, accountants, architects, etc.
Business owner's policy: Typically combines two or more policy types, such as general liability and property insurance.
How Much Does a Hiscox General Liability Policy Cost?
Insurance rates vary widely depending on coverage levels, industry, claims history, and more. Hiscox specializes in smaller companies, but also works with industries that are traditionally considered difficult or complex to insure.
General liability insurance for a consultant working mainly in his or her own office averages around $375 per year, as this is deemed low risk
The same policy for a real estate agent, driving to and from homes, costs around $480 per year because risk is higher
The average cost of a GLI policy for a sole proprietorship in a low-risk industry is around $400 per year
The average cost of a Hiscox general liability policy for a company with 10 employees in a low-risk industry is around $2,000 per year
Adding a $500,000 umbrella policy to your coverage costs around $1,500 per year
Hiscox Insurance Reviews
Hiscox earns high marks from industry experts for having an A credit rating (indicates reliability and liquidity, two things you want in an insurance company). Customers praise the fact that they can tailor their insurance plan to meet their needs.
The company also offers a variety of remote customer service options, a necessity since it has few local offices. Hiscox specializes in working with small businesses – those with fewer than 10 employees – which is another item in the plus column if you're looking for a policy for a small business.
Most people are happy with their insurance company until they have to make a claim, which is why the majority of complaints you read of any insurer revolve around the company's claims process. Hiscox is no different. The main issue customers have here is the lack of local people and having to handle everything via phone. Hiscox does not assign dedicated account reps, either, which means an employee who is not well-versed in your industry may be assigned to your claim.
Author: Angela Escobar
Compare Competing Rates From The Best General Liability Companies