About Bostitch Air Compressors - Company Overview, Prices and Reviews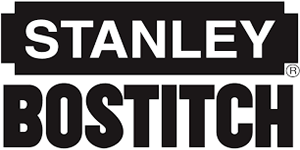 The Bostitch brand has a reputation for creating expansive, high-quality products. A subsidiary of Stanley Black and Decker, Bostitch produces high performance air compressors in several styles and sizes, with features such as compact designs and high efficiency motors. In addition to their compressors, the company also offers combo kits that include fastening tools. Whether you need a compressor for home construction or an industrial project, Bostitch has what you need to get the job done.
Bostitch Air Compressor Products
Bostitch offers multiple styles of air compressor:
Hot Dog Compressors: Distinctive for their horizontal design, hot dog compressors get their name from the hot dog shaped cylindrical tank that produces the air the compressor needs to function. They usually have only one tank as opposed to multiple and their design leaves you with a compressor that is easy to carry from site to site. However, it should be noted that the tank sticks out and can cause issues with space management.
Pancake Compressors: The pancake compressor also takes its name from its appearance since it looks like (you guessed it) a pancake. These models tend to be smaller than most in the industrial realm, but they don't have any issue keeping up with most of their larger counterparts. Highly portable, these compressors are ideal for both industrial and home use, but are primarily used in the home for common chores such as inflating balls and tires. Pancake compressors' flat design eliminates the majority of the noise usually produced by compressors and saves on space.
Wheelbarrow Compressors: Similar to hot dog compressors, wheelbarrow air compressors have the addition of handles and a wheel at the front. This makes them incredibly easy to move from site to site, or around your home for any DIY projects.
Free Air Compressor Quotes From Top Dealers!
Bostitch Air Compressor Features
You want to choose the air compressor that best fits your requirements. Bostitch offers a variety of features, outputs, and sizes so it is important that you consider your options before making a decision.
Air compressors are either oil-free or oil-lubricated, so you need to figure out which type works better for you.
Oil-free compressors are best for low volume tasks and can function on steep angles and other surfaces better than their lubricated counterparts. Lubricated compressors tend to be more durable and can perform continuously, but are better suited for operation on level ground and need regular maintenance. Also, consider the tools you will use and how many you plan to operate at a time, as this factors into the model you choose.
Bostitch Air Compressor Pricing
The greatest cost determinant for your Bostitch air compressor is the horsepower, but accessories, size, style, and dealer also affect price.
Bostitch BTFP02012 pancake air compressor, 6-gallon, max 150 psi, oil-free, 2.6 CFM at 90 psi, 10.5V, price range: $200 to $250
Bostitch BTFP01012 suitcase style air compressor, 2.5-gallon, max 150 psi, 2.0 CFM at 90 psi, high-output oil-free pump, price range: $200 to 250
Bostitch BTFP02006 air compressor, 6-gallon horizontal, max 150 psi, 3.8 CFM at 90 psi, electric, price range: $250 to $300
Bostitch BTFP1KIT 1-Tool/Compressor Combo Kit includes: 6-gal, 150 psi, portable 0.8HP electric air compressor and 18-gauge brad nailer, sample fasteners and hose with couplers, price range: $250 to $300
Bostitch BTFP3KIT 3-Tool/Compressor Combo Kit includes: 6-gal, 150 psi, portable 0.8HP electric air compressor and 18-gauge brad nailer, 16-gauge finish nailer, 3/8" crown stapler, 15' air hose with fittings and sample fasteners, price range: $350 to $400
Bostitch BTFP02028 air compressor, 1.8 HP, 26-gallon vertical, 150 psi, 4.1CFM at 90 psi, oil-free, large 10" wheels, price range: $400 to $475
Bostitch Air Compressor Reviews
Critics appreciate the quick refill, fast start-up, and easy portability of their Bostitch air compressors. Other pluses include quiet operation, power, and tank capacity. On the negative side are the short power cord, price, and heavy weight. Overall, however, these air compressors are considered a great product for the price.
Author: Angela Escobar
Compare Competing Prices From The Best Air Compressor Pros