About Gardner Denver Air Compressors - Company Overview, Prices and Reviews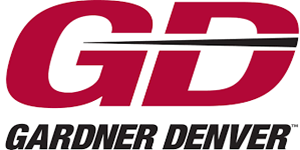 Gardner Denver Industrials Group produces a wide array of energy-efficient air compressors, blowers, and vacuum products that serve a variety of applications across several industries. The automotive, food, and manufacturing industries (to name a few) all turn to Gardner Denver for their air compressor needs. The company backs up their quality products with comprehensive aftermarket services to provide everything you may need.
Gardner Denver Air Compressor Types
Gardner Denver supplies and offers several types of air compressors. Here are a few of the air compressors you can find with Gardner Denver:
Lubricated Rotary Screw Compressors: In rotary screw air compressors, the screw's compression element is made up of male and female rotors. The volume between the rotors and the housing decreases as the rotors move towards each other. Because there are no valves on the screw element and no mechanical force that creates any imbalances, rotary screw compressors can provide a heavy flow rate while working at high shaft speeds. Lubricated rotary screw compressors are incredibly durable and, with proper maintenance and fluid monitoring, they can last for years.
Oil-Free High Speed Centrifugal Compressors: Gardner Denver offers the Quantima Air Compressor, a leap forward in oil-free high speed centrifugal compressors. The Quantima can save you 25 percent on energy costs compared to other air compressors. But the drop in power usage does not translate to performance; the Quantima can keep up with its counterparts with little issue.
Oil-Free Scroll Compressors: Designed to exact specifications, Gardner Denver's EnviroAire oil-free scroll air compressor meets all the necessary requirements of contaminant and oil-free applications. Simplex units come in 4kW, 6kW, and 8kW and Duplex units come in 7kW, 11kW, and 15kW.
Oil-Free Two-Stage Rotary Screw Compressors: A rotary screw compressor may be exactly what you need, but in some industries, such as the food and beverage and pharmaceutical marketplaces, air purity is vital. Luckily, Gardner Denver has an array of oil-free two-stage rotary screw compressors. As the name suggests, oil-free rotary screw compressors do not run on oil and as a result run clean and contaminant-free air.

Free Air Compressor Quotes From Top Dealers!

Oil-Free Water-Injected Rotary Screw Compressors: Gardner Denver's oil-free water injected rotary screw compressors offer completely oil-free air and improved energy to meet the needs of a broad range of industries. Their water-injected rotary screw compressors are ISO 8573-1 CLASS 0 certified and come in either water-cooled or air-cooled versions
Rotary Vane Compressors: Able to last three times as long as some alternative technologies, rotary vane air compressors provide a steady supply of high-quality, pulse free air to keep the job running as smoothly as possible. Both Hydrovane and Wittig rotary vane compressors are supplied by Gardner Denver.
Gardner Denver Air Compressor Pricing
While the greatest cost determinant of Gardner Denver air compressors is the horsepower, other things such as accessories, style, and tank size factor in, as well. Rates will also vary by dealer.
Gardner Denver Reward Series reciprocating compressor, 7.5 HP, 208V/1 phase mounted, 80-gallon vertical, 23.1 CFM at 175 psi, price range: $4,400 to $4,500
Gardner Denver Reward Series Duplex reciprocating compressor, 5 HP, 230V/1 phase, 120-gallon horizontal, 34.6 CFM at 175 psi, price range: $8,600 to $8,700
Gardner Denver Reward Series Duplex reciprocating compressor, 7.5 HP, 230V/3 phase, 120-gallon horizontal, 51.6 CFM at 175 psi, price range: $11,500 to $11,600
Remember that oil-free and oil-less models will increase costs, sometimes tripling the amount you would spend on an oil-lubricated air compressor.
Gardner Denver Air Compressor Reviews
Critics hail Gardner Denver for creating quality, reliable air compressors for use with their medical devices. These compressors are also used in the assembly of these devices and reviewers find them very durable. They also praise the speed and shipments and excellent customer service. They consider the prices to be fair, although some do complain about the noise levels.
Quality Choice
With one of the widest portfolios of compressors in the world, Gardner Denver has you covered for all of your air compression needs. As a company at the head of the curve in compressed air system development, Gardner Denver can provide eco-friendly and energy efficient products that let you achieve sustainability goals while still delivering the power and performance you need.
Author: Angela Escobar
Compare Competing Prices From The Best Air Compressor Pros