About Kaeser Air Compressors - Company Overview, Prices and Reviews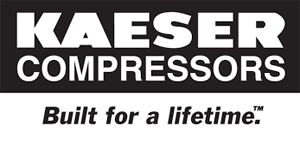 Established in 1982, Kaeser Compressors strives to help develop and serve the compressed air market and those that utilize it. With a complete line of air compressors and compressed air products, Kaeser Compressors offers innovative products backed by exceptional customer service. Whether you need a compressor in an industrial setting or for DIY projects around the house, Kaeser has what you're looking for.
Kaeser Air Compressor Products
Kaeser Compressors offers several sizes and styles of air compressor, each with features that provide simpler maintenance and greater reliability than competitors. With designs that use pipe as opposed to tubing, heavy gauge steel frames with double vibration isolation, and quick fluid change features, Kaeser provides air compressors built to last and easy to maintain.
Type of Kaeser Air Compressors
Dental Compressors: Kaeser Compressors ensures that you have the right air compressor system for your specific needs, a practice that has helped them to build a reputation of reliability and trustworthiness in the dental compressor market for over 50 years. Their dental compressors keep treatments hygienic by providing the highest air quality possible, all while keeping tools running at peak performance and patients comfortable.
Industrial Rotary Screw Compressors: With a vast array of rotary screw air compressors, Kaeser can meet virtually any compressed air need for industrial and commercial markets. Their line of rotary screw compressors can reach pressures up to 217 psi and range from 3 to 600 HP and 5 to 3,308 CFM. These rotary screw compressors offer easy maintenance, energy efficiency, and reliability.
Oil-Free Screw Compressors: Kaeser's two-stage oil-free rotary screw compressors are designed with attention to the smallest of details and a component layout that makes sense to the user. Built to last, these oil-free compressors provide contaminant-free air and are ideal in settings that may not be ideal for traditionally lubricated compressors.

Free Air Compressor Quotes From Top Dealers!

Portable Air Compressors: Mobilair, Kaeser Compressors' line of portable air compressors, is a line of products built for durability and reliability to provide compressed air for heavy duty industrial applications. The broad range of tow behind compressor units and additional accessories can help with nearly any job.
Small Rotary Screw Compressors: Perfectly suited for industries such as auto repair and collision work, Kaeser's small rotary screw compressors provide dependability and reliability. These units are great for anyone looking to save on space while still retaining the appropriate amount of power and function.
Kaeser Air Compressor Pricing
Although factors such as accessories, horsepower, and style influence the cost of your Kaeser air compressor, the main determinant of price is the tank size. Keep in mind that rates will vary from dealer to dealer as well.
Kaeser Model 5T Dental Compressor + Sound Enclosure, 3 HP, 6.5 gallon vertical, 7.7 CFM at 80 psi, 208-230V, single phase, price range: $9,000 to $9,500
Kaeser M15 Portable Air Compressor, 14.8 HP, 50 CFM at 100 psi, Honda GX630 motor, price range: $9,500 to $10,000
Kaeser M17 Mobile Air Compressor, 21 HP, 5-gallon, 60 CFM at 100 psi, Honda GX630 motor, price range: $9,500 to $10,000
Kaeser Airtower Rotary Screw Air Compressor/Dryer, 5-7.5 HP, 28 CFM at 125 psi, max 217 psi, 208/230/460V, 3-phase compressor, 115V dryer, price range: $10,000 to $11,000
Kaeser M27 Towable Diesel Rotary Screw Air Compressor, 21 HP, 92 CFM at 100 psi, Kubota D1105B motor, price range: $14,000 to $14,500
Kaeser M58 Towable Rotary Screw Air Compressor, 48 HP, 210 CFM at 100 psi, Kubota V2403CRE4B motor, price range: $22,000 to $23,000
Kaeser M58 Utility Mount Air Compressor, 48 HP, 210 CFM at 100 psi, Kubota V2403CRE4B motor, price range: $22,500 to $23,000
Oil-free and oil-less models can add to your costs significantly. You can expect to pay almost triple what you would for a traditionally lubricated compressor of the same size.
Kaeser Air Compressor Reviews
Reviewers and contractors love the Kaeser products, particularly the Airtower series for its space-saving features and simple installation.
The units are considered to be quiet and efficient, with a clean air output and effective filter system. They also advise keeping up with preventive maintenance to ensure the unit's continued operation and long life.
Author: Angela Escobar
Compare Competing Prices From The Best Air Compressor Pros