About Campbell Hausfeld Air Compressors - Company Overview, Prices and Reviews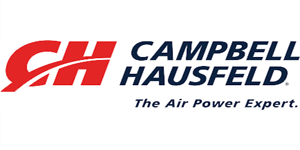 Founded in 1836 and initially a producer of agricultural equipment, Campbell Hausfeld (a Marmon/Berkshire company) has produced air compressors since 1940. For over 70 years, their focus has been producing new and better air compressors and compressed air products. Campbell Hausfeld air compressors join the manufacturer's wide range of easy to use and reliable pneumatic tools to help homeowners and professionals alike get the job done.
Campbell Hausfeld Air Compressor Benefits
Campbell Hausfeld offers choice and variety, providing everything you need to get just about any job done. Whether you're performing large scale renovations or just need to lay some caulk, they have a tool for your project. The company offers both portable and stationary compressors, inflators designed to work on 12v or 120v connections, and tanks ranging from one to 80 gallons. You also find a variety of pneumatic tools designed to work with the Campbell Hausfeld brand, allowing you to get everything you need from the same company.
Campbell Hausfeld Air Compressor Products
Making sure you have the right air compressor for your needs is important, and the wide selection of compressors provided by Campbell Hausfeld ensures that you can find the perfect model for you.
Free Air Compressor Quotes From Top Dealers!
One-Stage Air Compressor: A straightforward design capable of serving a multitude of applications, single-stage air compressors range from small, portable units for smaller jobs to larger, stationary units meant for heavy work. Whether you need a compressor for inflation or running multiple tools, Campbell Hausfeld single stage compressors have you covered.
Two-Stage Air Compressor: Available in vertical and horizontal configurations, Campbell Hausfeld two-stage air compressors maximize air compression to deliver the power needed by businesses such as manufacturing and auto shops.
Gas Air Compressor: If electric power isn't available, then Campbell Hausfeld's gas powered air compressors are ideal for you. Portable, but with enough power to handle a variety of tools, gas-powered compressors are perfect for the DIY enthusiast and professional alike.
Horizontal Air Compressor: Portable or stationary, lubricated or oil-free, Campbell Hausfeld offers a wide range of horizontal air compressors perfect for anyone's needs. Their horizontal compressors come in single- and dual-stage configurations and offer multiple types of AC or gas for power options.
Pancake Air Compressor: Convenient, compact, and ready to go wherever and whenever you are. Campbell Hausfeld pancake air compressors operate on a standard household electrical current and are perfect for home use.
Twin Stack Air Compressor: If you're looking for high tank capacity in a portable compressor, then the twin stack may be the perfect solution. Available in lubricated and oil-free models, Campbell Hausfeld also offers an accessory kit and a quiet compressor configuration that delivers half the noise with no loss of power.
Vertical Air Compressor: With the ability to drive multiple tools at once, Campbell Hausfeld vertical air compressors are available in portable and stationary, as well as single- and dual-stage units. Vertical compressors are perfect for anyone looking for a high capacity compressor that saves on space.
Campbell Hausfeld Air Compressor Pricing
Tank size is the largest determinant of cost for Campbell Hausfeld air compressors, but accessories, horsepower, style, and the dealer will also play a role.
Campbell Hausfeld Portable Electric Air Compressor, 3.2 HP, 30-gallon horizontal, 10.2 CFM at 90 psi, 208V-230V, max 135 psi, price range: $600 to $650
Campbell Hausfeld Two-Stage Air Compressor, 5 HP, 80-gallon horizontal, stationary, 16.6 CFM at 175 psi, 208-230/460V, 3-phase, price range: $1,650 to $1,700
Campbell Hausfeld Fully Packaged Air Compressor, 5 HP, 80-gallon vertical, stationary, 16.6 CFM at 175 psi, 230V, single-phase, price range: $2,200 to $2,300
Campbell Hausfeld Two-Stage Air Compressor, 15 HP, 120-gallon horizontal, stationary, 50 CFM at 175 psi, 208-230/460V, 3-phase, price range: $3,500 to $3,600
Campbell Hausfeld Rotary Screw Air Compressor, 15 HP, 120-gallon horizontal, 46 CFM at 150 psi, 230V, 3-phase, price range: $6,400 to $6,500
Keep in mind that oil-free and oil-less models increase the compressor cost significantly. Oil-less units may cost nearly three times as much as lubricated models.
Campbell Hausfeld Air Compressor Reviews
Critics love Campbell Hausfeld compressors, praising their reliability, quick charge, low noise output, and great power. This feedback remains constant across product lines, from the smaller 1-gallon tank models to the large rotary screw and two-stage units.
Author: Angela Escobar
Compare Competing Prices From The Best Air Compressor Pros